Over the weekend I was handed some Christmas cake at a friend's barbecue. I don't like Christmas cake. But such was my overness with having to say no to festive food, I asked if I could eat some of the left-over ingredients – the walnuts and apricots – to feel part of the action.
So I figured it might be good to source me some "bubble-kid" Christmassy gluten-free treats. So I can go armed into this festive week. With a plate.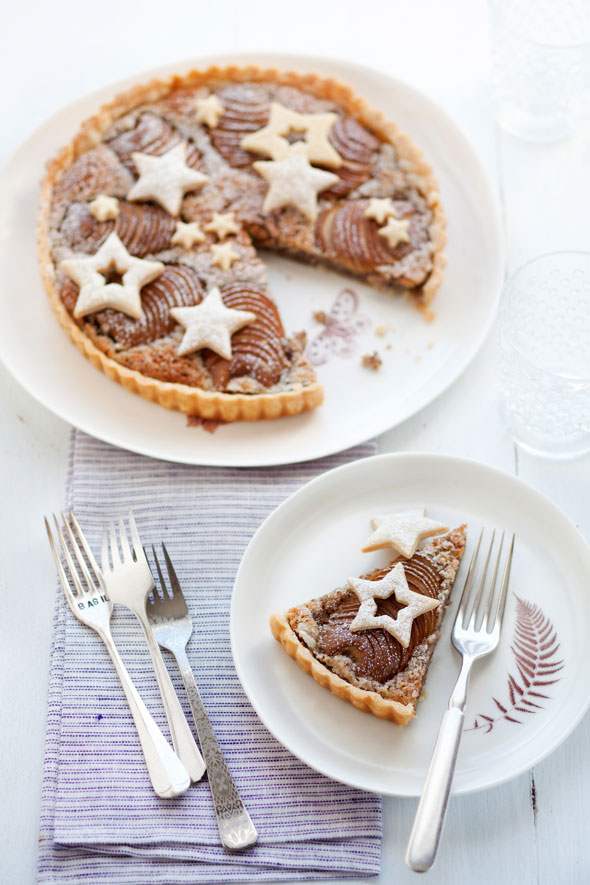 As an aside, the people I've met "virtually" over the course of this year via my gluten-free networks have proved some of my favourite people. Something about having an auto-immune disease, I think. It forces you to get real. And connect. And share. Perhaps.
Anyway, wrap your laughing gear around these….

1. Pear and Hazlenut Frangipane Tart
The glorious Aran from Cannelle Vanille shared this one. That's her pretty pic above.
Gluten Free Pie Dough
1 cup (140 grams) superfine brown rice flour
2 Tbs (20 grams) potato starch
2 Tbs (20 grams) tapioca starch
1/4 tsp xanthan gum
1/4 tsp salt
1/2 cup (115 grams) unsalted butter, cold and diced
1/2 cup (125 ml) ice cold water
Place the first five ingredients in the food processor and pulse a couple of times to combine. Add the cold, diced butter and pulse 10 times until the butter is cut into the flours. Add the ice water while pulsing. You might not need all of it so reserve a couple of Tbs until mixed. The dough should stick together when pressed but not be too wet.
Form the dough into a disk, wrap it in plastic wrap and flatten it a bit with your hand. Refrigerate the dough for about 1 hour.
Roll out the dough to about 1/4″-1/8″ thickness and fill the tart mold with it. If the dough cracks, don't worry, just pinch it back together. It might happen if it's too cold. Return the tart mold to the refrigerator for another 20 minutes or so while preparing the filling.
Roll the leftover scraps and cut shapes with star cookie cutters. Place on a baking sheet lined with parchment and bake at 375F for about 8 minutes. Reserve.
Pear and Hazelnut Frangipane Filling
1/2 cup (115 grams) unsalted butter, room temperature
1/2 cup (110 grams) cane sugar
1 egg
1 cup (110 grams) hazelnut flour
1 Tbs (10 grams) tapioca starch
pinch of salt
1 Tbs dark rum, optional
7 forelle pears, halved and core removed

Cream the butter and the sugar together until light. Add the egg and mix. Add the rest of the ingredients and mix until combined.
Spread the frangipane inside the tart mold. Cut the pears and place them on top of the frangipane.
Bake in the middle of the oven at 350F for about 30-40 minutes until filling brown and the bottom of the tart cooked. Decorate with star cookies and powdered sugar.
2. Pistachio Cranberry Haystacks
Carol from Simply Gluten-Free generously provided this one. The green pistachios and red cranberries make it particularly Christmassy.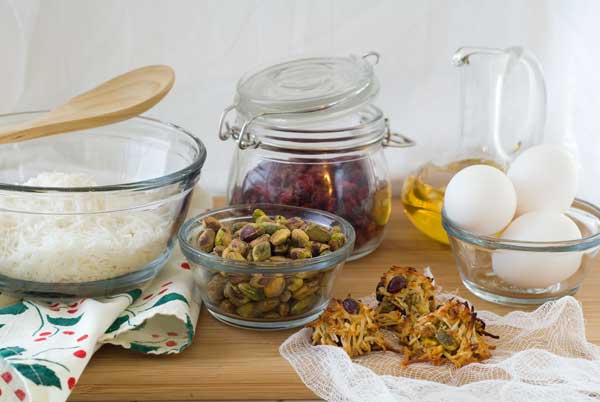 3 large egg whites
¼ teaspoon kosher or fine sea salt
¼ cup agave nectar
2 cups shredded coconut (can be sweetened or unsweetened)
½ cup roasted, unsalted pistachios – roughly chopped
½ cup dried cranberries
Preheat oven to 350 degrees. Line 2 baking sheets with silicon baking mats or parchment paper.
Whisk egg whites with salt by hand for about 30 seconds or until frothy. Add the agave and whisk to combine. Add the coconut, pistachios and cranberries and mix too combine.
Using wet fingers or a small ice cream scoop, mound 1 – 1½ tablespoons of the mixture onto the prepared baking sheets spacing about 1 inch apart.
Bake for 12 – 16 minutes or until they are deeply golden brown and have firmed up slightly. They will firm up more as they cool.
Let cool on the baking pans for 5 minutes the transfer to a wire rack to finish cooling.
Cookies can be stored in an airtight container for up to 3 days at room temperature.
Make 2 – 3 dozen depending on size.
3. Fruit and Nut Balls
The ever-vigilant Shauna from Glutenfreegirl forumlated these gems.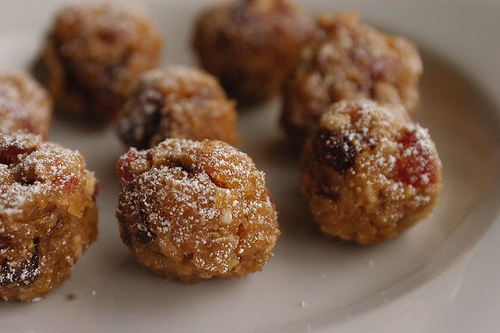 1 cup dried stawberries
1 cup dried figs
1 cup dried apricots
1/2 cup Marcona almonds
juice of 1 1/2 oranges
Chop all the fruits into bite-sized pieces. Rough chop the almonds as well.
Put them all into your sturdy food processor and whirl them up. Turn off the food processor.
Juice the orange halves into the mixture. Whirl the food processor again. Turn it off.
Scrape the dough into a large bowl and refrigerate the dough for at least an hour.
Pull the dough out of the refrigerator. Making sure your hands are clean and cold (try running them under cold water before you begin), roll the dough into small balls. (Keep them small. This is rich.)
Refrigerate the holiday balls for two hours, to let them adhere.
Remove from the refrigerator. Dust with the powdered sugar.
Serve. Feeds 6 to 10 people, depending on their sweet tooth.
4. Gluten Free Christmas Pudding
Teresa from The Healthy Chef came up with this healthy version of the stodgy staple.
1 whole orange, chopped
1 1/2 cups (375ml) water
1 1⁄2 cups (250g) sultanas
1 2/3 cups (250g) apricots, chopped
2 1⁄2 cups (300g) almond meal
1 tsp ground cinnamon
1⁄2 tsp ground nutmeg
1⁄4 tsp ground ginger
2 free range / organic eggs
Preheat oven to 180C.
Oil 12 x 1⁄2 cup dariole moulds and set aside.
Combine dates, orange and water into a saucepan and bring to boil.
Simmer for 20 minutes until all liquid has evaporated and dates and orange are soft. Set aside to cool.
Combine date and orange mixture into a food processor and process until a paste forms. Transfer to a large bowl.
Add sultanas, apricots, almond meal, spices, eggs and and mix well.
Divide between moulds. Place into a deep baking dish. Pour enough hot water to come half way up sides of pudding bowls.
Cover with a layer of each baking paper and foil, pressing around edges of pan to completely seal. Bake for 1 hr 15 mins.
Invert puddings onto serving plates and enjoy with custard or natural yoghurt and a drizzle of honey.
Makes 12. Wheat free – gluten free – low Gi.