Over the weekend I was handed some Christmas cake at a friend's barbecue. I don't like Christmas cake. But such was my overness with having to say no to festive food, I asked if I could eat some of the left-over ingredients – the walnuts and apricots – to feel part of the action.
So I figured it might be good to source me some "bubble-kid" Christmassy gluten-free treats. So I can go armed into this festive week. With a plate.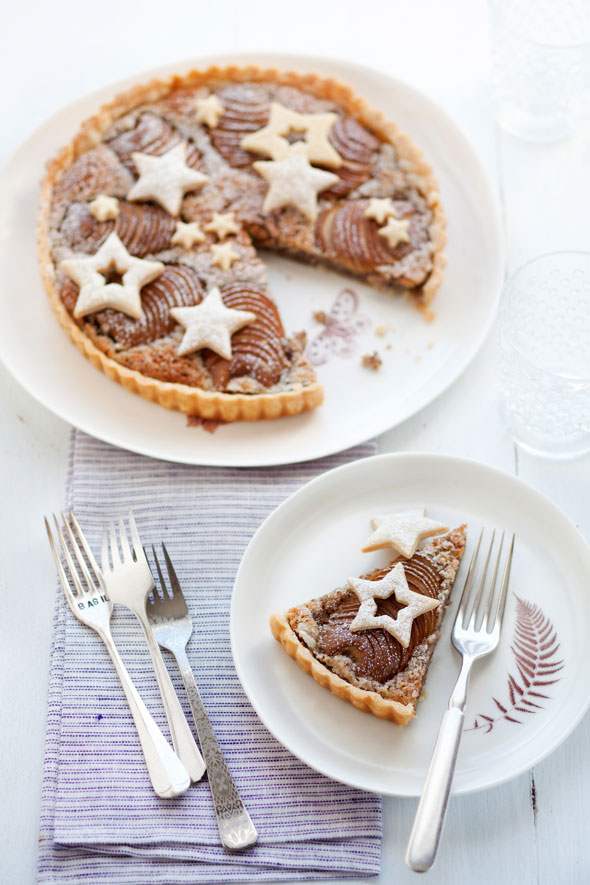 As an aside, the people I've met "virtually" over the course of this year via my gluten-free networks have proved some of my favourite people. Something about having an auto-immune disease, I think. It forces you to get real. And connect. And share. Perhaps.
Anyway, wrap your laughing gear around these….

1. Pear and Hazlenut Frangipane Tart
The glorious Aran from Cannelle Vanille shared this one. That's her pretty pic above.
Gluten Free Pie Dough
1 cup (140 grams) superfine brown rice flour
2 Tbs (20 grams) potato starch
2 Tbs (20 grams) tapioca starch
1/4 tsp xanthan gum
1/4 tsp salt
1/2 cup (115 grams) unsalted butter, cold and diced
1/2 cup (125 ml) ice cold water
Place the first five ingredients in the food processor and pulse a couple of times to combine. Add the cold, diced butter and pulse 10 times until the butter is cut into the flours. Add the ice water while pulsing. You might not need all of it so reserve a couple of Tbs until mixed. The dough should stick together when pressed but not be too wet.
Form the dough into a disk, wrap it in plastic wrap and flatten it a bit with your hand. Refrigerate the dough for about 1 hour.
Roll out the dough to about 1/4″-1/8″ thickness and fill the tart mold with it. If the dough cracks, don't worry, just pinch it back together. It might happen if it's too cold. Return the tart mold to the refrigerator for another 20 minutes or so while preparing the filling.
Roll the leftover scraps and cut shapes with star cookie cutters. Place on a baking sheet lined with parchment and bake at 375F for about 8 minutes. Reserve.
Pear and Hazelnut Frangipane Filling
1/2 cup (115 grams) unsalted butter, room temperature
1/2 cup (110 grams) cane sugar
1 egg
1 cup (110 grams) hazelnut flour
1 Tbs (10 grams) tapioca starch
pinch of salt
1 Tbs dark rum, optional
7 forelle pears, halved and core removed