A week or so ago I shared the apps I'm rapt about. Now a list of radical ones you use (albeit, not all of them are productive…in fact some are counterproductive…but I guess it's that time of year), plus a few from people whose productivity levels we're in awe of.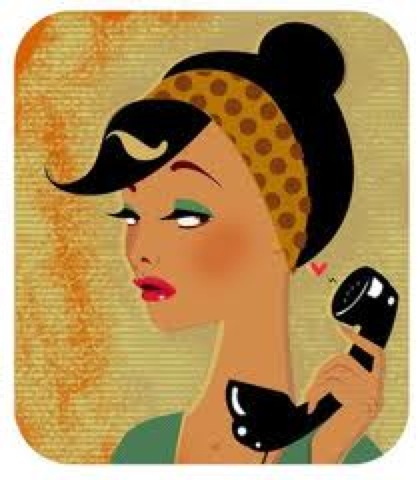 My assistant Jo loves these (she should probably be on commission for selling in Echofon…she wouldn't rest until she was allowed to put it on my phone):
Echofon for Twitter (free)

This is the best app around for twitter-on-the-go, especially for those like me who tend to tweet a lot! It's easy to navigate, with some handy 'echofon specific' features that make it super quick to update your status, 'reply all' or 'retweet with comment'. It also does all the standard twitter things, including pics and videos. Love it.

Talking Carl (free)

This is just for sillies, and fun. I do some work with foster kids, so it's handy to have some quirky kid-friendly, distractable apps on my phone for those tantrum-type moments. Talking Carl is a crazy red guy, and if you touch him, he laughs, and talks. If you talk, he copies you, and it's HILARIOUS. Kids(and adults) love him. Check it out. This is he:
Kerri Sackville, blogger extraordinaire, soon-to-be-published author, and manic mum of three, raves about these:
Touchwriter ($1.99)
Okay, I'm loving Touchwriter. I'm forever writing myself notes, but a) always forget to carry a pen and paper, and b) lose the notes anyway. Touchwriter allows me to 'handwrite' notes with my finger, and then – unlike other 'finger-writing' apps – immediately shrinks the words as I write so that each notes can fit a lot of text. There is a space bar, paragraph break and different colours, and the notes can be saved or emailed. I prefer Touchwriter to the 'finger-to-text' apps, as I find they make a lot of errors when converting, and are hard to use.
Zombiebooth ($3.99)
For the kids, you can't beat this. Great stuff. You take or download a photo, then with a couple of clicks turn the person into a zombie, complete with bloody eye socket and gross-out skeleton mouth. Hours of wholesome fun.
Julie Cowdroy is a passionate writer, activist and political voice. Check her out here on facebook…
Ausvotes: ABC Elections(free)
I was engrossed in every detail of every event that occurred during the federal election. All day every day. This app was absolutely genius especially on voting day and the days following as we all eagerly awaited the results. I had access to the latest news, tweets and analysis. I especially loved being able to look up an electorate name by suburb or postcode. Oh look, now I have really got my nerd on.
eBay (free)
I am eBay queen. I hate buying brand new stuff. I love selling and buying. My latest story is that I sold our old lounge suite for $500 and bought a pretty much untouched black leather lounge suite for…. wait for it….. $373. Wouldn't have happened if I wasn't tracking it using the Ebay iphone app while vacationing on the Sunshine Coast.
Bean Hunter(free)
I lllooooovvveee coffee. Good coffee. I often write from cafes and love to find new ones. Beanhunter allows me to simply hit 'Near Me' wherever I am and I have a list of great cafes with reviews, distance to get there and ratings. Lifesaver especially when I have to venture out of my local village.
You guys listed the following as some of the best apps around. Thanks to Paul, hotdiggity, Amy, Courtney, Madison, Alyssa Medayna, and Louise – I'll be trying out some of these for sure:
Remote app (free)
Love the Remote app . It turns your iPhone into a remote so that you can control your itunes remotely… If you're taking a bubble bath and you want to listen to music, but you don't want your mac anywhere NEAR the tub…just turn on remote and click through your tunes. Namaste!
LocATM ($2.49)
This app locates the nearest ATM to where you're standing (either just your Bank or all Banks)
Flashlight (free)
Turns your iPhone camera flash on for finding stuff in the dark – sooo nerdy.
Gratitude ($0.99)
This is a diary for listing the things which make me grateful each day.
Mood Tweak (free)
This app plays soft noises to fall asleep to. I use this if I'm having trouble shutting my brain off. Always works for me.
ShopShop (free)
This app is a shopping list manager. Great for keeping track of what you need. Because who carries pen and paper these days anyway!
QuotaLite and Consume (free)
These apps both track mobile usage. And other interesting things! Consume will also warn you to avoid going over your mobile phone cap. Bonus.
Chronicle ($3.99)
A great travel diary. Or a personal journal. Somewhere to store life's moments/events in word and picture.
Intuition(free)
Intuition aka "mom's personal assistant" has helped me organize schedules and sort activities in such a way that none will be forgotten.It also has a comprehensive grocery listing that saves time in thinking what to buy. I have been really forgetful lately (thanks to epidural) so I appreciate this app a lot!
Water Your Body($1.19)
Kinda dorky. But I drink far more water(as opposed to none at all) if I have a number to work towards.
Scoopon (free)
Daily deals for all major cities in Australia. It's great for sourcing gifts to use down the track.