I've introduced you to Joyce from online store CycleStyle before. She is kooky as all get-up and is one of my favourite bike kids. AND, her baby is due this week! Blessings to her. I've asked her to share a few of her favourite bike accessories with you…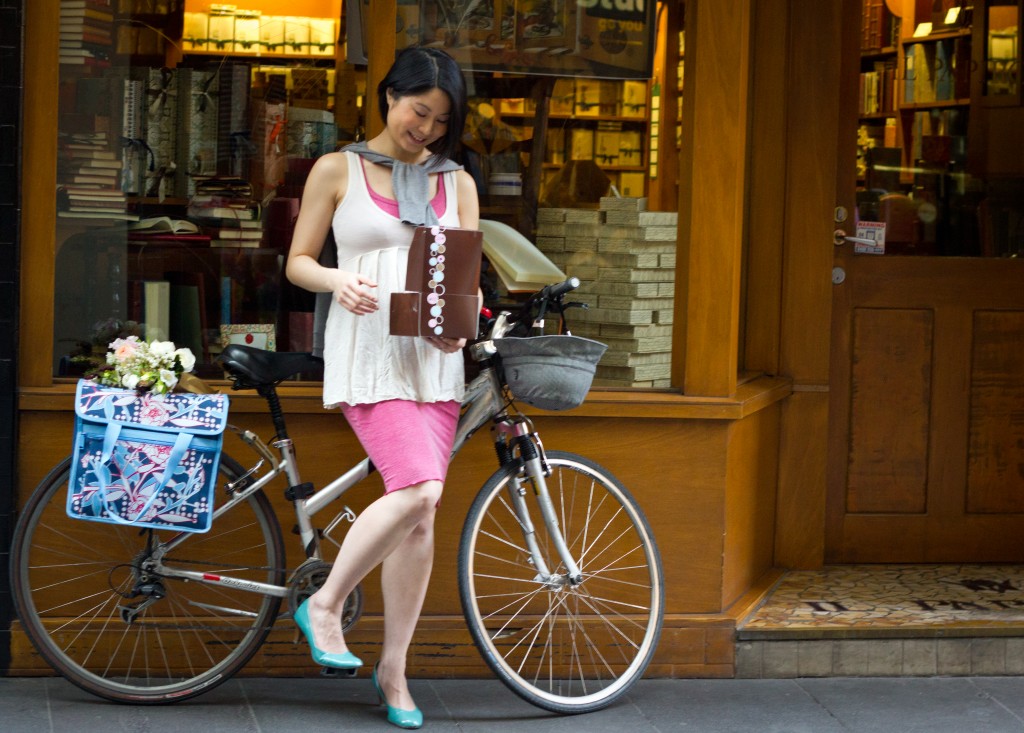 Go for it Joyce:
My bike is my primary mode of transport – I go to work on it, to the markets, to meet friends, to the movies and to restaurants. I love riding my bike every day because it's the quickest and most convenient way for me to get from A to B – and it makes me feel happy and healthy.

In the course of doing research for CycleStyle's range, I've come across a myriad of pretty bike accessories. These items are for the kind of cyclist like me – people who want to look stylish riding their bikes.

1. The Basil Beauty Shopper

Every cute bike deserves a wicker basket. I like the gentle pot-bellied shape of Basil's Beauty Shopper and the lid is handy for keeping your shopping in check. When you're off your bike you can remove the shopper and take it straight into the farmers' market with you.

2. An Ocean flower helmet

Whether we like it or not, bike helmets are mandatory in Australia. So if you're going to put on a helmet, you might as well make it a pretty one. The Ocean flower helmet has a subtle red floral print and a neat rounded shell – about as far removed from a Stackhat as you can get.

3. I love my bike bell

Every time I look down at my bike I smile. Because this bell rings so true – I love my bike.

4. Behold the cycling cape

Nothing evokes the elegance of yesteryear cycling like a beautifully draped cape. Dashing Tweeds do a version using their sumptuous reflective woollen tweed, Cyclodelic's capes have reflective buttons and are lined with a pretty floral cotton and our Jenny reflective cycling cape (named after my friend Jenny for whom we made the first cape) are reversible with 3M Scotchlite double-stitched along the seams for visibility. [I JUST LOVE THIS CAPE – SARAH]

5. Some mighty kitsch kitchen panniers

When you use your bike every day to carry your shopping, books and clothes, a set of panniers becomes a godsend. But why hang some boring black and fluorescent panniers from your rack when you can go for the cheerful versions from Kitsch Kitchen. The panniers are made from waterproof Mexican oilcloth and come in a range of bright colours. My current favourites are the Hawaii floral print and the cute Apples.

Along with all your pretty bike accoutrements, don't forget your other cycling essentials – a sturdy lock, bright lights, good brakes…and a huge smile!
And now…
An accoutrement giveaway for you!
We received some bike helmet covers (like a condom for your 'met) from the guys at Tortugaz recently. We've got two here in the office which we decided to give away.
This is what you're getting. Although the second cover is orange and black stripes. Think 'Tiger'.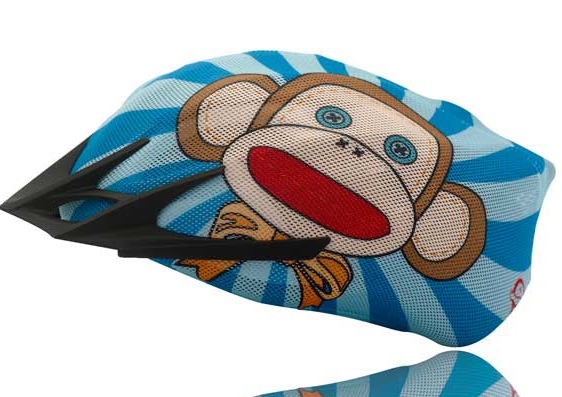 First in best dressed if you just jump in on the comments below. Add your name, and we'll send one each off to the first two people!