My mate Dee Coleman has launched a great recipe share site which has some good gluten-free ideas. You should check it out. (Also check out the link below to gluten-free breakfast joints…and add some of your own in the comments. We'll get a guide going….)
Two things I like about Cook My Way
1.the recipes only call for a couple of ingredients and are listed loosely (in handfuls, splashes)
2.the culture of the site is very cute – Dee invites a few people over to her house every Monday and cooks up a big meal which they eat while brainstorming ideas for the site.
Dee's website is for everyone to post and share their recipes. Here's some gluten free ones.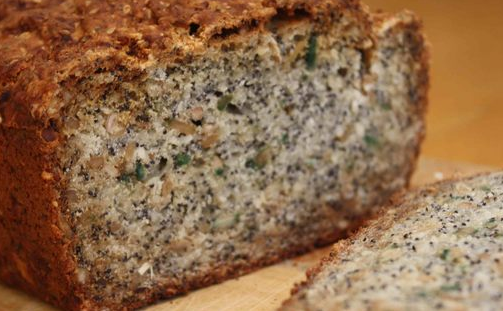 Gluten-free seeded bread
3 cups of gluten-free flour
1 tspn bicarb soda
1 tspn salt
1 cup sunflower seeds
1 cup sesame seeds
1/2 cup poppy seeds
600 mls butter milk
3 tspns honey
Sift flour and add all dry ingredients into a large bowl
Fill loaf tin with mixture, making sure it is all compressed and there are no holes
Bake at 180 degrees for 40-50 minutes, depending on oven strength. Keep watching and testing with a cake tester to ensure it is baked to perfection!
Blackbean pasta, with tuna, feta and tomatoes
This recipe tastes amazing using other gluten-free pastas(rice, corn etc, not blackbean) and Danish feta.The creaminess of the feta melts in the hot pasta and creates a type of sauce.
Blackbean of other gluten-free pasta
Danish feta
Canned tuna in olive oil
Grape tomatoes
Salt and pepper
boil pasta according to packet instructions. While it's cooking, crumble the feta, slice the tomatoes in half and drain the tuna – leaving about 80% of the oil for use.
Once the pasta is cooked, place in bowl and add fresh ingredients as above. Add all remaining oil from tuna.
Toss together, season with salt and pepper, and eat!
Aimee, who has some great recipes on the website, has also sourced some of the best places for a gluten free breakfast in Sydney.