In my quest to make sugar-free life, well, sweeter, I've been scouting different fructose-free sweeteners for you. It's a minefield. There are a lot of sugar-free chocolates and treats out there…but the sweeteners read like something from a box of Ratsak.  I've shared on the safe and not-so-safe alternative sweeteners before. One or two alternatives do exist. One of them being stevia, which is extracted from the leaves of a South American plant.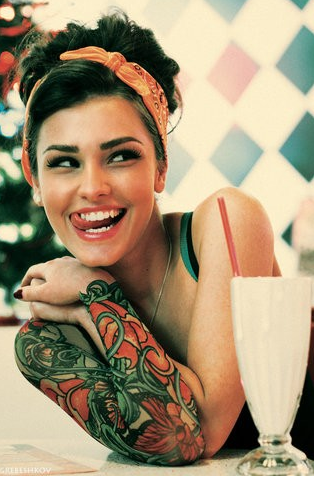 via pinterest.com
It's a stack sweeter than sugar and is fructose-free. Native Americans used it medicinally as a digestive aid. I first read about it via Donna Gates' Body Ecology and have been trying it out in a few recipes. It's great with berries and yoghurt…it has a slight licorice tang to it. Anyway… For this sponsored review, Natvia asked to share three of their stevia recipes. To give you a taste of the stuff. Cut'n'keep!
Natvia is a natural sweetener made from Reb A stevia, and erythritol. Reb A is the purest and sweetest parts of the stevia plant, and erythritol is a naturally occuring nectar in some fruits, such as melons and grapes.
Things you should know about Natvia:
it's 100% natural

it has 95% fewer calories than sugar

it's fructose free

it contains no aspartame, or saccharin

it's great for baking and cooking
almond Tea Cake Loaf
This recipe makes one tasty, coconuty loaf. It's made denser with the almond meal.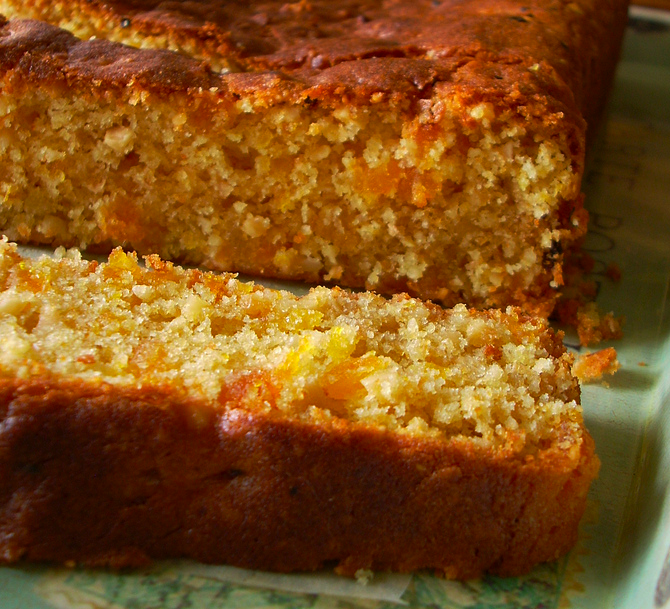 1-½ cups (230g) plain flour or gluten free plain flour

2 tsp baking powder

1 tsp each of ground cinnamon and mixed spice

125g butter, softened

2 tablespoons (35g) Natvia

1 tsp vanilla extract

2 large free range eggs

1/3 cup (30g) almond meal

1 green apple, grated

125 ml (½ cup) buttermilk

2 tbsp sour cream

1/3 cup finely grated orange rind

½ cup (45g) desiccated coconut

1/ 4 cup slithered almonds


A little extra ground cinnamon
* Buttermilk may be replaced with milk, soured with 2tsp lemon juice.

* Almond meal can be substituted with plain flour (or part thereof)

Preheat oven to 180C. Line the base and sides of a medium sized loaf pan with baking paper.
Sift flour, baking powder and spices together and set aside.
In a separate bowl, beat butter and Natvia with an electric mixer until very light and fluffy; this should take about 8 minutes.  Add the eggs one at a time, beating well after each addition.
Add the flour mixture, almond meal, apple, buttermilk, sour cream, orange rind to your creamed butter and Natvia. Mix lightly until combined.
Spread the mixture into the prepared pan. If adding coconut and almonds, scatter them over the top of the loaf, along with your extra cinnamon.
Bake for about 40 minutes or until firm when you touch the centre of the loaf. If the centre is still soft, cover and secure sides with a sheet of foil and bake a further 7 minutes or so. Stand to cool for 5 minutes before turning out.
This deliciously dense, moist loaf is best eaten on the day made, with a cup of Natvia sweetened tea of course!  It can also be or sliced thickly and toasted; divine with butter or your favourite jam. This loaf keeps well in the freezer for up to 1 month.
Barbequed Beef Kebabs with Sweet Mustard Marinade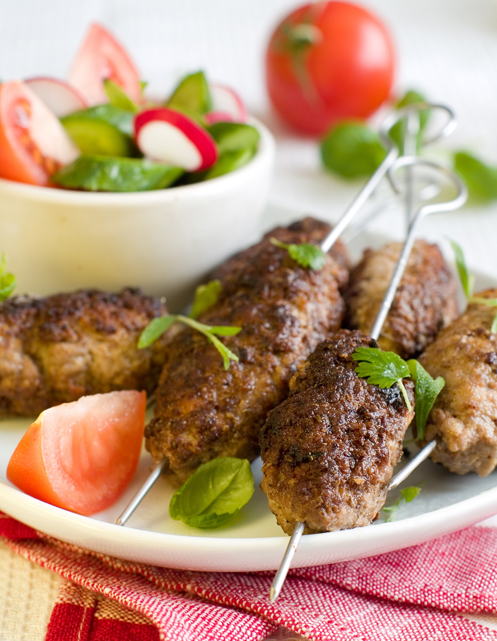 You will need 12 bamboo skewers and at least 2 hours to marinade beef before cooking for this recipe.
1 tablespoon of whole grain mustard

2 spring onions finely chopped

2 cloves of garlic, crushed

Juice from one orange

2 tsp extra virgin olive oil

¼ cup of Natvia

Freshly ground black pepper

700g lean rump steak cut into 2cm chunks

1 green capsicum

300g cherry tomatoes

Cooking spray
Place the mustard, spring onions, garlic, juice from one orange, oil, Natvia and pepper into a shallow dish and stir. Add the beef and turn to coat well. Cover and place in the fridge to marinate for at least 2 hours, turning meat once in the marinade.
Drain the beef, reserve the marinade. Thread the beef, capsicum and whole cherry tomatoes onto 12 small bamboo skewers. Set aside.
Heat a barbecue grill or plate on medium/high. Spray the kebabs with cooking spray. Place on the barbeque and cook for 2-3 minutes each side, brushing once with the reserved marinade.
Tomato Chutney
½ brown onion, finely chopped

1 garlic clove, crushed

1 tablespoon of water

4 roma tomatoes, chopped

1 tablespoon red wine vinegar

1 teaspoon Natvia

Freshly ground black pepper
Put onion, garlic and water in a medium saucepan. Cook, covered, stirring often, over a medium heat for 4-5 minutes or until the onion softens slightly. Add tomato and vinegar. Bring to simmer. Reduced heat to low. Cover and cook, stirring occasionally, for 10 minutes. Cook, uncovered, stir occasionally for a further 10 minutes until the sauce thickens. Stir in the Natvia. Season with black pepper and transfer to a dish.
Pretty lemon Shortbread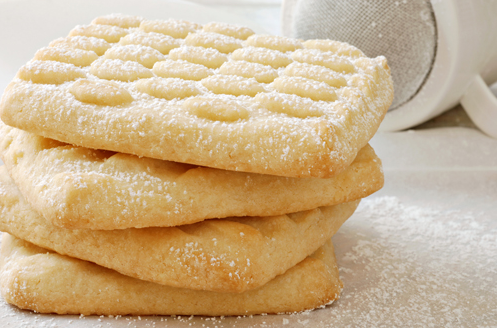 (Makes about 20 biscuits)
150g unsalted butter, softened to room temperature

1 Tablespoon Natvia

2 tsp vanilla bean paste or good quality vanilla extract

1 ¼ cups (195g) plain flour

1 teaspoon finely grated lemon rind


2-3 tsp lemon juice
Preheat the oven to a slow 150oC (130oC fan forced) and line a largetray with baking paper.
Extract the vanilla bean paste by slicing the vanilla bean lengthways. Gently scrape your knife along the inside of the bean.
Using an electric mixer, cream the softened butter with the Natvia and vanilla paste for 8 minutes on high speed or until very pale and fluffy, scraping down the sides of the bowl regularly.
Reduce to speed to low and add the lemon rind, flour and enough lemon juice to form a soft dough, mixing very lightly. Knead lightly with your hands until soft & pliable. Do not over work.
Press into a ball and wrap in plastic wrap. Refrigerate for 15 minutes.
Roll out the cooled mix between sheets of baking paper to a large square. Refrigerate for a further 10 minutes if dough is not firm.
Cut into small squares or desired shape with a floured cutter and gently transfer to your prepared baking trays.
Bake for 15- 20 minutes or until firm. Allow to trays and shortbread to cool completely before moving as shortbread is naturally very delicate.
* Do not over mix or over work the dough or it will toughen quickly.
* It's a good idea to keep your hands cool when kneading. Before you start, run your wrists under cold water.
* Resting the dough before rolling is essential to help stop it toughening up and shrinking.
* If the dough is sticky or hard to handle, you can refrigerate after cutting (before baking). These delicious shortbreads will keep well for 2 days in a sealed container.
Sticky Finger Chicken Wings and Tangy Garden Salad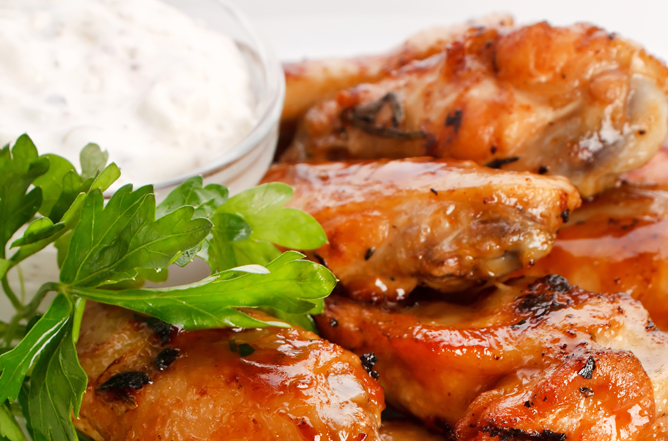 (Serves 4)
Normally 'sticky' dishes contain lots of sugars (white, brown, honey or golden syrup). This no added sugar version is much healthier, and a lot easier to clean up after!
Sticky Finger Chicken Wings:
1 ½ tablespoons (25g) Natvia

3 Tablespoons soy sauce

3 Tablespoons tomato sauce

2 Tablespoons hoisin sauce

2 Tablespoons fresh grated ginger

1 Tablespoon vegetable oil

1 clove garlic, crushed or very finely chopped

1 teaspoon 5 spice powder

Salt and pepper to taste

1.5 kg chicken wings
(Use kitchen scissors to snip off the ends tips of the wings, as they tend to burn easily.)
Combine all ingredients except the chicken wings in a large bowl.
Once your marinade is well combined, add in the chicken wings and ensure they are thoroughly coated wit marinade.
Cover with plastic wrap and refrigerate for 2 hours. (You can marinade them for less time, but 2 hours will allow the flavours to develop.)
Preheat oven to 200C (190oC fan forced)
Line a large baking dish with foil. Spread out the wings evenly across the foil.
Bake for 30 to 35 minutes, turning regularly.
Preheat your grill to hot.
Remove the wings from the oven and place the dish under the grill, turning for 5 minutes or until crispy.
Serve immediately with a tossed salad or individually as finger food.
Tangy dressing:
1/3 cup  (80ml) extra virgin olive oil

Finely grated rind and juice 1 large lemon

½ tsp Natvia

1 small clove garlic, crushed, or finely chopped

Salt & freshly ground black pepper to taste
Combine all dressing ingredients and whisk well.
Drizzle over your favourite salad greens and toss well just before serving
Tips:
For a gluten free version use gluten free hoisin, soy and tomato sauces.
For a fiery zing, add fresh chopped chilli to the marinade mix.
Natvia is available in the sugar/sweetener aisle at Coles, Woolworths, selected independent supermarkets, health food stores and in cafes nationwide. You can join the Natvia Sweeter Life Club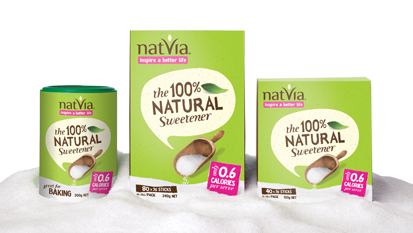 Send in your own Natvia recipes to [email protected] and Natvia will send you a gift pack.
And if you have any questions, post them here and we'll get them answered!
Posts on sarahwilson.com may contain links to sponsors and affiliates with the capacity to receive monetary compensation, which helps to support the growth and development of this site. Giveaways are sponsored promotions and will always be stated as such on the post. Books, eBooks and other products that align with my site and ethos may potentially be accepted for review, but please respect my desire not to clutter my life with "stuff" before you send your wonderful product or press release. I am not a medical professional; rather, a wellness advocate, therefore anything written by myself on this site is my own (researched) opinion and not advice from a trained doctor. Here is a full breakdown of my position on sponsored posts and advertising.