Here's two things about going gluten-free. You have to, at some point, abandon the idea of eating exactly like you used to. It does mean eating less carbs, partly out of necessity (cos you can't eat the muesli or the toast options on a breakfast menu, for instance). But in the meantime (point two), there are ways…
Here, a post of some of the basics that you've always loved. So you don't feel like you're missing out. For more check out this slide show with more than two dozen great gluten-free recipes.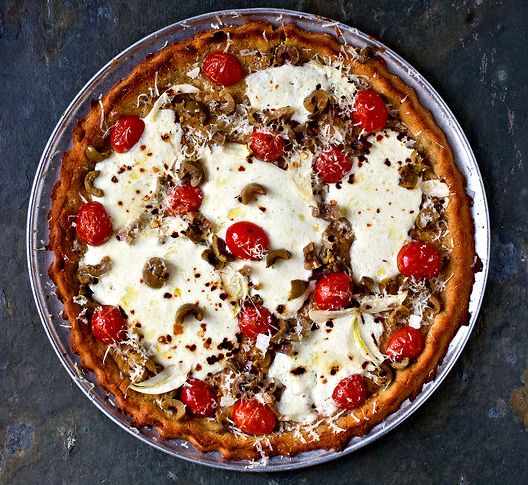 photo by Andrew Scrivani
Time: 1 hour plus rising. Yield: 4 servings.
7 grams flaxseed meal (about 1 tablespoon)
500 grams gluten-free flour blend (about 4 cups), purchased or homemade (see recipe)
1 1/2 teaspoons kosher salt
15 grams active-dry yeast (about 4 teaspoons)
1/4 cup extra virgin olive oil, more as needed
Cornmeal for dusting
2 garlic cloves, peeled and sliced paper-thin
1/2 cup grape tomatoes, halved lengthwise
1/3 cup roughly chopped olives
250 grams regular or buffalo mozzarella, sliced
1/2 cup grated parmesan cheese
Crushed red chile flakes to taste
Flaky sea salt, optional.
Pour 2 tablespoons boiling-hot water over flaxseed. Whisk quickly until you have a thick paste. Cool.
In a stand mixer fitted with a paddle attachment, combine the flour and salt.
In a separate small bowl, gently stir together the yeast and olive oil with 1/2 cup warm water. Let it rest a few minutes to activate the yeast.
Add the flaxseed to the dry ingredients and mix for 10 seconds. Pour the yeast-oil-water mixture into the dry ingredients. With the mixer on medium, mix for a few moments, until the dough comes together into a soft ball around the paddle and feels soft and pliable. If the dough feels too dry, add a little more warm water in small amounts until the dough feels soft and pliable. Let the dough rise in a warm place for 1 hour.
Meanwhile, heat the oven to 230 degrees, with a rack in the upper third. If you have a pizza stone, put it on the rack and let it heat. If not, sprinkle a pizza tray or baking sheet with gluten-free cornmeal.
Divide the dough in half. Roll out each piece between two pieces of parchment paper into 1/4-inch thick rounds. (Put one in the refrigerator while baking the first.) Remove the top parchment layer, and gently flip the dough onto the pizza stone or baking tray. Remove the other piece of parchment paper. Crimp the edge if you like. Brush the top with olive oil.
Bake until the dough has started to crisp up and brown at the edges, 8 to 10 minutes.
Remove the crust from the oven and add half the garlic slices, grape tomatoes, olives, mozzarella, parmesan and chile flakes. Drizzle with olive oil and bake for about 8 minutes, until the cheese is melted and bubbling. Drizzle with more oil and, if you like, flaky salt.
Repeat with remaining dough and toppings.
rice and millet flour crackers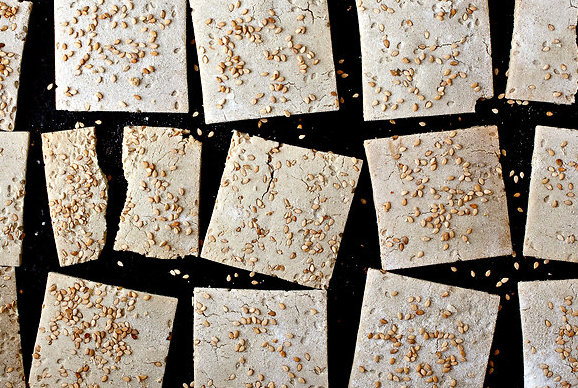 makes 80 to 90 crackers
1 3/4 cups rice flour (preferably brown rice flour)
3/4 cup plus 2 tablespoons millet flour (I make mine by grinding millet in a spice mill)
3/4 teaspoon salt
1 teaspoon sugar
1/4 cup water
2 large eggs
2 tablespoons unsalted butter, cut into small pieces
2 tablespoons extra virgin olive oil (or omit the butter and use 1/4 cup olive oil)
2 tablespoons seeds, like as sesame, charnushka (nigella) or poppy seeds
Preheat the oven to 190 degrees. Line two baking sheets with parchment. Combine the flours, salt and sugar in the bowl of a food processor fitted with a steel blade. Pulse a few times to combine. Add the butter, and pulse until the flour mixture is crumbly. Combine the water, eggs and olive oil in a measuring cup. Turn on the processor. Add the liquids with the machine running, and process until the dough comes together. The dough will be soft. If it seems wet, add another tablespoon or two of rice flour.
Remove from the food processor. Divide into two portions, and roll out each portion into thin sheets. Sprinkle on the seeds. Using the rolling pin, gently press the topping into the surface of the dough. Cut the dough into squares or rectangles, and transfer to the baking sheets.
Bake 15 minutes or until lightly browned and crisp.
Advance preparation: These crackers will keep for about a week in an airtight container.
bread sticks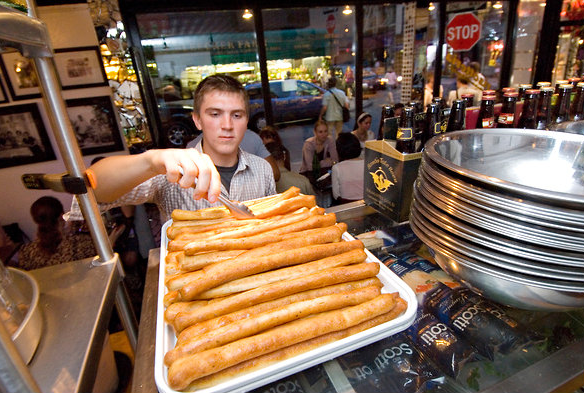 Time: 40 minutes. Yield: 12 breadsticks.
1/2 teaspoon plus 1/8 teaspoon active dry yeast
3/4 cup organic brown rice flour
1/2 cup tapioca starch (see note)
1 tablespoon non-fat dry milk powder
1/2 teaspoon xanthan gum (see note)
1/2 teaspoon unflavoured gelatin powder
1/4 teaspoon sea salt
Pinch of dried herbes de Provence
1/4 teaspoon sugar
1 1/2 tablespoons extra virgin olive oil
1 1/2 tablespoons cider vinegar
Nonstick spray or vegetable oil, for greasing baking sheet and breadsticks
Fleur de sel or other flaky sea salt
Preheat oven to 220 degrees. In a medium mixing bowl fitted with standard beaters (not a dough hook), combine yeast, rice flour, tapioca starch, dry milk powder, xanthan gum, gelatin powder, 1/4 teaspoon sea salt and herbes de Provence. Mix on low speed to blend. Add 1 cup warm water, sugar, olive oil and vinegar. Increase speed to high, and beat 6 minutes. (Dough will stay very soft and should not pull off sides of bowl; if necessary, add water 1 tablespoon at a time until dough does not resist beaters.)
Liberally spray or oil a baking sheet, and set aside. Put dough into a large pastry bag with a plain round 1/2 -inch tip, and pipe 12 breadsticks about 8 inches long, leaving about 2 inches in between. Spray or brush tops of breadsticks liberally with oil, and salt generously with fleur de sel.
Bake breadsticks 10 minutes, turn and spray or brush again with oil. Continue to bake until golden brown, about 10 minutes more. Serve warm.
Note: Tapioca starch is available in Asian markets and specialty food stores, and xanthan gum is available in health food stores.
Also, these:
Check out these gluten free scones with home made berry jam from Teresa Cutter.
And this rainbow quinoa tabbouleh recipe I posted last week.
And this crumble topping recipe from a while back.