Here's two things about going gluten-free. You have to, at some point, abandon the idea of eating exactly like you used to. It does mean eating less carbs, partly out of necessity (cos you can't eat the muesli or the toast options on a breakfast menu, for instance). But in the meantime (point two), there are ways…
Here, a post of some of the basics that you've always loved. So you don't feel like you're missing out. For more check out this slide show with more than two dozen great gluten-free recipes.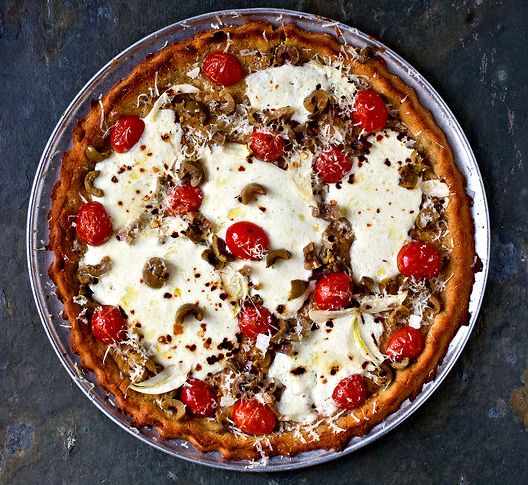 photo by Andrew Scrivani
Time: 1 hour plus rising. Yield: 4 servings.
7 grams flaxseed meal (about 1 tablespoon)
500 grams gluten-free flour blend (about 4 cups), purchased or homemade (see recipe)
1 1/2 teaspoons kosher salt
15 grams active-dry yeast (about 4 teaspoons)
1/4 cup extra virgin olive oil, more as needed
Cornmeal for dusting
2 garlic cloves, peeled and sliced paper-thin
1/2 cup grape tomatoes, halved lengthwise
1/3 cup roughly chopped olives
250 grams regular or buffalo mozzarella, sliced
1/2 cup grated parmesan cheese
Crushed red chile flakes to taste
Flaky sea salt, optional.
Pour 2 tablespoons boiling-hot water over flaxseed. Whisk quickly until you have a thick paste. Cool.
In a stand mixer fitted with a paddle attachment, combine the flour and salt.
In a separate small bowl, gently stir together the yeast and olive oil with 1/2 cup warm water. Let it rest a few minutes to activate the yeast.
Add the flaxseed to the dry ingredients and mix for 10 seconds. Pour the yeast-oil-water mixture into the dry ingredients. With the mixer on medium, mix for a few moments, until the dough comes together into a soft ball around the paddle and feels soft and pliable. If the dough feels too dry, add a little more warm water in small amounts until the dough feels soft and pliable. Let the dough rise in a warm place for 1 hour.