It's almost spring. Which, for all kinds of reasons, is a good time to get fresh with our foods and clean things up a bit.  Our bodies respond so well at this time of year to a "cleanse" – it shakes us from the winter heaviness and gets us digesting light and breezily ready for the heat. Oh yes, heat!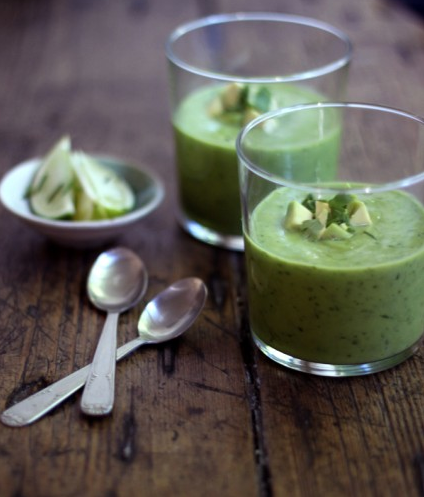 From an ayurvedic POV, it's all about enlivening kaphic energy (spring needs an alert kaphic energy to withstand the dampness). (I've written rundowns on ayurvedic doshas, and the vata effect previously)
Personally, I'm not a massive fan of full-on, restrictive eating detoxes. And, indeed, it's the principle behind the new show I host Eat Yourself Sexy, which launches THIS THURSDAY!!! Our bodies naturally detox far better when fed good food, aided with a few tricks. Honestly, eating our way through a clean out is soooo much more fun.
If you feel like cleaning things out ready for the warmer weather, a few tricks and recipes (and please add your own ideas at the bottom…these are just the things I'm going to be doing):
1. Get plenty of sleep – our bodies detox throughout the night. We need to get to bed by 10pm to align with the detox/cell regeneration processes throughout the night.
2. Eat ginger. And other digestive herbs and spices as much as you can: cumin, fennel, cayenne pepper, turmeric.
3. Drink digestive teas. Licorice, fennel, mint, dandelion…

4. Eat green. As much as you can. Green cleans. Silverbeet, spinach, kale, broccoli…and be sure to start to move into the cooler green things as the weather warms: avocado and cucumber, mint and parsley. I love this recipe for rawvocado soup from wholeliving (pic above). It pretty much combines the top cleansing ingredients in the one little package….
Chilled 'Rawvocado' Soup with Coconut Water
This recipe makes two servings.  If you want more soup, double the amounts accordingly.
2 large, ripe avocados
1 cup coconut water (you could also use nut milk or filtered water)
juice of 1 lime (about 4 tablespoons)
½ cup coriander leaves
¼ cup chives
1 shallot, minced
pinch of cayenne pepper (optional)
Cut open and pit avocados. Scoop out flesh, reserving a small portion of one half for garnish.
Place all ingredients in a blender or food processor and blend on high until smooth. If the soup is too thick, add more coconut water until the desired consistency is reached (it should coat the back of a spoon, but not be solid).
Pour into a large jar with a tight-fitting lid and chill in the fridge for at least 1 hour. Serve when cold. Garnish with avocado cubes and chives or coriander.
5. Chlorella is great. The benefits are these:
strengthens the immune system
promotes bowel health
helps to detoxify the body
cleanses the blood stream, liver, and kidneys
increases oxygen to your body's cells and brain
fights infection
slowing cellular damage
aiding wound healing by stimulating new cell growth
builds blood
helps to eliminate mouth and body odors
helps raise the pH of your body to a more alkaline state
promotes the production of friendly flora in your gastrointestinal tract
helps to counteract the fatigue and mood swings associated with PMS
But be careful…it's quite strong and can sweep things out a little too fast. You can read about my experience here. I love that mynewroots has developed some recipes for incorporating it into meals….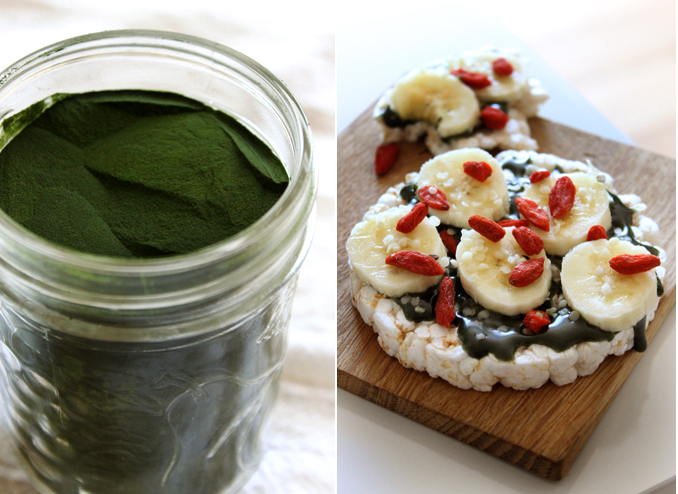 Green dream chlorella cream
Start with just a teaspoon of chlorella, taste, and work your way up to your flavour tolerance. Start slow and build your taste for it. Your body will tell you when you're ready to up the ante. 
 ½ cup raw liquid honey (sugar-free kids, you might like to use stevia)
1-3 tsp. chlorella
2-4 Tbsp. raw tahini
Place honey in a bowl and whisk in chlorella until thoroughly combined.
Add the tahini, one tablespoon at a time and whisk. You can add as much tahini as you like, but I find the cream tends to become quite solid if I put in too much.
Store chlorella cream in the fridge, either in a squeeze bottle for optimal drizzle action, or in a glass jar.
6. Keen for more green, try Vital Greens. I personally love this stuff and it's soooo good when you're travelling and finding it tough to get veggies into your gullet (and/or not functioning too well in the bowel movement department…which is what happens for me when I travel…I share my healthy travel tips here). A teaspoon or two in water, or in a smoothie, in the morning and it gets everything slipping through a treat. There are a range of different versions of this kind of green powder on the market…I'm sure they're all pretty good, but ask the person in the health food shop what they think (and look out for sugar!).
7. And for even more green…herbs are mean. I like this recipe below for a coriander pesto. Coriander is particularly good for detoxing and chelating. Or simply add large handfuls or parsley or basil into your meals. I toss huge handfuls through almost every meal (and heat it a little – sweat it in the sauce – or toss into the stirfry, rather than adding after –   to make it easier to eat).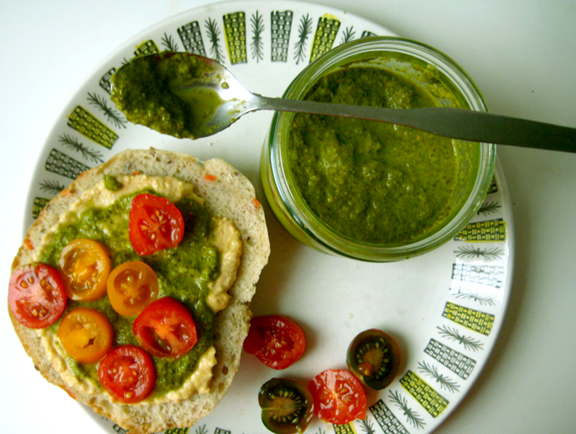 Coriander Pesto
 4 bunches fresh coriander
1 peeled medium sweet onion
Juice of 3 lemons
¼ cup toasted pine nuts (optional)
¼ tsp. ground cayenne
2-3 Tbsp. olive oil
1 Tbsp. agave nectar or honey
Salt to taste
Trim ends off coriander bunches and place them in a large bowl of fresh water, dunking them several times.
Drain water and repeat once more to be sure that all of the dirt has been removed.
In a blender, puree onion in lemon juice.Add coriander (both leaves and stems), and remaining ingredients to blender and blend until mix is uniformly green.Salt to taste.
8. Go alkaline. That is, eat less acidic foods – meat, sugar, tomato, caffeine, oranges, potato, eggplant, capsicum, vinegar. Just reading this list you can see that these foods are cold weather foods. Lemon juice in hot water is a great way to alkalise your system each morning. Or you can use organic apple cider vinegar. Note: lemon juice and apple cider vinegar alkalise the system when consumed. Hard to get the head around, but true.
9. Juice detoxes can work well. They can kick start things if you've been over-indulging over winter – they help you switch gears. Be sure to ask that they are not restrictive calorically (ie that they still add up to about 1600 calories a day… starving yourself sets you up for drama) and contain healthy fat (via nut milks and coconut water) and not too much fruit sugar (ie are mostly green veggie juices). For more, I've written about some juice detoxes I've tried here and here.
10. So can detox retreats and detox food programs. The kind that involve eating, that is. I truly believe the best way to detox is to nourish your body and it will do the work for you. If you restrict yourself too much, the body goes into "freak out " flight/fight mode and will do strange things. So a retreat, like this one,  or a food delivery program, like Eat Fit Food, is a good way to go because they do just that…with controlled calories. They're like a run-up for good eating through summer.
11. While detoxing... 1. move. As toxins releasing you need to keep them moving around and out – exercise and get massages if need be and budget affords. 2. sweat. As above – you want to get the crap out. Exercise and steam rooms are great. 3. Drink a shit-load of water.
I know many of you are healthy food types…what do you love to do when going clean and green?