To be honest, being safe on a bike is mostly about being visible. I ride to be seen. Which is to say, I ride obviously. I ride so cars know I'm there. I take off at traffic lights from up front, I ride on the road (not on footpaths where reversing cars can't see me) and I ride brightly. And so it is that I just love this little creation from Melbourne label Culture Cycle:
Crocheted. Glow-in-the-dark. Bike fashion.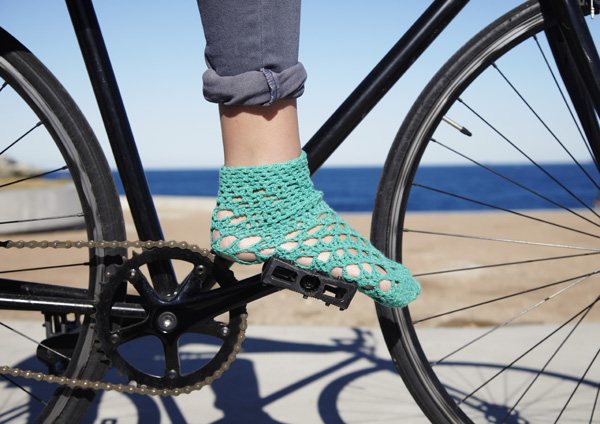 Culture Cycle is a seriously kooky range of handmade crocheted bits and pieces, intertwined with reflective yarns that light up at night.


Cool, light and safe.

Angelina is the chick behind the brand and is a keen rider who runs cycle tours in Sydney and Melbourne where, at the end, you sit down and…very cute…crochet. Crochet and cycling and coffee. Seriously.


She tells me she uses yarns that she sews into her products, for high visibility day and night.  One is as thin as the cotton that you use in a sewing machine and its made from glass beads. It's highly reflective and when it's crocheted into products it's difficult to see in daylight.  The other is a double sided flat ribbon which is equally as reflective and is quite visible in daylight so it offers great opportunities to make textured products.

I have a set of lime green cuffs and this wrap vest (below), which is fine enough to scrunch up in my bag, pretty enough to wear over my t-back singlet or a dress and versatile enough to wear as a scarf, a vest or a wrap.
But check out these wrist cuffs