After my post about why the paleo diet works, and then my coconut flour post, one of the biggest requests I've had is: what can I eat for breakfast if I'm grain-free, sugar-free? You ask, I oblige…here's a glorious host  of options for you to try from bloggers and tweeters and from my own archives. Hope it helps.
PS My personal favourites are the turnip bake and the "corn cakes"…clever!
PPS For my previous paleo breakfast ideas (nut balls, egg + spinach in a cup etc)  go here and here and here.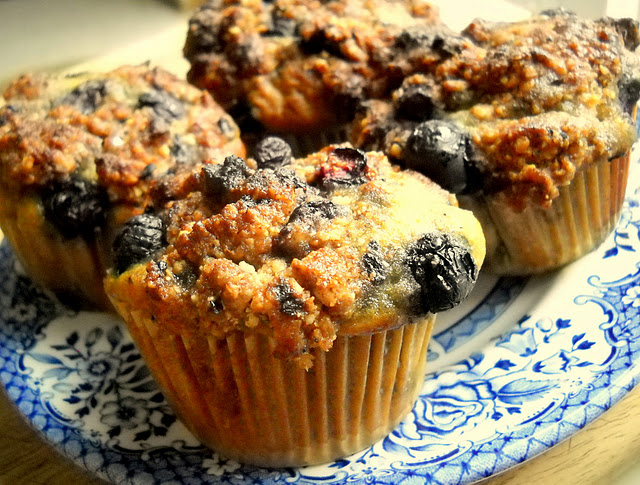 blueberry crumble top muffins
From Maria at RestCo: This recipe uses both coconut and almond flour. It is best to make these a day ahead and let the flavors meld overnight. Baked goods made with coconut flour taste best completely cooled.
In a food processor or kitchen mixer process the following wet ingredients
4 eggs
1/4 cup coconut milk
1/4 cup rice malt syrup (optional)
2t vanilla extract
Once well mixed add
1/3 cup coconut flour
1/4 cup almond flour
1/4t salt
1/4t baking soda
1/2T cinnamon
a few grates of nutmeg
Mix well, then gently add 1/2 cup blueberries (I used frozen). Fill 6-8 muffin cups depending on how big you like your muffins.
Crumble topping
4T cold butter chunks
1/4t salt (skip if using salted butter)
1T coconut flour
1T almond flour
1/2T cinnamon
a few grates nutmeg
a splash of vanilla
1/3 cup nuts (I used almonds)
1/3 cup toasted coconut flakes
1/3 cup blueberries
Pulse everything except the blueberries in a food processor until crumbly. Add blueberries, pulse a few more times. You're crumble topping is ready to go on the muffins. It may be clumped together, this is fine. Divide topping evenly among the muffins.
Bake 28-35mins in a preheated 180C degree oven. Cool completely, (you can cool in fridge), enjoy!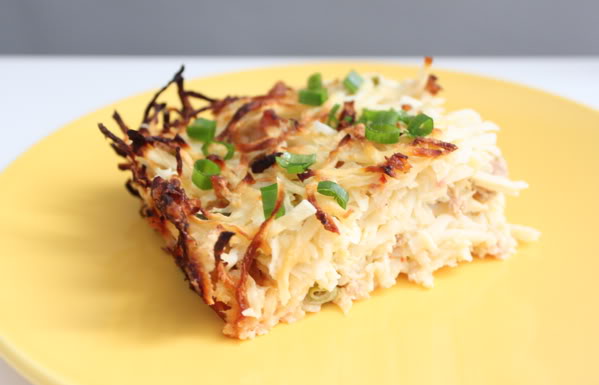 500g pound ground breakfast sausage or other ground meat
3 turnips, peeled and grated (a food processor works well for this)
4 eggs, beaten
3 scallions, chopped
Sauté sausage, breaking it up into small pieces with a spoon or spatula, until almost cooked through.
Mix the sausage with the rest of the ingredients.
Spoon into a 8×8 baking pan.
When ready to cook, heat oven to 200 degrees. Bake for 45 minutes then cover the pan and bake for 25 minutes more. Let cool 15-20 minutes so the casserole sets before cutting into it.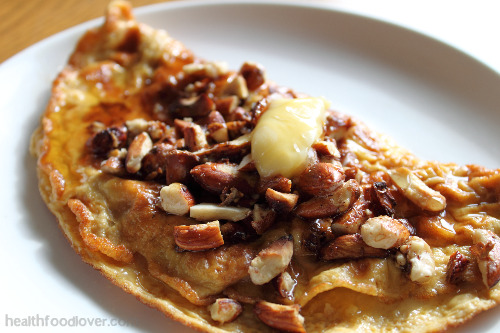 Michelle says: This omelette is milk free, and can be dairy free if you use coconut oil instead of butter. It is also grain/gluten free. 
2 whole eggs, beaten
1 tsp. vanilla extract
1 T. butter/ghee or coconut oil, to cook with
optional to serve: (see below for ideas)
In a bowl beat the vanilla with the eggs until thick. Set aside.
Heat the butter in the frying pan on medium heat till the butter has melted and started bubbling.
Add the egg mixture into the pan making sure the mixture is evenly spread around the pan.
Cook until it is firm and all the liquid has cooked. Fold the omelette over itself and then serve how you like.
Things to serve with the sweet breakfast omelette:
toasted almonds, lemon curd and rice malt syrup
nut butters such as almond and macadamia
fresh fruit such as berries, apple and strawberries
fill with lemon curd
a dollop of yoghurt or sour cream
a dollop of whipped coconut cream
sprinkle of cinnamon
chopped pecans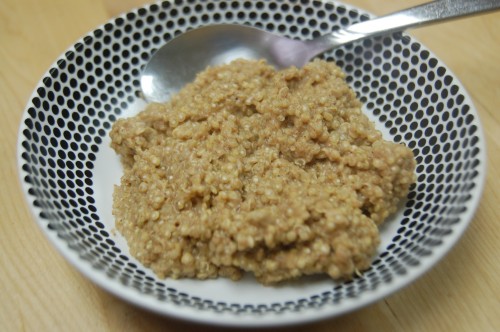 1/2 cup of quinoa – soaked and rinsed.
1 cup of almond milk blended with 2 dates for sweetness
1/2 t of pumpkin pie spice
Place almond milk and rinsed quinoa in a pot and bring to the boil, then place on simmer until the quinoa has 'popped' and all the liquid has soaked into the seed, similar to cooking cous cous or rice.
Stir through pumpkin pie spice and enjoy either warm or cold like a pudding.
Optional: baked apple on top would just set this off.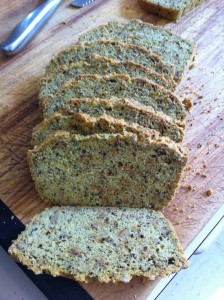 3 cups Almond Meal
4 Tablespoons Coconut Flour
1/2 cup Flaxseed Meal
2 tablespoons Walnuts, roughly chopped
1/4 cup Sunflower Seeds
1/2 tsp Sea Salt
1 1/2 tsp Baking Soda
8 Free Range Eggs
1/2 cup Coconut Oil
2 tablespoons Vinegar
Place almond meal, coconut flour, flax, salt and baking soda in a food processor and pulse ingredients together. Pulse in eggs, oil, walnuts, seeds and vinegar until well combined. Pour batter into a greased and lined loaf tin. Bake in a moderate oven for 45 minutes. Cool and serve. Makes 25 slices. Slices freeze well, toast for breakfast and spread with lashings of butter.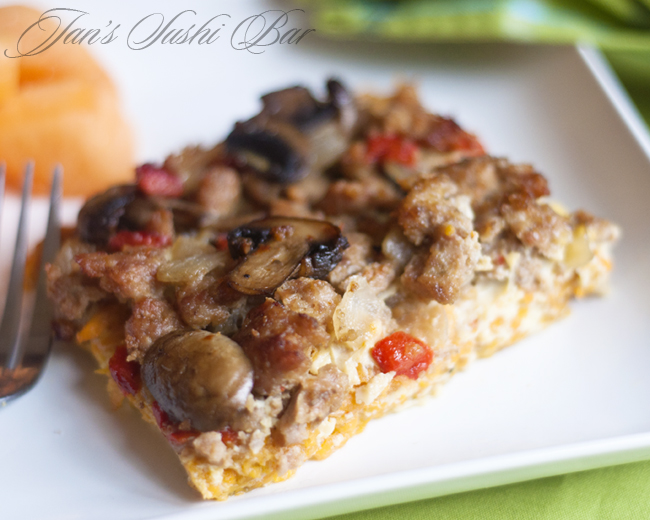 sausage mushroom breakfast casserole, from Jan's sushi bar
2 large sweet potatoes
450g bulk hot italian sausage
220g white mushrooms, sliced
1 to 2 tablespoons lard
1 medium roasted red bell pepper, peeled, seeded and chopped
1/2 large onion, diced
6 eggs
3/4 cup coconut milk
1 1/2 teaspoons kosher salt, divided
3/4 teaspoon freshly-ground black pepper, divided
Preheat the oven to 190C. Grease a glass 9″ x 13″ baking dish with 1 tablespoon of the lard.
Peel the sweet potatoes and run them through the shredder disc of your food processor, or shred them using the large holes of a box grater. Place them in a large bowl and cover with ice water; set aside.
Crumble the sausage into a large, heavy skillet and cook over medium-high heat until no longer pink. Remove with a slotted spoon to a paper towel-lined bowl and set aside.
Without draining the fat, reduce the heat slightly and add the mushrooms in a single layer. Don't crowd them – you want them nicely browned and almost crisp.  Too many in the pan at once will cause them to steam, rather than brown, once they begin to give off moisture. Cook them in batches if necessary. Once they are nicely browned, remove with a slotted spoon and add them to the sausage.
Add 1/2 to 1 tablespoon of the lard, if necessary, to the skillet and reduce the heat to medium-low. Cook the onions until soft and golden, about 5 minutes. Remove with a slotted spoon, and add to the bowl with the sausage and mushrooms.
Lightly toss the roasted, chopped bell pepper with the sausage, mushrooms and onions. Set aside.
Drain the shredded sweet potatoes and pat them dry with a paper towel. Toss them with 1 teaspoon of salt and 1/2 teaspoon of pepper, then spread them over the bottom of the greased baking dish. Sprinkle the sausage/mushroom mixture evenly over the sweet potatoes, covering them as completely as possible.
In a large bowl, whisk the eggs and coconut milk together with the remaining 1/2 teaspoon of salt and 1/4 teaspoon of pepper until well-blended. Pour the egg mixture over the sausage and potatoes in the baking dish, making sure the eggs are distributed evenly.
Cover the dish with foil and bake for 20 to 30 minutes, until the eggs are set and a knife inserted in the center comes out clean. Remove the foil and return to the oven for another 5 to 10 minutes, if necessary, to brown the top. Allow to rest for 5 to 10 minutes; cut into 6 equal portions and serve.
 1/2 – 1 cup of marina (tomato) sauce or however much will cover the bottom of a pan
Eggs
Parmesan, pecorino, or any hard cheese
salt and pepper
Pour the sauce in pan and bring to a simmer.  Crack the eggs and gently drop in the sauce.  Cover immediately and cook until the top white have set.
Remove with a spatula, or however you can easily do it.  Shred some cheese, and season with salt and pepper to your liking.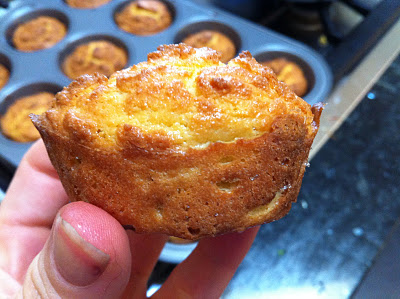 2/3 cup coconut flour
1/2 cup butter (1 stick) (If you cant eat butter, mix coconut butter and olive oil)
8 eggs
1/2 tsp salt
1/2 tsp baking powder
Preheat the oven to 200 degrees. Whisk together the coconut flour, salt, and baking powder. In another bowl, beat the eggs. Whisk in the melted butter. Add the coconut flour mixture to the egg/butter mixture and stir to combine. I used a Kitchen Aid to blend quickly until if formed a dough mixture. Divide the batter amongst 12 greased muffin tins. Bake for 25 minutes or until golden browned. Take out of oven and let cool. Use in stuffing or eat just by themselves! YUM!
 breakfast salmon salad, from Janet Campbell
Tin pink salmon
Finely sliced fennel
Fresh parsley
Cooked cold broccoli florets (I slice up & use the stem too)
Couple of stalks spring onions finely sliced
About 2 tablespoons cooked cold brown rice per person (not paleo, but adds texture – & it's a very small amount)
Fresh lime juice & cracked black pepper to taste (optional)
Quantities of fennel and broccoli to your own preference.  Just mix all ingredients together and serve cold. Use the lime juice and pepper to season or invent your own mix to moisten and flavour the dish). Serves 2 with one 210gm tin salmon.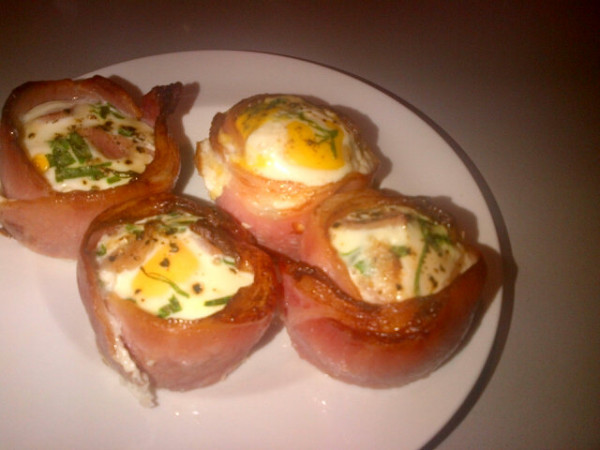 bacon and egg cupcakes, from Alan Osman
Alan doesn't provide a recipe, but I've made these before – line muffin tins with bacon or ham, crack an egg in and bake in 200C oven for about 10-12 minutes… sprinkle with feta or chives.
Tried anything similar? Any paleo breakfast tips you'd like to share?