I made this a while back and shared the recipe with my friend Renee. In passing.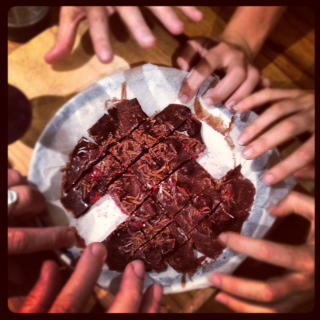 It's the kind of recipe I'm packing my forthcoming I Quit Sugar Cookbook with. Simple, moorish, minimal-ingredients-required "assemblages", brimful of nutrients and wholesome sweetness. Over the next few weeks I'll be sharing some sneak peaks…on Instagram, my IQS Facebook page and Twitter. And to be sure:
The I Quit Sugar Cookbook is out next month.
To receive an early-bird discount and a gift, feel free to sign up here.
Meantime, back to the Raspberry Ripe.
During the week I got this text from Renee:
And this….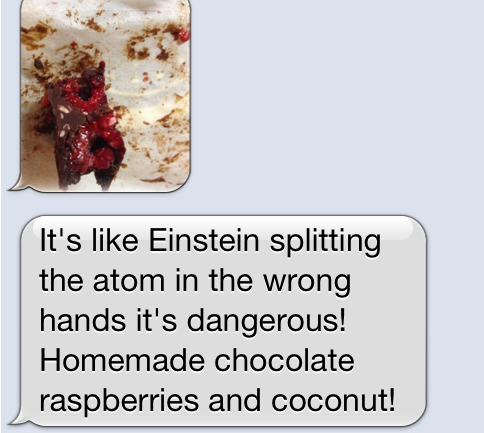 It's seductive stuff. But I'll tell you the interesting thing. If you ever find yourself indulging in this kind of sugar-free treat, while you can be quite wired from the cacao, you don't get the buzzy, stinging static in your body that you get from a sugar binge. Nor the flaccid, acidic feeling in the morning. Also, you are quite aware you're over-eating for flavour, not due to a frenzied, primal grab for fructose. Besides, you fill up quickly and lose interest due to the healthy fat content.
Enough ranting.
The recipe…
Sugar-free raspberry ripple
* 1/3- 1/2 cup coconut oil
* 1/3 cup organic salted butter (be sure to use salted…the saltiness gives it a lovely kick)
* 2 tbls raw cacao, or cocoa
* 1 tbls rice malt syrup
* 1/3 cup coconut, shredded or flakes (for a chunkier version)
* 1/3 cup of frozen raspberries
Melt the butter and oil (in a pan or microwave…the oil takes longer to melt so add the butter a little after); stir in the cacao and syrup. Arrange the berries and coconut on a sheet of baking paper on a baking tray or plate (a dinner plate is ideal – the slight indent creates a good shape). Pour the coconut oil mixture over the top and pop in the freezer. When firm either break into shards or cut into wedges.
Stay tuned for more recipes like this in the I Quit Sugar Cookbook – coming soon!