This is a meditation trick I learned years ago. It's simple and sweet. And I revert to it often. You might like it in these noisy, frenetic times we're having just now.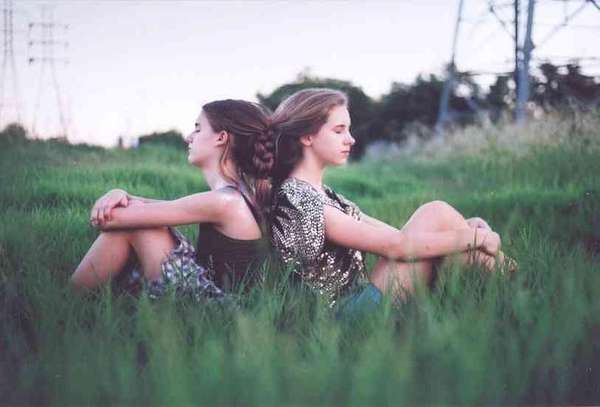 I've mentioned before how much I struggle with meditation. But every day I sit down and do it. Twice a day. For three years now. I don't descend or transcend. It's a war for me. Over time I've been able to – briefly, tentatively – touch that still, mind-less, space. Even just for a few seconds. Before I recoil again, back to my cascading thoughts.
Once you've gingerly reached out and touched that space, even if only for a few delicate moments, there's no going back. You need to know it better, you need to go there again. Like tasting salty chocolate.  And, really, there's no choice. The lid's been lifted, the scab's been removed.
At a yoga retreat a few years back – before I learned to meditate in the vedic style – I found a way to hold it a little longer. I arrived at the collection of rambling wooden huts tucked into dense bushland late for a three-day intensive. It's cold on this side of the mountain and the currawongs are doing that sad, lonely aw-awww. I do these retreats, but I tell you, I arrive kicking and screaming , fidgety and cynical and worried about sharing bunk beds with strangers and doing sing-alongs after dinner.
And constipated. I always, always get constipated. I pass through the gates of the retreat centre and it's like everything just jams right up, like the kid that's told to share his bag of lollies and reluctantly holds out his stach, but gripping it from below so only one or two can be picked out.
You don't have to be Louise Hay to see what this is about. When forced to connect and share, I "hold on" to my crap. I can't flee, either others nor myself. I grip even tighter. I've done a few of these workshops and retreats over the years. Always, without fail, on the last day as we do our final class or meditation, I finally let go.
I poo. Then I cry. Then I drive home.
Too much? Sorry.
In the late afternoon on day three we were sitting in an old scout hall, the doors flung open to bushland. A shaft of light streamed in, warming my eyelids. I'd just done two days of opening asana. And now we had to meditate for a full hour. I'd never sat still that long. I gripped. Every cell of my being wanted to run. To climb a tree. Couldn't we just talk about meditating in expansive ways over rooibos tea from the urn in the common room?  But I sat and followed the instructions. Deb, the teacher told us to:
Turn your awareness to your heart chakra. Now imagine you're sitting on a small bench with yourself in this space in the centre of your chest.
Just hanging out in each other's company.
There I was. Yes I had it. I was sitting on a backless, worn wooden bench and to the right of me, sitting quietly on the bench, was me. We're looking out at the view, over treetops down to an ocean. We 're just hanging.
My head started analyzing and pulling back to commentate. Wow! Wait till I tell everyone about this in the post-meditation chat. I go back to looking forward and just knowing that I'm there brings me back to just hanging.
"Now hold that feeling," Deb says.
I held the feeling. It felt like the end of a sigh.
Or climbing into your own bed after being away for a week.
The smells and the warmth hugged at my being. And I didn't want to run from it like I normally did, back to my thoughts and my scheduling and thinking about what I'd eat for dinner when I got back to Sydney. A kookaburra cackled and the afternoon turned melancholy, as it does for me when the day's light fades. But I stayed with the feeling. I felt solid. Yes, solid. I had nowhere to go.
And slowly I started to smile. I found it funny. There "I" was, right here with me. It was funny in the way that a kid finds it softly, self-consciously funny when they realize their Dad has played a trick on them. A dawning funny.
I realized in that moment, all this time, I'd been there all along.
Why did this resonate for me? Did it pour water on my compulsive need to start scheduling and thinking about what came next? Yeah. But there was something more. I had the overwhelming understanding that everything I needed was right here. No need to dart and dash.
Nowhere to go.
I'd read about this many times before – finding that still spot beyond the ego. Eckhart Tolle conveys it by inviting you to ask Who Am I?
When you ask "Who Am I" deeply, over and over, without trying too hard for the answer, it eventually dawns on you: who, then, is asking the question?
"I" am asking the question. As in, the vast Big "I" that's always there, able to ask questions of myself – the little "i", gently and patiently. This existential riddle, I'd always "got it" cerebrally and philosophically. But now, tentatively, with the low sun warming my eyelids, I was feeling it. Really feeling it. The realization rushed up my spine.
There on the bench was Sarah-The-Person, with four limbs, a lazy eye and an emotional attachment to chocolate. I could see her. In that moment I dropped fully into the calm, patient "I", aware that this Sarah-the-person next to me was nattering away in her head, berating herself for eating too much dahl at lunch, debating whether to change the cross of her legs because goddamn it's fallen asleep again. And I felt for her. I felt compassion and kindness and in that moment I found Sarah-The-Person a rather funny little thing, sitting there with her on the bench.
Hey, I said to me. I reckon I get it.
You might like to try this technique? Quietly sit on a bench…just for 3-5 minutes. Tell me if it works for you.