You might not be aware of this, but each month more than 300 people out there on the interweb are earning extra cash – up to $1000 a month – by sharing the I Quit Sugar message among their readers. Some of you have been asking how this affiliates set-up works. And how you can do the same. So I'll share. I'm also taking a little moment to thank the affiliates out there who've supported me over the past year or so.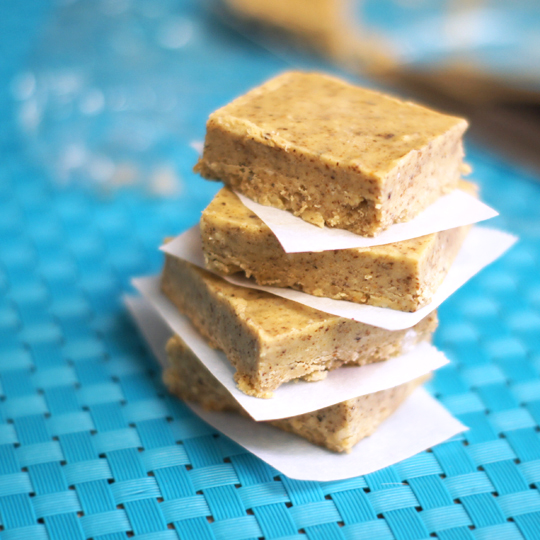 From time to time I like to give gifts to the most enthusiastic affiliates – last month the sleek Maria at Scandi Foodie was that enthused person (thank you thank you!) and I am sending over $500 worth of vouchers and prizes to say…thank you thank you! Check out how she does it so well here. And also scroll down below to see how a couple of other affiliates are doing it…in a way that's helpful and effective and not…sell-in-ish. If you know what I mean.
Firstly, what IS an affiliate program?
A clever way for you to take part in spreading the sugar-free message with me. If you liked the ebook/s,  share your thoughts on it/them with your readers, and I'll help you make some money for your efforts.
Can anyone be an affiliate?
Yep! You can. You can run your affiliates through your website, as well as a newsletter, magazine, put it in your email auto-signature, or share on your social media sites.
What do you get?
For my affiliate program, 30% commission on every sale that goes through your site. This means you make $8.70 on the bundle deal (both ebooks in one), $4.50 on the I Quit Sugar: an 8-week program, $5.70 for I Quit Sugar Cookbook. You can also make $3.60 on the I Quit Sugar Christmas Meal Plan.
Some helpful tricks for selling to your readers…
I really recommend sharing not selling. That is, tell your readers what you really reckon about my ebooks. Be honest. Not Pyramid sell-ish.
The easiest way is by writing a review of the ebook on your site. It's always best that you read the books first – affiliates work via genuine recommendations. Readers can "smell" inauthenticity. Trust me. Then tweet, facebook etc your post.
You could also email the information to your contacts. Or include advertisements for the affiliate on your website. Or, any other clever way you can think of to include the affiliate link!
The best way to make the most out of being an affiliate is by actively engaging your readers, explaining the ebook, and getting people motivated. Share how you found things, what happened for you. Be personal. No hard sell, just clever helpful stuff for your readers. Here are some stellar examples of how it's being done:
Kate over at Kate Quit Sugar did a few posts geared at helping her readers (check out some of her posts while you're clicking over!). First, a review of the I Quit Sugar: an 8-week program.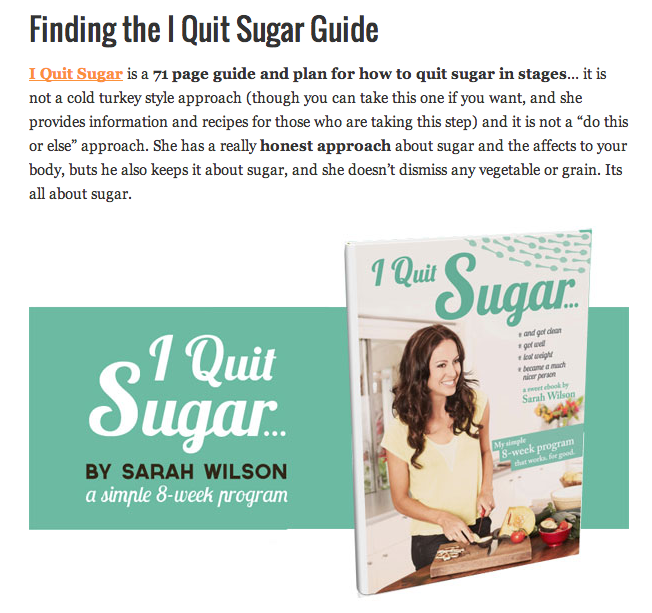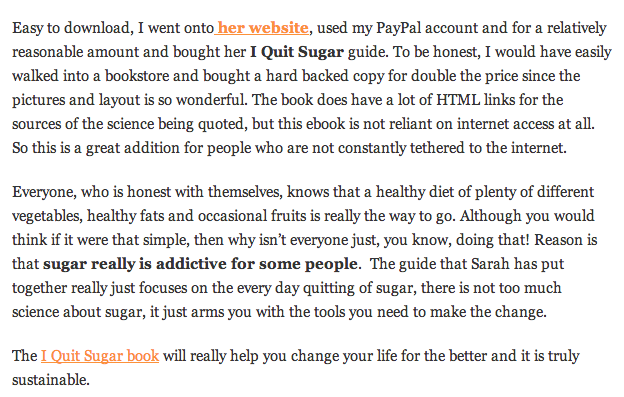 Then a review of the I Quit Sugar Cookbook here.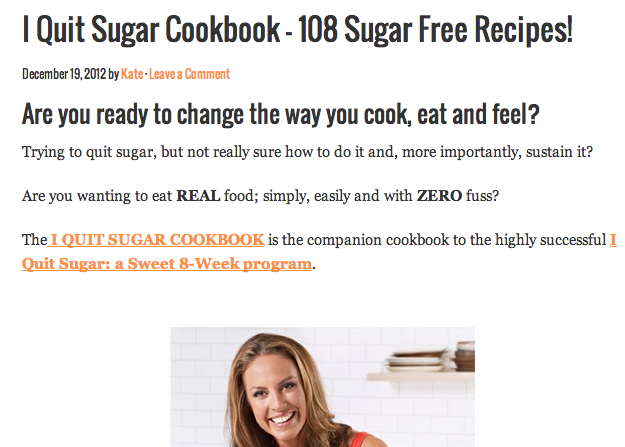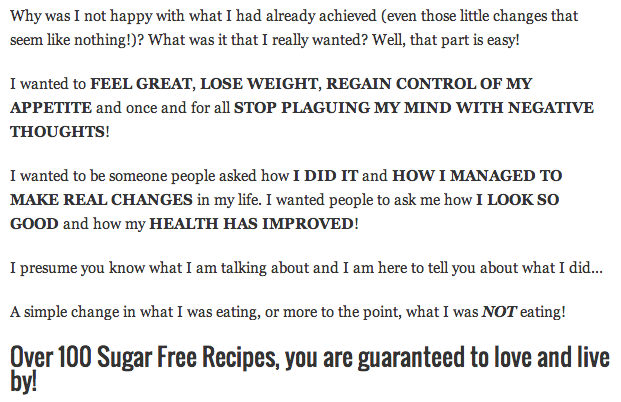 Kate also runs affiliate ads down the right hand side of her page. Another clever way to maximise the affiliate.
And then Megan from Detoxinista's post: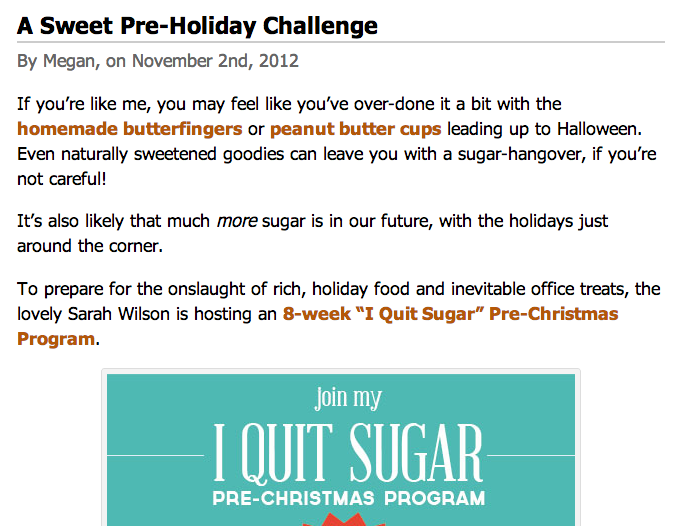 Also followed up by a second clever post here: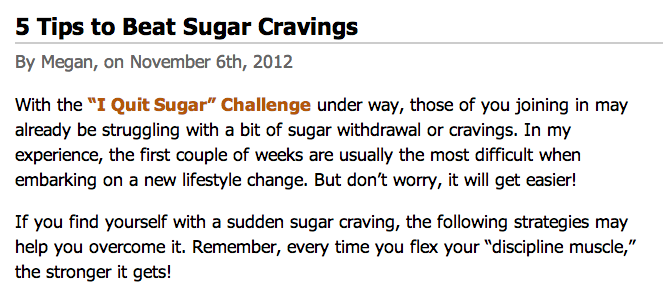 One other thing
I like to be upfront and very clear about everything I do on this site and recommend this to everyone. When you do an affiliates post, you might like to find some nice wording to let people know you will be making money from it and that it's not just a random review. Your readers will appreciate this. As an FYI, It's actually law in the US to disclose affiliate links.
If you're not happy to be so upfront, you might like to include it in your terms and conditions statement. Either way, it's important to cover it off. If you want to have a read about how I go about this kind of thing, click here.
And if you missed it above, here is Detoxinista's sugar-free creamy almond butter freezer fudge recipe!
If you're keen to become an affiliate, and make some money selling my ebooks, you can find all the details here. Or post your questions below and Jo and I will answer them as best we can. 
* And stay tuned for some Australia Day long weekend discounts!
Posts on sarahwilson.com may contain links to sponsors and affiliates with the capacity to receive monetary compensation, which helps to support the growth and development of this site. Giveaways are sponsored promotions and will always be stated as such on the post. Books, eBooks and other products that align with my site and ethos may potentially be accepted for review, but please respect my desire not to clutter my life with "stuff" before you send your wonderful product or press release. I am not a medical professional; rather, a wellness advocate, therefore anything written by myself on this site is my own (researched) opinion and not advice from a trained doctor. Here is a full breakdown of my position on sponsored posts and advertising.