I love Aran from Cannelle e Vanille. We all love Aran. And we love that she's offered to share another recipe with us all today. I recently shared three summer quinoa recipes from Aran's beautiful book Small Plates and Sweet Treats (now available, details here). This one is a sweet one…but I've adjusted it to be sugar-free.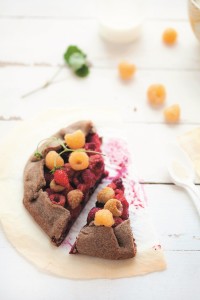 Summer berry and buckwheat galette
Serves 6 to 8
Buckwheat crust
3/4 cup superfine brown rice flour, plus more for dusting
1⁄4 cup potato starch
1⁄4 cup buckwheat flour
3 teaspoons stevia granules
1/8 teaspoon salt
1 stick (8 tablespoons) cold unsalted butter, cut into 1⁄2-inch cubes
1 egg yolk
3 to 5 tablespoons ice water
Summer berry filling
31/2 cups assorted berries
2 tablespoons stevia granules
1 vanilla bean, split lengthwise and seeds scraped
1 teaspoon finely grated lemon zest
Galette assembly
Preheat the oven to 220°C.
To make the crust: combine the first five ingredients in a food processor. Pulse once or twice to combine. Add the cold butter and pulse ten times. You will end up with small pieces of butter that are visible throughout. In a small bowl, whisk together the egg yolk and 3 tablespoons ice water. Add it to the dough and pulse until it comes together. Add up to 2 more tablespoons ice water, if needed. Turn the dough out onto a work surface, knead it a couple of times, and form a disk. Wrap in plastic wrap, flatten it, and refrigerate for 1 hour. Meanwhile, prepare the filling.
To prepare the filling: toss together the berries, stevia, vanilla bean seeds, and lemon zest in a medium bowl. Let macerate while the dough chills.
To assemble the galette: remove the chilled dough from the refrigerator, unwrap it, and place it on a work surface that has been dusted with superfine brown rice flour. Roll the dough to a circle that is 1⁄4 inch thick. Keep rotating the dough while rolling to prevent it from sticking to the surface. Transfer to a baking sheet lined with parchment paper. Cut a circle of dough that is approximately 10 inches in diameter. Sprinkle the almond flour in the center of the dough. Pile the filling on top of the almond flour, leaving 2 to 3 inches of space around the border. Fold the edges over the filling. If the dough cracks, simply pinch it back together. Chill the galette in the refrigerator for 15 minutes. Bake the galette for 30 to 40 minutes, until the filling is bubbling and the crust fully baked. Let it cool on the baking sheet for 10 minutes before cutting. Serve warm or at room temperature.
Let me know if you make this one…I'd love to know how it goes.