OzHarvest has released its first cookbook of "food rescue" recipes, which perfectly marries two things I'm passionate about: not wasting food, and creating simple meals with leftovers. I'll be sharing a few of the recipes from the cookbook below, but also know this:
for every book purchased, more than 60 meals will be delivered to those in need.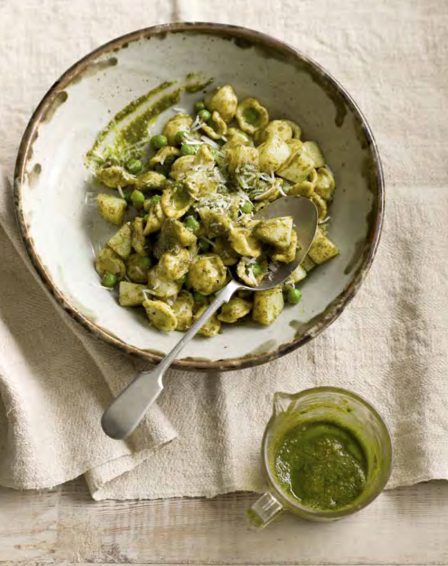 There's a great incentive to get the cookbook if ever I've heard one. You can buy the OzHarvest cookbook from David Jones' stores nationwide, or from OzHarvest online.
Each year, $7.8 billion of food is thrown out and over four tonnes ends up as landfill (stats via Foodwise). And in any one night, one in ten people go without a decent meal. OzHarvest has been the conduit that links the two, picking up leftover food that would otherwise have been thrown out and delivering it to those who need it. OzHarvest has delivered more than 15 million meals and rescued more than 4,400 tonnes of food from ending up as landfill since 2004.
The cookbook includes 120 recipes dedicated to converting your leftovers into simply great meals for the family devised by 40 super chefs, including Maggie Beer, George Calombaris, Poh Ling Yeow, Peter Gilmore, Bill Granger and Neil Perry.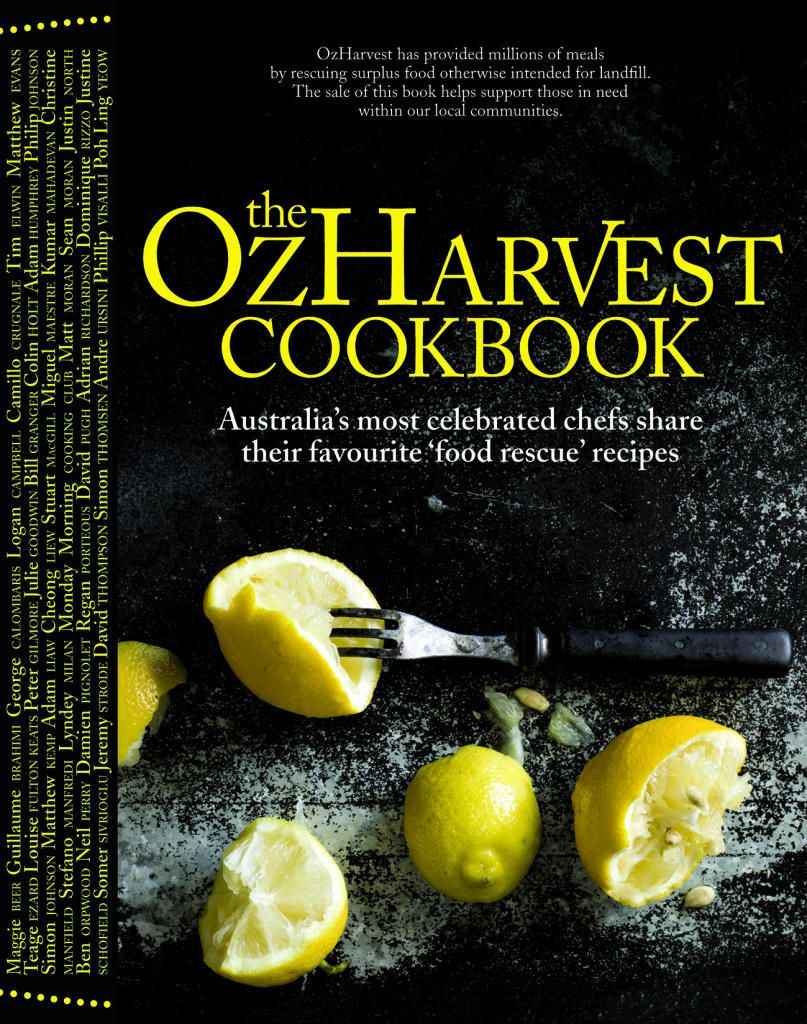 Her's a peek at some of my favourites…
Neil Perry's Orecchiette with Potatoes Peas & Pesto
Serves 4 (image above)
You can buy pesto or make it in the blender, but I promise that if you pound it by hand it'll taste so good that you'll never go back to the old ways. Pesto is perfect for using up wilting bunches of basil, and this recipe also uses last night's leftover spuds, whether boiled or roasted. The same, I guess, could also go for peas left over from the roast, instead of using those beautiful little Italian tinned ones. So, this is a bit of a roast dinner leftovers special. Did someone say lamb?
pesto
6 garlic cloves, peeled
50g pine nuts
2 bunches basil (about 200g), leaves only extra virgin olive oil
35g freshly grated parmesan
400g orecchiette
2 leftover boiled or roasted potatoes, diced
600g tinned peas, drained (or 300g cooked leftover peas)
juice of 1 lemon, to serve
freshly grated parmesan, to serve
First make the pesto. Pound the garlic and a little sea salt in a mortar with a pestle. Add the pine nuts and pound, then add the basil and pound some more. Add a little olive oil, followed by the parmesan and freshly ground pepper, then a little more oil if needed to give a spoonable pesto. Check the seasoning.
Cook the orecchiette in a saucepan of well salted boiling water until al dente. Drain, keeping 3 tablespoons (1⁄4 cup) of the cooking water. Put the pasta back in the pan and add the potatoes, peas, pesto and cooking water. Stir until well coated. Spoon into four bowls, squeeze a little fresh lemon juice over each and then sprinkle with parmesan. Give a really good grind of fresh black pepper and serve.
Maggie Beer's Waste-not (definitely want) Frittata
300g leftover baked potatoes and pumpkin
a little olive oil
2 rosemary sprigs, chopped
2 tablespoons butter
1 leek or onion, sliced
5 free-range eggs
1 tablespoon grated parmesan
3 tablespoons (1⁄4 cup) chopped flat-leaf parsley, plus extra to serve
100g ricotta (optional)
rocket or salad leaves, to serve
Preheat the oven to 240°C. Line a baking tray with baking paper. Slice the potatoes and pumpkin, put on the baking tray and drizzle with olive oil. Season with salt and freshly ground black pepper and sprinkle with rosemary. Roast for 8–10 minutes to warm the vegetables through, then remove but leave the oven on.
Heat 1 tablespoon of the butter and a little more olive oil in a frying pan with an ovenproof handle. Add the leek or onion and fry gently until softened but not coloured. Remove from the pan and put with the roasted vegetables. Whisk the eggs in a large bowl and add the parmesan and parsley. Season lightly with salt and pepper.
Heat the remaining butter in the frying pan. Add the vegetables and spread them out, then pour in the egg mixture – it should puff and frill around the edges. Reduce the heat to low and cook for about 3 minutes, or until the bottom is golden but the top still moist. Put the pan in the oven for 2 minutes to set the top.
Drop spoonfuls of ricotta over the top and return to the oven for about 1 minute to warm through. Loosen the bottom and edge of the frittata from the pan with a spatula, sprinkle with parsley and drizzle with a little olive oil. Serve with rocket or salad leaves.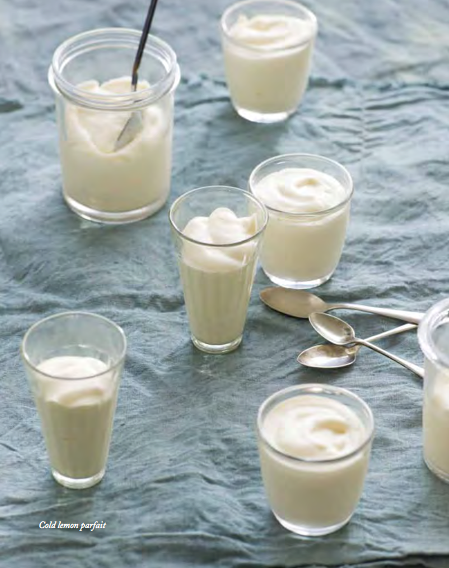 Maggie Beer's Cold Lemon Parfait
Serves 6
zest and juice of 3 lemons
3 free-range eggs, separated
100g caster sugar (if you're sugar free, you'll want to make a swap to stevia here) 

2 gold-strength gelatine leaves
300ml double cream
Strain the lemon juice (you need 100ml strained juice) and bring a large saucepan of water to the boil. Put the egg yolks, sugar, lemon zest and lemon juice in a large stainless steel bowl and set this over the pan of boiling water. Reduce the heat to a low simmer. Whisk the egg mixture (called a 'sabayon') until pale and thick. Remove the bowl and set aside.
Soften the gelatine in cold water for 3–4 minutes. Squeeze out the excess moisture and dissolve the leaves in 3 tablespoons hot water. Whisk this into the sabayon and refrigerate until cold and just starting to set. Whip the cream until soft peaks form, then fold this through the cold sabayon. Refrigerate again until just starting to set.
Meanwhile, whisk the egg whites until soft peaks form (be careful not to over-whip them or the texture of the final dessert will be crumbly rather than soft and light). Fold the egg white through the cold sabayon. Spoon into individual dishes or a large bowl and refrigerate for about 3 hours until set.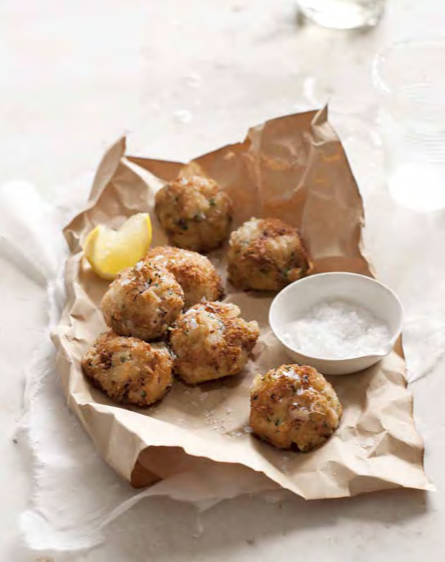 Christine Mansfield's Mushroom Arancini
Serves 4
Arancini are great for using up risotto – you can make these with mushroom, plain or whatever risotto you have left over. If you don't have any leftovers, make a risotto with garlic, diced pine mushrooms, 275g Vialone Nano rice and 800ml chicken stock. When the risotto is cooked, season to taste with salt and pepper and carry on as below.
600g leftover mushroom or plain risotto
150g fresh mozzarella, cut into small dice
6 spring onions, finely sliced
1 tablespoon chopped parsley
1 tablespoon chopped chervil
2 teaspoons chopped tarragon
60g (1⁄2 cup) grated parmesan
12 small cubes Taleggio*
1 egg, lightly beaten
60g (1 cup) panko breadcrumbs**
olive oil, to shallow-fry
lemon wedges, to serve
Mix together the risotto, mozzarella, spring onions, parsley, chervil, tarragon and parmesan.
Shape handfuls of the mixture into 12 small balls. Push a cube of Taleggio into the centre of each ball and squeeze the risotto firmly around it. Roll each ball in beaten egg and then coat thoroughly with breadcrumbs.
Heat the olive oil in a frying pan and fry the balls in small batches for 3–4 minutes until golden, rolling them over to brown them evenly. Drain on kitchen paper and serve hot with lemon wedges.
* Taleggio is an Italian washed-rind cheese available from delis and specialist food shops.
** Panko crumbs are Japanese breadcrumbs available from Asian food shops and some supermarkets.
Poh Ling Yeow's Tuna & Herb Rice
Serves 4, or 3 piggies
This recipe is a godsend on those nights when there isn't much in the fridge but you can't muster the energy to go to the shops. It's brilliance is in the economy of ingredients and the vibrance the herbs lend to what would otherwise be a quite ordinary dish. I tend to make it if I have some leftover rice and 'fresh' herbs that are on their last legs.
1 tablespoon coriander seeds
1 tablespoon cumin seeds
3 tablespoons (1⁄4 cup) olive oil or 40g butter
1 large onion, chopped
2 garlic cloves, finely chopped
1⁄2 –1 teaspoon dried chilli flakes
425g tin tuna in oil, drained and flaked
550g (3 cups) cooked jasmine or basmati rice
3 tomatoes, chopped
1 cup firmly packed chopped herbs (such as parsley, coriander, mint and basil)
Dry-toast the coriander and cumin seeds in a large frying pan over high heat until they are beautifully fragrant and smoke ever so slightly. Immediately agitate by tossing the pan or using a spatula, then remove from the heat. Put in a spice grinder or use a mortar and pestle to grind to a rough powder (some texture is fine). Set aside.
In the same frying pan, combine the olive oil, onion and garlic and saute over medium heat until fragrant and the onion has softened. Add the chilli flakes, tuna and rice and cook until the rice has softened. Remove from the heat and add the tomatoes and chopped herbs. Season to taste with salt and freshly cracked black pepper before serving.
The OzHarvest cookbook is available from David Jones' stores nationwide, or from OzHarvest online. Have you bought it yet? Love it?