This post has been updated.
I'm getting older and more sentimental and this year's ANZAC day is piquing some emotional spots. For readers outside Australia and New Zealand, ANZAC day is a national day of remembrance to honour the members of the Australian and New Zealand Army Corps (ANZAC) who fought at Gallipoli during World War I. (Today however, it goes beyond that anniversary; it's now a day when we remember the service and sacrifice of all Australian servicemen and women from every conflict, past and present.)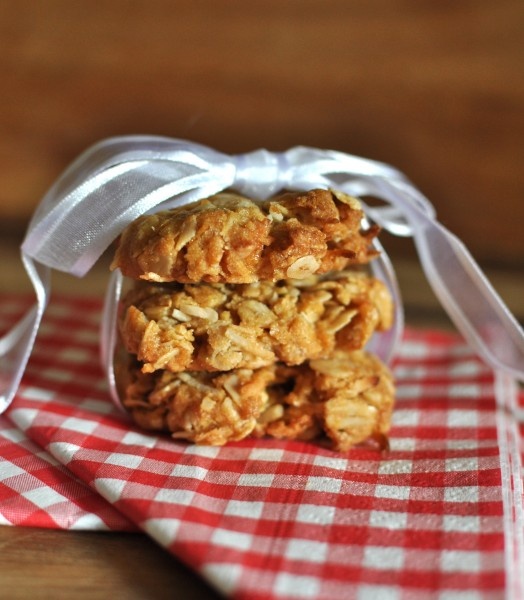 Right now, I'm feeling much respect. Respect for oldies. For a generation who sacrificed. It's this – the idea of sacrificing for a greater and largely unknown good – that touches me. My goodness, the faith!? Do we ever feel this?! Couple this with the fact that these very people who sacrificed are now so very out on their own. We don't care for our oldies as they cared for the future generations. We don't "do" this same notion of sacrifice. Somewhat sadly, we just don't have the time. Or faith, somehow.
Our "way" is to give money. This is not the same as our time and intimate contact. Is it? But it's still very much needed. Today, as well as running an ANZAC biscuit recipe, and a special sale offer, I'm giving $1 from every sale to the ANZAC Appeal. Next year, I hope I have the time to be more intimate.

My Sugar-Free ANZAC Biscuits
Again, for readers outside Australia and New Zealand, these biscuits were eaten by our soldiers in lieu of bread and was a tooth-cracking combo of long-last foods that would withstand the journey via ship to reach the troops: oats, flour, golden syrup, coconut and bi-carbonate of soda. It was an incredibly hard wafer, leading some of the wives and mums back home to finesse things a little. Today, we make them on this special day to remember the Fallen. I invite you all to take a moment to reflect and respect as you make these today. And to perhaps think of a way to help out – preferably intimately – to an oldie.
Makes 16
3/4 cup of plain flour (see below for gluten-free version)
1/3 cup stevia granules
3/4 cup coconut
3/4 cup rolled oats
1/2 teaspoon each vanilla powder and cinnamon
100g salted butter
2 tbls rice malt syrup
1/2 tsp bicarb soda dissolved in 1 tbls boiling water
Preheat oven to 175C. Mix the flour, stevia, coconut, vanilla, cinnamon and oats in a bowl. Melt the butter and rice malt syrup together until it bubbles and stir through the bicarb soda. Add the lot to the bowl and stir to combine. Roll heaped teaspoons of the mixture into balls and flatten on a greased tray. Bake for 15 minutes, or until golden brown. Cool on a rack to ensure they turn crispy!
For a completely gluten-free version: replace the flour with a combo of quinoa and rice flour and replace the oats with 1/2 cup almond meal.
Our special I Quit Sugar 50% off sale
For all of you after some more sugar-free recipes, we thought we'd pass on some love today by giving you 50% off any ebook in our collection:
The I Quit Sugar: 8-week program: This is the book you buy if you're wanting to quit. Today $7.50
The I Quit Sugar Cookbook: 108 sugar-free recipes. This is the book you buy if you just want to start cooking treats like coco-nutty granola, green cheesy mish mash soup, avocado and coconut water popsicles. Today $9.50.
The I Quit Sugar Bundle. This is what you grab if you want both for a song. Today $14.50.
We'd like to give $1 from every purchase to the Appeal which enables them to financially assist families with grocery expenses, household bills, medical and hospital expenses, mobile aids (such as wheelchairs, scooters and walking frames), household repairs and maintenance and funeral costs. In addition, volunteers provide non-financial support in the form of home and hospital visits providing both psychical and emotional care and assistance. If you'd like to make your own donation, you can do so here.
May 3: Thank you everyone we just made our IQS donation to the Anzac Appeal. x
Have a wonderful day. Respect!