I've found a new love. It's an autumnal love. She's versatile. She spreads herself generously. She's sweet, but not toxic and, OK, she's cheap.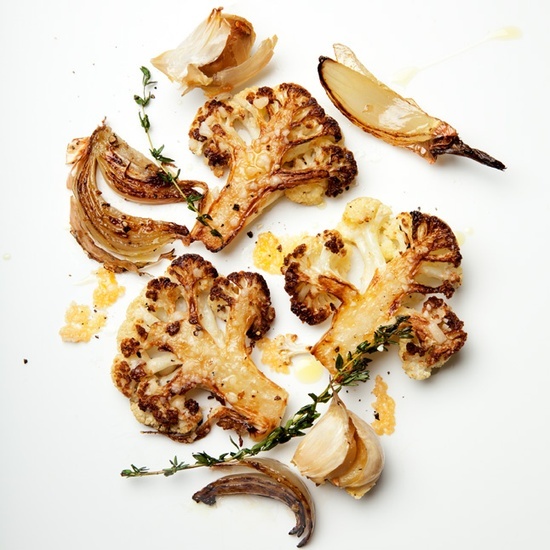 I've been playing with cauliflower for a few weeks now. I think you should have a go, too. These clunky white nuggets are full of antioxidants, rich in fibre and Vitamin C, a natural detoxifier and an anti-inflammatory food. Yep, they're a cruciferous vegetable and contain goitrogens that meant to be problematic for those of us with thyroid issues. But my take on this issue: there are far worse triggers to dampen thyroid. Plus, the goitrogenic enzymes are partially destroyed by heat. If you don't binge on the things and only eat them cooked, you're all good…IMO.
So…some ideas worth spreading:
1. Cauliflower Fried Rice
Serves 2
3 cups cauliflower (approx half head of small cauliflower)
1 tablespoon coconut oil or olive oil
2  eggs
2 garlic cloves, minced
1 carrot, diced
½ cup frozen peas
3 green shallots, sliced
100g prawns shelled, diced*
Tamari or soy sauce to taste
sea salt, to taste
Grate the cauliflower on the larger side of a cheese grater, or pulse in a food processor until it's rice sized. Wrap the riced cauliflower in a couple paper towels and squeeze it to remove any excess moisture.
In a small fry pan, skillet or wok, fry the prawn meat in one teaspoon oil until almost cooked, then set aside. Beat the eggs then cook as a flat omelette in another teaspoon of the oil. Remove from the pan and slice into strips using a knife or a pair of
scissors and set aside with the prawns. In the same pan, saute the garlic with the remaining oil, over medium heat. Add in the carrots and frozen peas and a splash of water to prevent sticking, and cook for 5 minutes. Add the shallots, cauliflower and remaining veggies along with a generous splash of tamari and salt. Stir to combine and heat through, about 3-5 minutes.
If you don't like prawns, substitute with bacon or chicken.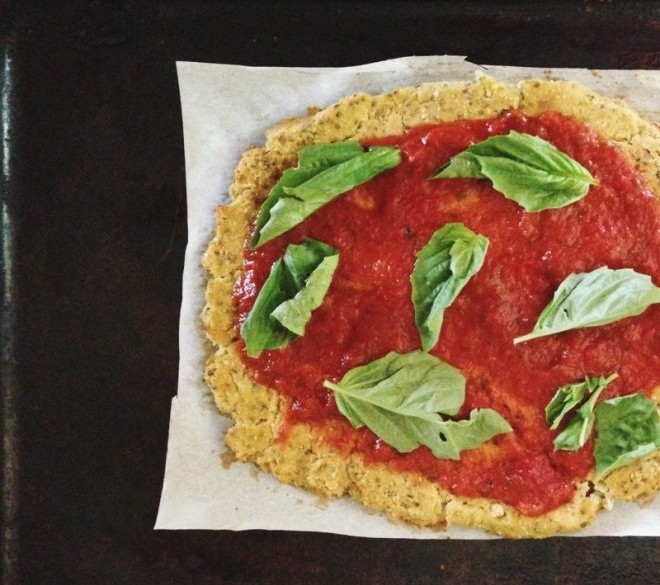 2. Cauliflower pizza
Seriously good – a pizza base that you can use like any other!
Serves 4
1 medium-size cauliflower, grated and cooked, drained well and water squeezed out
100g goat's cream cheese or 1 cup grated cheddar
1 egg
salt and black pepper
In a bowl, mix the grated cauliflower with the cheese and egg, and season. Divide the mix into four portions (or one big pizza) and, using your hands, shape the crusts on the sheet. They should be about 1-1½cm thick. Place on a try lined with baking paper. Bake for about 30-35 minutes, or until firm and golden.
Top with pizza toppings and cook as you would a normal pizza (about 8 minutes back in the oven).
3. Cheesy Cauliflower Leftovers "Pasta"
This is a great way to use up leftover quinoa that you might have in the freezer.
1/2 head of cauliflower, cut into small florets
1 1/2 cups of parcooked 'n' frozen quinoa (or make some from scratch…recipe here)
1/2 cup kale pesto (recipe here, or use any pesto you like)
big handful of grated cheese (Parmesan is best) or a big dollop of olive oil
Fry the cauliflower in some olive oil with a sprinkle of salt, cover and then sweat for about 10 minutes. Add the quinoa and peso and stir to heat through. Then stir through the cheese
4. Grilled Broccoli + Cauliflower
This came from Tammysrecipes.com.
2 medium-large red onions, cut into halves and thickly sliced
4 cups broccoli florets (bite-size)
1 medium head cauliflower, washed, trimmed and cut into florets (bite-size)
2 teaspoons salt
1/2 teaspoon black pepper
1-2 tablespoons minced garlic
1/3 cup oil
Pre-heat grill, along with a grill grid/pan on HIGH for 10 minutes. Toss all ingredients together in a large mixing bowl. (When adding the salt, sprinkle it rather than dumping it all in one spot.) Pour vegetables onto pre-heated grill pan and spread out evenly. Turn heat to LOW and grill with lid closed for 20-30 minutes. (Smaller florets will cook more quickly.) Stir and check every 10 minutes; vegetables are done when crisp-tender and browned on some sides. Serve hot and enjoy!
I like to serve these grilled veggies with grilled fish, beef, or chicken.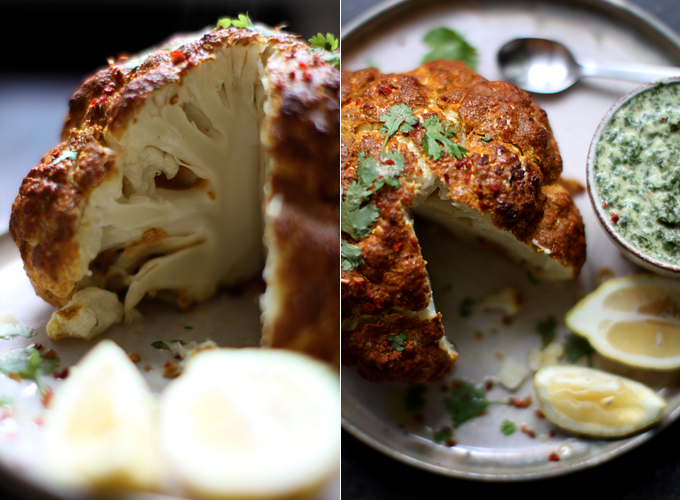 5. Whole Roasted Tandoori Cauliflower
I love this recipe by Sarah from My New Roots. And I love that she bought her spices from a dude I met in Copenhagen when I was photographing my book. He gave me a bunch of spices which I used to make my Royal Pumpkin Salad.
6. Roasted Cauliflower + Chickpeas
This is based on Gwyneth Paltrow's recipe in It's All Good.
1 can chickpeas
1 head cauliflower, cut into small florets
3 tablespoons coconut oil, melted
1 tablespoon each Dijon mustard, seeded mustard, apple cider vinegar
1/4 cup Italian parsley, chopped
Preheat the oven to 200C. Combine the cauliflower and peas in oil in a roasting pan and sprinkle with salt. Roast for about 40 minutes, until brown. Put the rest of the ingredients in a jar and shake. When your veggies are done, pour the dressing over the top (while still hot) and serve.
7. Cheesy Cauliflower Soup
Serves 4
1/2 head cauliflower, chopped
1 leek chopped
1 medium potato, peeled and diced
1 tbsp olive oil
2 cloves of garlic, crushed
4 cups water or stock
2 cups milk
2 tbs dried Italian herbs
2 tsp salt
freshly ground black pepper
1/2 cup cheese (blue cheese is best)
Fry off leek in the oil over medium-high heat. Add cauliflower and brown lightly. Pour in stock/water and milk and bring to the boil. Add potato salt, garlic and herbs. Simmer for about 20 minutes. Blend with a stick blender. Serve with the cheese crumbled on  top.
8. Cauliflower Paella
I like this one from Wellnessmama.com.
2 chicken thighs
4 tablespoons olive oil or butter
1 link chorizo sausage
1 cup chicken broth
1 cup clam juice (from canned clams) or more chicken broth
1 onion, finely diced
2 fresh tomatoes or 1 jar of diced tomatos, diced and drained
1 red bell pepper
4 cloves of fresh garlic, crushed and diced
1 pinch saffron threads (optional)
1 teaspoon salt
½ teaspoon pepper
½ teaspoon paprika
250g of prawns
1 dozen clams
1 dozen oysters
parsley and lemon to garnish
Put the olive oil or butter in a large flat skillet. Saute the chorizo until browned and remove from pan. Cut chicken in to bit size pieces and add to pan. Cook until cooked through and browned and remove. In the same pan, place the finely diced onion, garlic, pepper and tomatoes and cook for about 3 minutes on medium heat until onions are translucent. Using a food processor or cheese grater, grate the cauliflower until it is in small, rice-size pieces. Add to pan with chicken broth and clam stock. Add saffron, salt, pepper and paprika and simmer for 10-15 minutes or until cauliflower is tender.
While that is simmering, add ½ inch of water to a small pan and bring to a boil. Add the clams and cook at least 5 minutes until they have opened up. Do not use any that don't open! Cook oysters and set aside. When the cauliflower is starting to get tender, add the shrimp and continue to cook until pink. When shrimp and cauliflower are cooked and cauliflower is bright yellow from the saffron, add the cooked sausage, chicken and clams to the top of the pan. Sprinkle with chopped parsley and squeeze lemon wedges on top just before serving.
9. Cauliflower Dahl
1 onion
3cm chunk of ginger, minced
4 garlic cloves
2 tsp each ground coriander and cumin
1/2 tsp each cayenne pepper and ground turmeric
1 medium red chilli, chopped finely and deseeded (or 2 tsp chilli flakes)
2 cups yellow split peas, rinsed (not soaked)
1 head cauliflower, chopped into small florets
2 big handfuls of spinach leaves
coriander leaves to garnish
1/2 lemon, cut in quarters
In a thick-based pot, sweat the onion in some oil (coconut is perfect for this), then add the ginger, garblic and spices and toast gently. Take your time, Gentle heat is best. Toss in the peas and cover with water and bring to a boil. Then simmer (partially covered) for 35 minutes. Add the cauliflower and a little more water (if you need it) and cook for another 35 minutes. Stir through the spinach,  coriander and lemon quarters and serve with some yoghurt for breakfast lunch or dinner.
How do you roll with your cauliflower?