I turned 40 recently. And I had a party. It was a dinner party for 40 of my closest friends and family – 40 for 40 – and it was as sustainable as I could possibly make it. I bought nothing new, used produce that was going to be thrown out and kept as many ingredients as possible within a 100-200km radius of the event.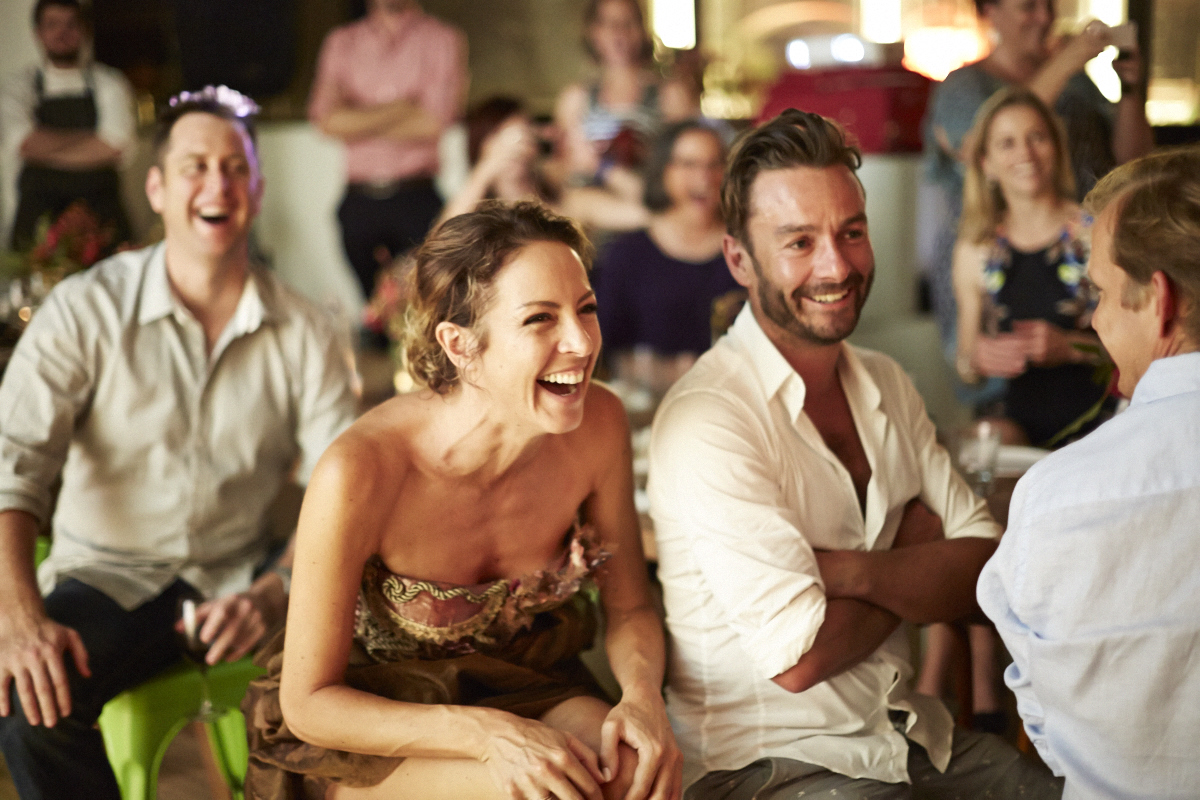 Why sustainable? Because I couldn't just "chuck a party" with a whole stack of booze and booze-soaking food and…wastage. I wanted it to matter and, so, as I put the whole crazy gala together (doubting myself the whole way…Will people want to come? Will they turn up? Does anyone love me?), I realized it was an opportunity to showcase some great stuff happening in the food sustainability realm.  You know, to pass on the care.
(As an aside, the mere act of working out that this is exactly what matters to me was a boon. So was witnessing how the whole thing kinda flowed into place – a  nice reminder that when you do what matters to you, stuff flows.)
Below is a rundown of how I went about orchestrating the party and all the contacts and tips you might need to do much the same with your next event, wedding, parties, anything. There are two ways to do life: blindly and consciously. And we can choose our way at every turn. At least that's what I think.
The Sustainable Dinner expert: Alex from Secret Foodies
I met Alex a while back when she invited me to an event she was running that showcased sustainable seafood. I liked her straight up. A country girl with great values who Just Makes Stuff Happen and waves away stress like a farmer swats a fly. She joined me to create the event and make it run far smoother than I ever could.
She can do the same for you – she does a great Farmyard Feast – or can tailor a theme to suit what matters to you. Or you can go along to one of her Secret Foodie dinners, pop-up events that work to different themes and bring together a bunch of fun, like-minded people in both Sydney and Melbourne at a secret event (sometimes it's in a random alleyway, or on a Bondi rooftop or a cosy restaurant…and sometimes involving dress-ups).
The Cook: Studio Neon.
I met Aaron through Alex (I rather love how this sustainable food network works). Aaron (ex-Harvey Nichols' 5th Floor Restaurant, Astral, EST and Felix, who's worked as a private chef cooking for Lady Margaret Thatcher, Kate Moss, Keira Knightly and, wait for it, the Queen), along with his chef Richard Robinson, (ex-Momofuku, French Laundry) runs a rad rent-out-for-your-own-purposes dining space in Waterloo in Sydney, and puts on "Guestaurants" – bespoke dinners that work to many of the principles I espouse.
We put together a menu working back from ingredients we could source (for free, as leftovers, in season) and using herbs foraged from around Sydney. It went like this:
Crudités (using Marty's veggies, below) with Crème Fraiche (from Pepe Saya) and chicken crackling (made from chicken skin that butchers throw out).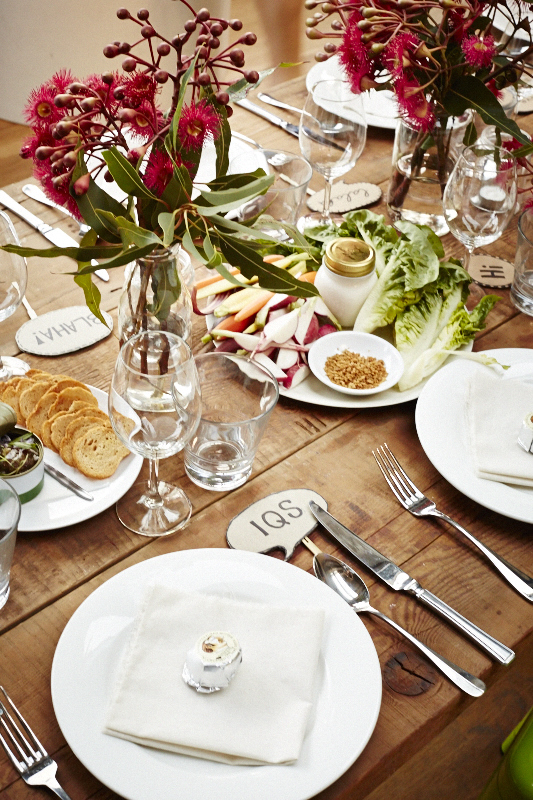 "Tuna Trash" Tartare, served in a tuna tin. Aaron took a tuna carcass from Cleanfish Australia, see below, that would otherwise be turfed and, using a spoon, scraped off all the flesh from around the bones to create this dish. The bonus is that it's this flesh around the ribs that is the most lush and full of gelatin. I would not normally serve tuna – it's not a sustainable option – so this is a great way to go about enjoying it. Aaron also removes the bone marrow and roasts the bones to create a consume at his dinners.
Heirloom beetroot salad, Willowbrae goat's cheese with beetroot popsicles.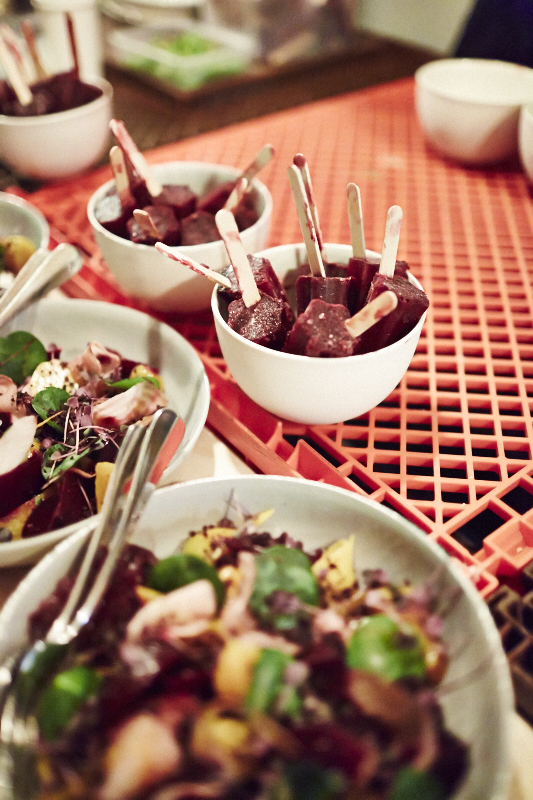 House smoked salmon with foraged fennel, creme fraiche and peas
Slow roasted suckling pigs from Melanda Park (see below)
Baked kipfler potatoes
Corn on the cob coated in smokey paprika and cumin butter
Kale and zucchini salad
To book Studio Neon and to experience their creative ideas subscribe to the newsletter.
The Cocktails: Trolley'd
I just love the Trolley'd boys. Using locally made liquor (where possible) and hand-foraged herbs from around Sydney's suburbs they front up at parties with a fleet of ex-Ansett drink trolleys and dressed in pilots uniforms to mix you up a full-flight beverage. They're as smooth as cruise mode and put on some great theatrics. When they smoke the tequila in situ it gets quite the squeal from IQS GM Zoe.
Founders Byron and Chris and their crew became part of the I Quit Sugar community when they developed some sugar-free cocktail recipes for the IQS site a while back. They then popped in to IQS HQ at Christmas to make us some festive drinks (much tequila smoking!). The other night they pulled out all their moves for my friends and family and made their I Quit Sugar Wardley's Equality sugar-free cocktail with fresh grapefruit, lime, and rice malt syrup using Four Pillars Gin (made in South Australia), Lemon Myrtle Lemonade using xylitol, and Smoked Tommy's Lageritas!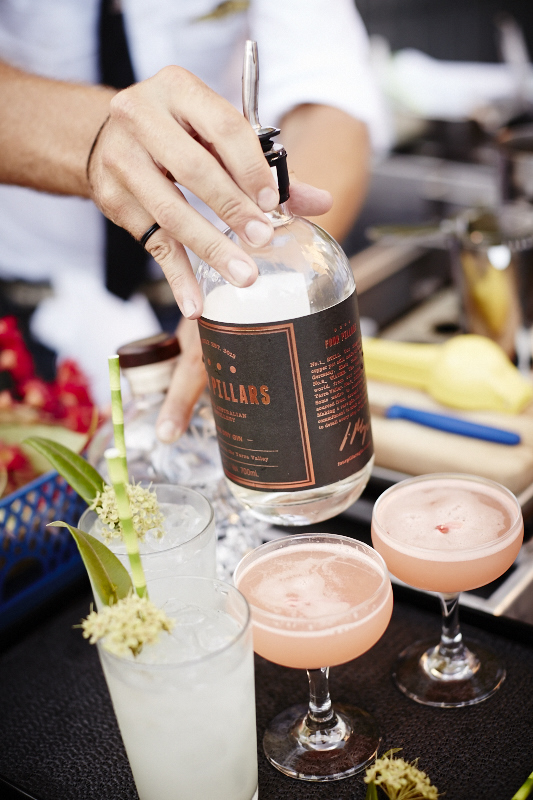 Treat yourself to some truly suave visuals and follow them on Instagram or book them for your next event…feel free to ask for their sugar-free wet beverages.
The Wine: Harkham Wines
I'm about to do a post on natural wine – what it's about, why it's different from organic and where to get hold of it (in essence it's, as the name suggests, made naturally with no fungicides, pesticides, plus no sulphites. Most organic wines still contain the latter). Stay tuned. Meantime, you might like to check out Rootstock next weekend….a showcase of all things natural in the wine world. I'm going. Cos it matters to me. So is Richard from Harkham Wines, whose products have been mentioned to me by a bunch of foodie types for some time (including my mates at Fratelli Paradiso, who serve his fine drops there).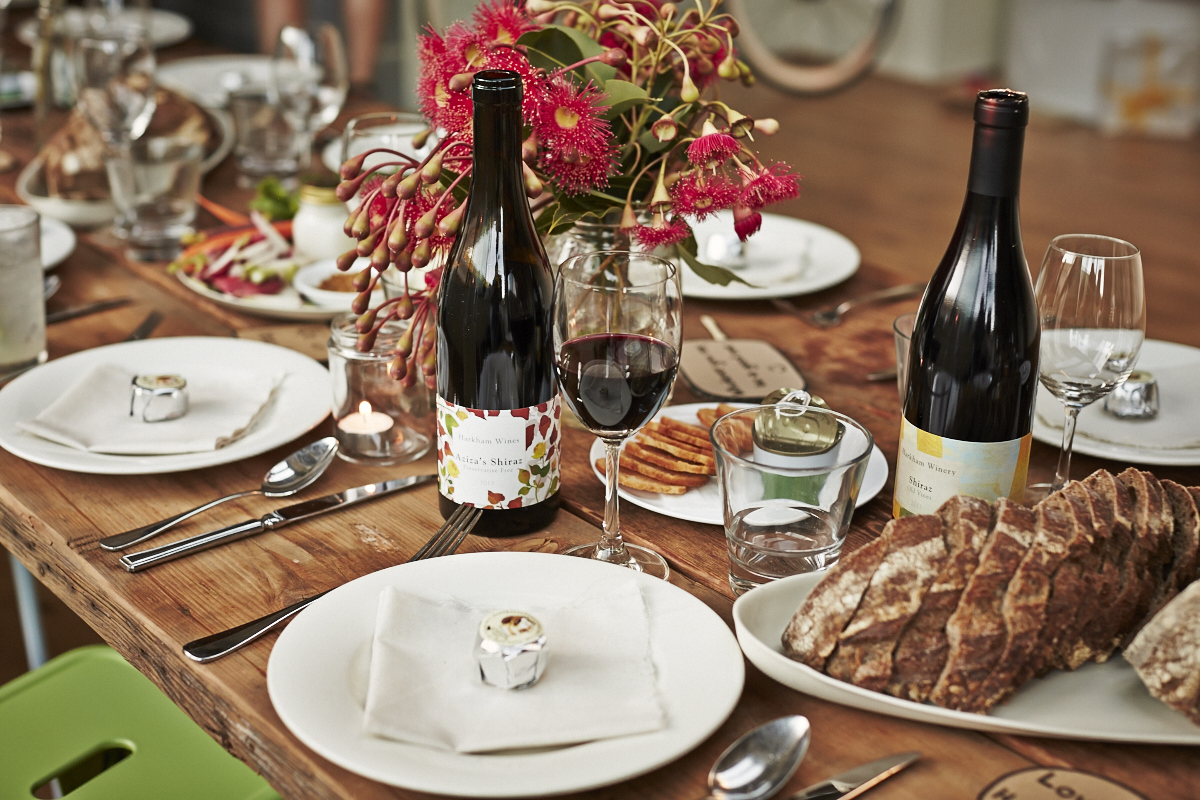 I loved Richard's Shiraz – it was rounded and very Rhone-like, but light enough to work with seafood and a hot night. Most of the room, however, raved about the chardonnay. Like really raved. For days. The winery is about 200km from Sydney (minimal food miles) and Richard and his family give $1 from every bottle to building projects for kids in Kenya. Look out for the range at some of Australia's top restaurants or buy here.
The Venue: The Stables
I spent a while looking for a space that was breezy, elevated and bright and that allowed me to have an event that mattered to me – a sit-down, considered affair where everyone is in one spot, not spread out in nooks and crannies and drunkenly looking over shoulders all distracted and flighty. One Saturday I sat having coffee at The Stables café in Surry Hills, Sydney. I was in a bit of thyroid pain and so I noticed how peaceful this little café was. You notice such things when you're thyroidy. I noted there was a rooftop space. I Instagrammed a photo of the peaceful coffee position (as I left). The Stables owner's wife later connected with me. Before I knew it, I'd organized to use the rooftop for my party. All nicely linked in a social media-y way.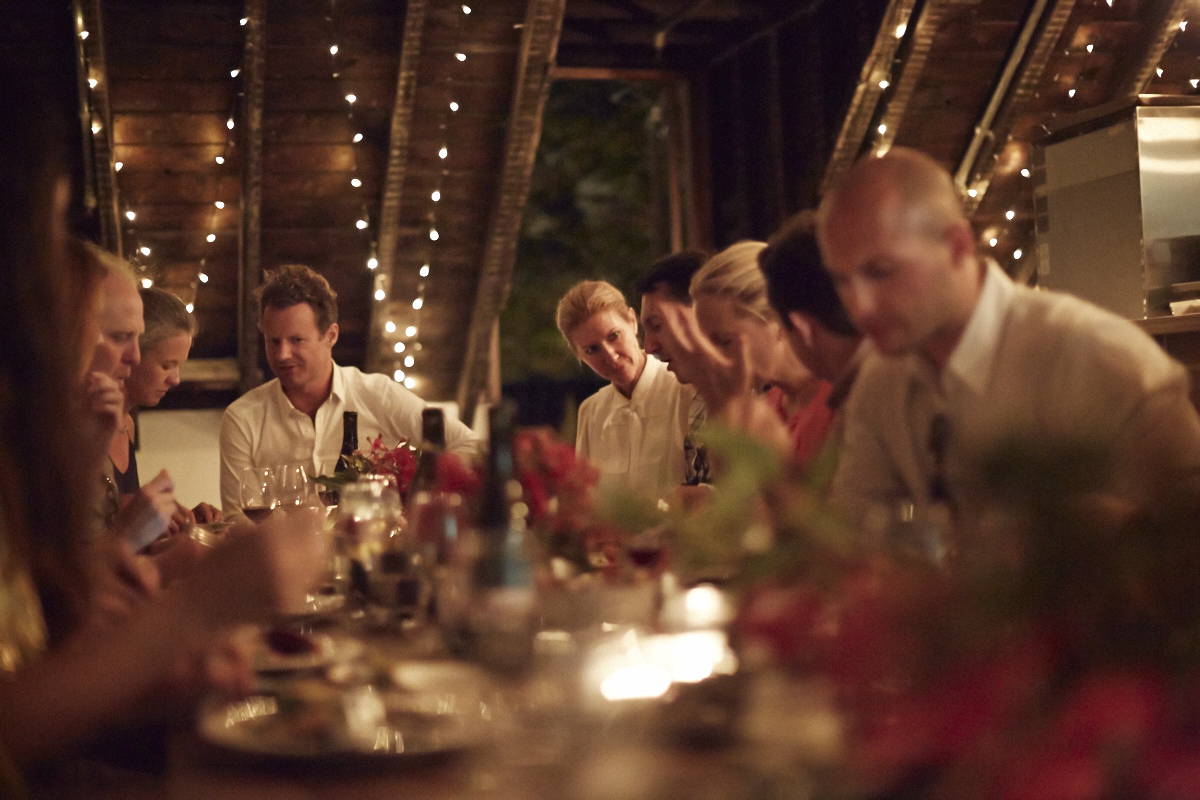 Check out The Stables for a coffee and breakfast, or ask Danny about using the space for your next event.
The décor: Sophie Hart Styling
Sophie is a good mate who used to "dress" me back when I did telly gigs. Lord! She put her hand up to decorate the space for me…and rose to what was something of a challenge – making the space pretty without buying anything new. The poor thing spent the week sourcing twigs and native flowers from the side of road (while clad in a frock and heels) and other bits of recycled bits. Get yourself or your event styled by Soph here…she's up for a challenge!
The Fish: Cleanfish Australia
In Sydney, the best place to buy sustainable seafood is Cleanfish Australia. Sydney's premier seafood wholesaler has a market day at their warehouse every Saturday and they're open to the public! For more on buying sustainable seafood check out my thoughts here and here.
The Pork: Melanda Park
I had two pigs slaughtered for the party…by Matt at Melanda Park  in the Hawkesbury, less than 50km away from my party. I've checked out his farm before and seen the pigs and listened to Matt share his tales of making his pigs ever-happier. You can buy his pigs direct here.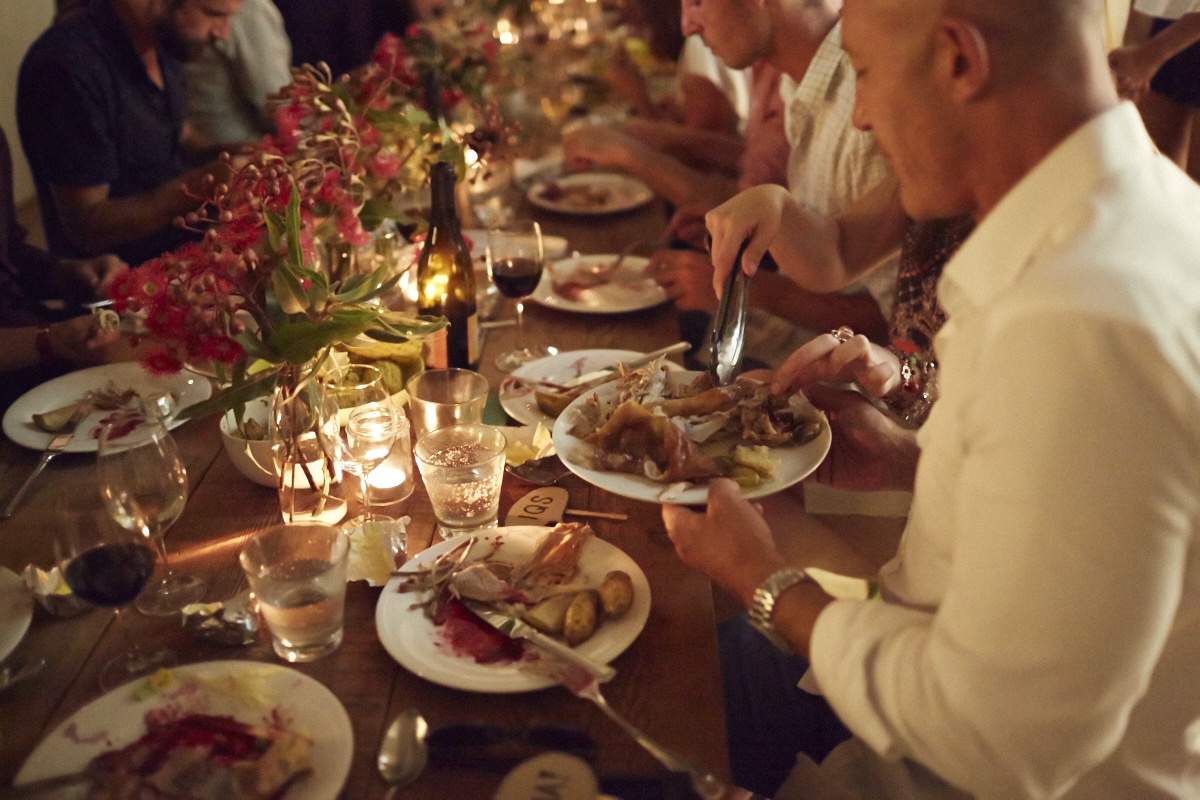 The Veggies: Cooks Co-Op
My mate Marty Boetz from the Cooks Co-Op grew my veggies on his farm in the Hawkesbury. I visit him there sometimes and we pick tomatoes and cook nutritious food together. He lovingly planted the crops for my crudités just before Christmas. You can learn about his ideas and buy his wares – including his honey and oil – at Rootstock. He'll be doing Cooks co-op produce boxes soon and you can hire out his farm for a culinary event, too.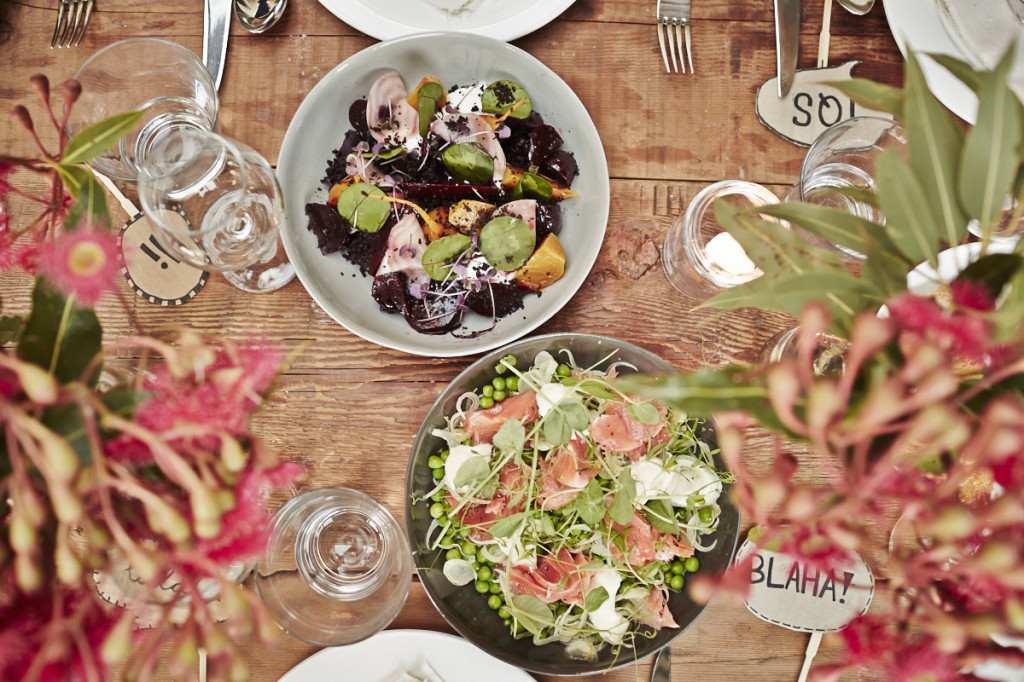 The Dessert: Booza Ice creams
The lovely I Quit Sugar team made my birthday cakes. You can get the recipes here and here.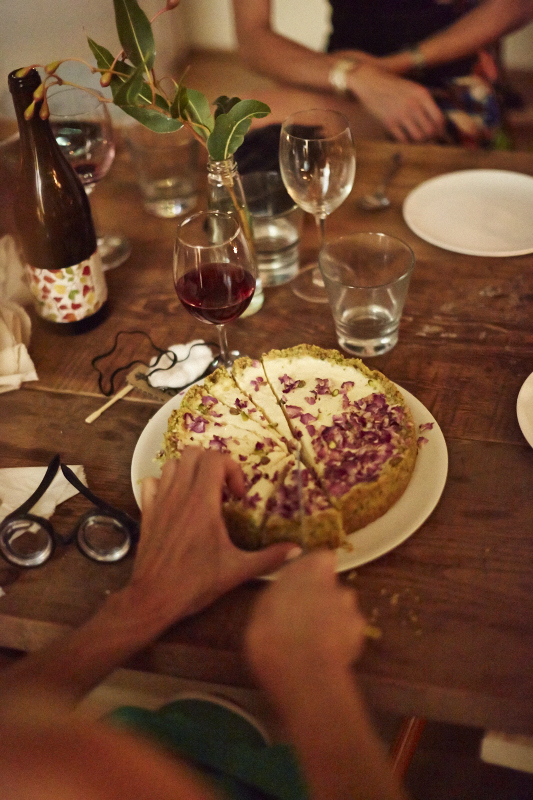 Plus, the very lovely Tedy at Booza Ice creams made me some special sugar-free tahini and almond pops dipped in sugar-free zokoko chocolate. If you ask nicely she'll happily make you a batch for your party and has offered to give you 2 x 300mL tubs of sugar-free coconut milk ice cream with every 20 pops bought (just mention this blog post).
The dress: the Canberra dump
Seriously. An hour before the party started I put my mind to what I was wearing. I have a "dress up box" for just such emergencies and found this arts and crafts creation. When I was 18 I bought it from a reclaim outlet at the main rubbish dump in Canberra for $4.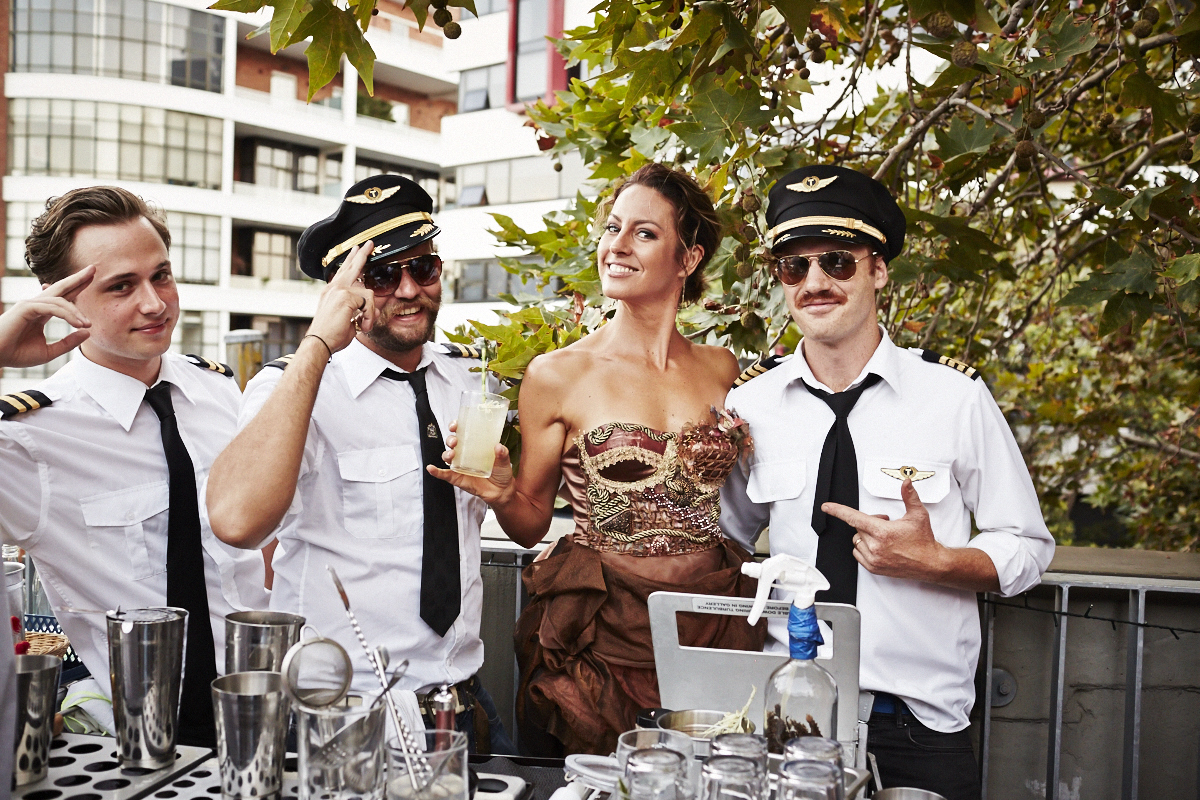 Extra things to bear in mind when organizing a sustainable party:
Avoid disposables: I used a tablewear hire company that wash everything in bulk and cloth napkins.
Give your leftovers to guests. Bring along containers for this purpose.
Don't use bottled water. I used Soda Stream instead. It takes 3 seconds to create chilled bubbly water by the litre.
Buy loaves of bread and cut as you need it, rather than bread rolls for everyone (which only half the room eat).
Extra thanks:
The vodka in the cocktails was thanks to Crystal Head Vodka.
The sourdough bread was Sonoma.
The butter was hand-churned by Pepe Saya. I've shared about Pepe's stuff here.
The photos were by my gorgeous mate Marija Ivkovic!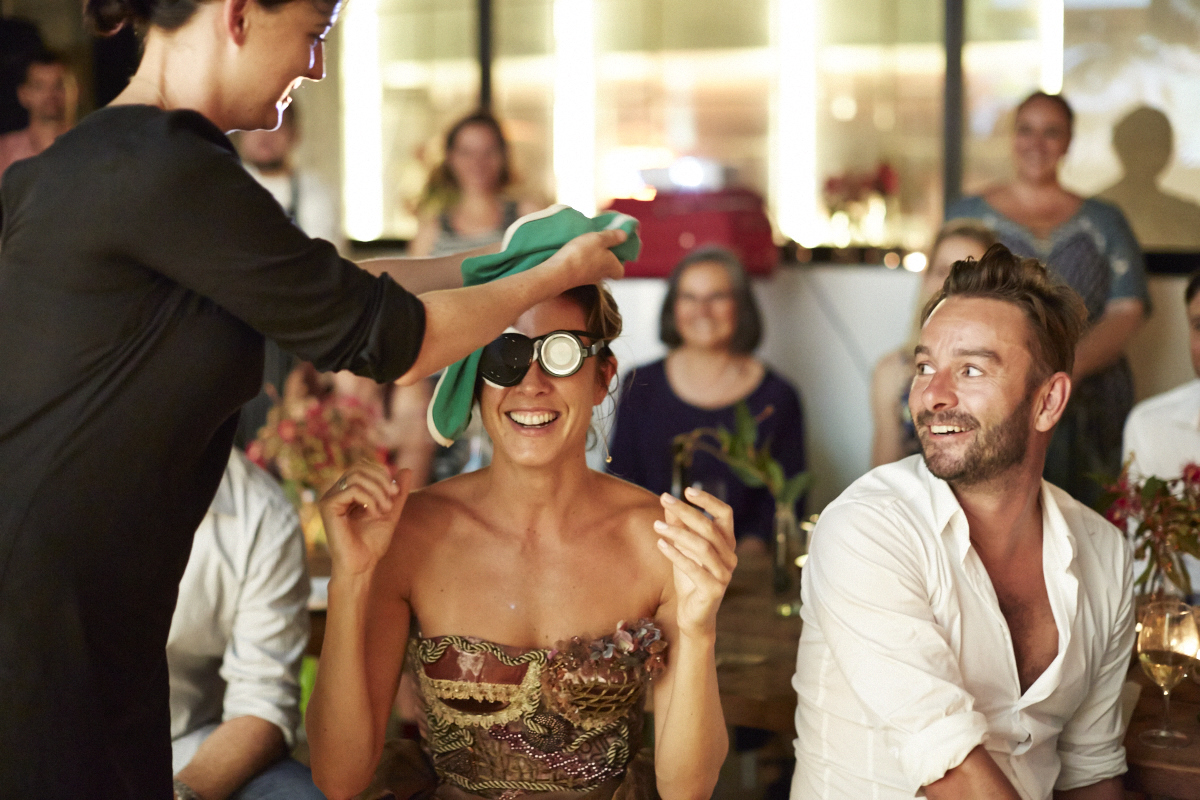 I'd love to get your extra ideas and links and contacts. Please feel free to share below.