Hello dear friends.
You might have heard – I've written another book, a follow-up to I Quit Sugar: Your Complete 8-Week Detox Program and Cookbook. It's taken the better part of a year to put together. It's a reflection, however, of my life's work. Here she is…or the cover image, at least. As you can see, the cover is a reflection of my life. And work.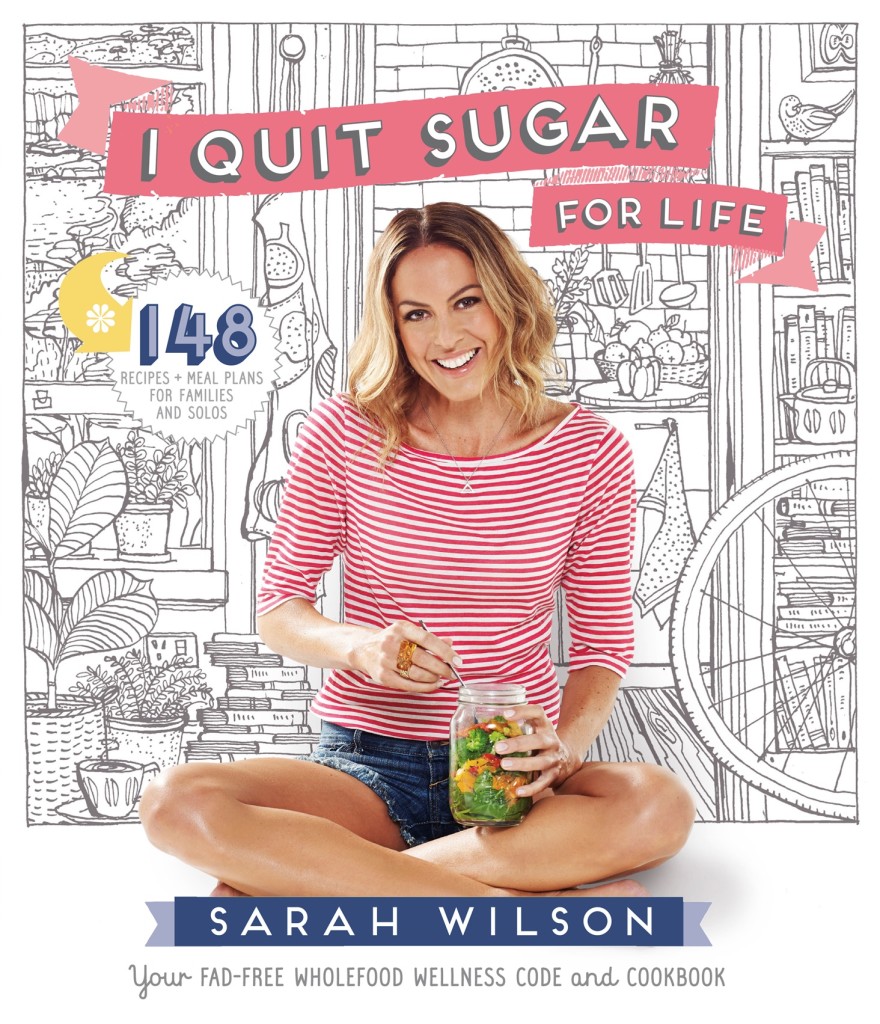 You can read all about it February 27 when it hits bookshops.
Or you can get in early and preorder here and I'll send you your copy February 26 before everyone else gets theirs PLUS a copy of the I Quit Sugar Chocolate Cookbook (which you can send onto a friend…or keep for yourself).
You'll receive your Chocolate Cookbook immediately so you can get cooking sugar-free while you wait! 

But now I'll answer some questions I'm reckoning many of you want to ask:
How's I Quit Sugar For Life different from your first book?
If IQS was about how to quit sugar, along with a bunch of recipes to get you started (targeting "problem areas" like breakfast and snacks), IQSforLife shows you how to use the sugar-fee approach to live well… in every respect of the word.
It's a 9-part Wellness Code, including fitness, travelling and shopping directions.
It builds in a 4-week Wellness Program, plus menu plans for families, singles and those wanting a quick "green" reboot.
It includes 148 recipes, all designed for families of four and for singles.
What are the principles of this book?
Glad you asked, for the book is pretty much a complete overview of all my wellness and environmental principles rolled in to a flowing, effortless code that's sustainable…in every respect of the word.
If there was one word to sum up this book it's "sustainable".
Some of the themes I include in the code and recipes:
The most ethical way to eat
How to eat toxin-free
Which foods to buy organic…and when not to bother
The foods to eat for your gut and for longevity
How to save time and money with a slow cooker
And the recipes?
There's 148 of them (40 more than last time). Some of the ideas….
Totally toteable: fun foods to carry to work and school
Thai fixes
Better than a box: junk food repackaged (my version of KFC, Weiss Bars and barbecue pork)
Easter ideas
Children's lunchbox ideas
A Very Large Chocolate chapter
A stack of gluten-free, paleo and vegan options

What's my favourite recipe?
Hmmm, the Not So Nicoise Cauliflower Pizza and the Carrot Cake Porridge Whip are up there. Oh, and the Choc-Caramel-Chunk And Peanut Butter Cheesecake.
Does it matter if I haven't done the 8-Week Program?
Not tooooo much. But quitting sugar in a supported way (ie via my first book or my online program) is advised. That said, if you just want to start cooking and eating healthily and sustainably, according to fad-free, wholefood principles, then this book is right for you, too. In the process, you'll be cutting back on your sugar without thinking about it.
Is it Paleo?
It's very low-carb, based on sustainable meats and vegetables and toxin-free foods. So, yep. But without the tag.
What if I'm vegetarian?
A good 50 per cent of recipes are vegetarian, the bulk of which are also vegan-friendly.
What if I can't afford fancy ingredients?
You're in luck. This book is all about saving money, time and energy. I've devoted the past 12 months to ensuring it is.
Is it available overseas?
You can purchase here and we deliver internationally. (My first book, I Quit Sugar: Your Complete 8-Week Detox Program and Cookbook, has just come out in the UK and arrives in the US April 8.)

Any other questions? Fire away below. Or just go ahead and pre-order and get cooking from the Chocolate Cookbook while you wait.