It's here! The I Quit Sugar Kids Cookbook.  Today. Like now. A quick note: your enthusiastic feedback to me as I've shared the "making of" sneak peeks has been very much appreciated along the way. Just saying. So I thought I'd share one of my favourite recipes from the book: My Cauliflower Pizza (that's it below…I bet you'd never guess it contains 1-2 serves of veggies). To give you an idea of what it's all about.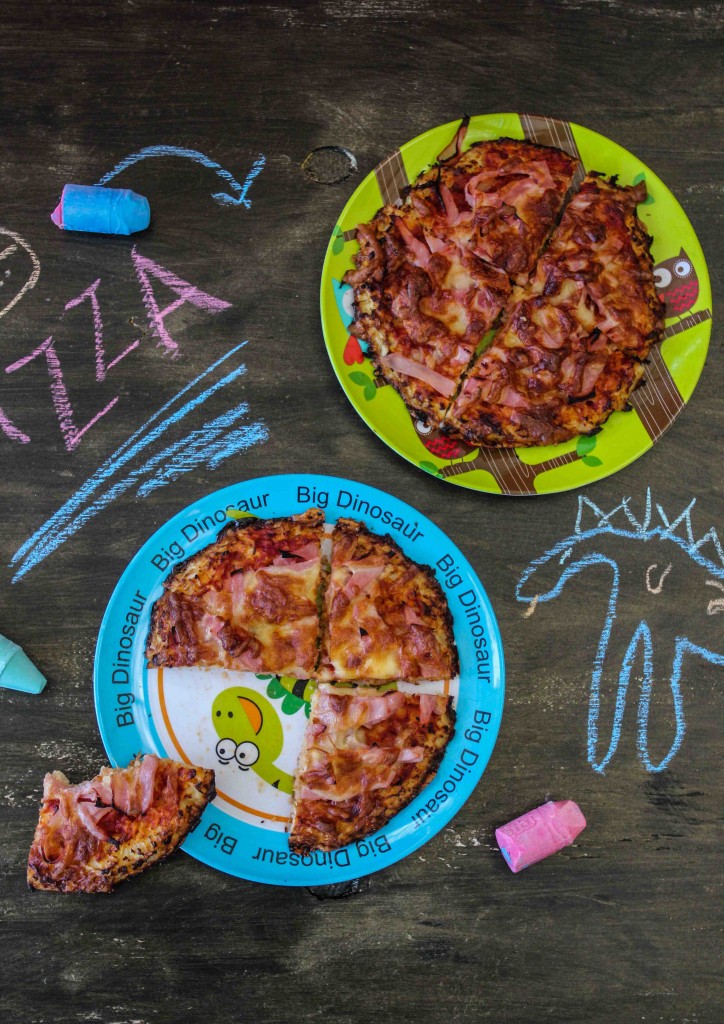 Which is…a bit of a manual on what to feed your kids, how to navigate school canteens, how to deal with lunch boxes when you're a Parent Who Wants Their Kid to Eat Well Without The Drama.
The book includes:
85+ fructose-free (or low-fructose) party recipes, breakfast ideas, lunchbox snacks and afternoon treats (some recipes do use fresh, whole fruit).
Handy conversion widgets, substitution charts, plus a shopping list generator.
Safe sweeteners and how to use them.
Tips and tricks from experts and other health-conscious parents.
Ideas to get the kids involved in cooking and growing their own food.
As with all the recipes in the book, the pizzas below are dense in nutrition with lots of extra veggies. They contain healthy fats for proper absorption of essential vitamins A, D, E, K. And your kids can build their own, too, which is a great way to involve them in preparing their own food, which, in turn, is the best way to get them eating well.

Ham and Cheese Cauliflower Pizza
Cauliflower is such a versatile ingredient; you'll find it pop up quite a bit throughout this new cookbook. This recipe uses cauliflower as a base instead of regular pizza bases. I suggest you buy a whole cauliflower and prep these in advance. It's quick and easy. You can also freeze the