It's here: I Quit Sugar For Life.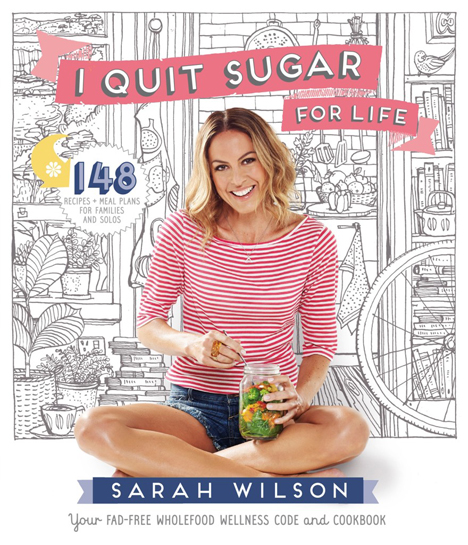 I see this as a follow-up book to help make cooking, eating and our health more elegant and joyous. A framework for simple, no-brainer health that supports sugar-free living. Which is what we're after, no?
If you're keen to get your copy straight away, simply click on the button below. If you'd like a little more info, read on.

I've been asked a stack of questions from you all over the past few months about this new book. I figured it'd be good to tick off some of the most frequently asked, so you're all In The Know…
Why should I buy this book if I've bought the first?
My first book was an 8-Week Program designed to help you quit sugar. With supporting recipes. This book (with an additional 148 new recipes) takes things a step further. I cover cravings and lapses, exercise and detoxing. I talk about maximising your nutrition, eating sustainably and ethically. I teach you how to live with flow and less fuss.
Can you sum up the new book in one sentence?
I can. In fact I can do it in one word. It's about sustainability. In the environmental and economic sense, but also as a wellness code that we can all sustain permanently without fuss or pain.
Which of your two books do you like more?
I love this question! I think I like my second book more. It has allowed me to expand on my principles in more detail, and to share more of the things that matter to me, like sustainability, living without processed foods, eating simply…
I've got your last book and I love the recipes, but I'd like some structured menu plans to help me. Do you have any in this book?
Yep! There are a variety of menu plans in my new book. I cover menus for Busy Solos (people like me who often cook for one), Foursome Families (or group houses of four…or whatever) and a Clean Week (a recalibrating menu for when you get a little off track).
When planning menus I start with a whole stack of veggies, throw in protein and then add fat. Veggie, protein and fat are the densest options, nutritionally speaking. So, each meal will contain at least a cup of vegetables, particularly leafy greens. Across the day 6-8 cups of veggies are included. I add protein at every meal – eggs, cheese, nuts and good quality meat – often a "secondary cut" which is slow-cooked, which, as I explain in my book, is the most nutritious (and economical and environmental way to eat meat).
Plus, I always include plenty of olive oil, butter or coconut oil. Many of the important minerals in vegetables – A, E, K and D – as well as protein are fat-soluble only. Which means you just don't get the bang for your buck without the fat (fat is also very nutritious and satiating).
My meal plans are low calorie (1300-1500 p/day). This might shock you, but our dietician has run the numbers, and the meal plans surpass the daily micro and macronutrient requirements by up to 500%. I personally need more calories in my day, so I supplement with extra avocado added to salads, a spoonful of coconut oil in my morning smoothies, nuts and cheese.
Can my whole family eat from this book?
Yes they can. All meals serve one, or four. And are easy to double or triple.
There's a kids chapter too, with a stack of lunchbox and snack ideas, and a week's worth of clever lunchbox ideas. There's also a surprise Weekend Project for your kids to do.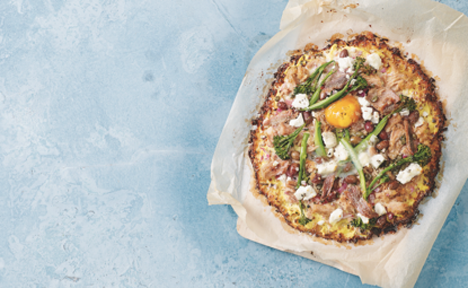 I'm looking for cheap and easy meals. Will your book give me either?
So am I! Economical and sustainable. I cover lots of clever ways to use your leftovers, and even turn one chook into fifteen meals for you in a choose-your-own-adventure challenge! The entire book uses the most economical ingredients and methods possible. It was a bit of an obsession of mine as I wrote this book.
My husband has said he'd eat sugar-free if it means he doesn't have to give up his Friday night pie and beer. How do I win him over?
In my new book I have a chapter on Reinvented Comfort Classics, so you'll be able to win over your husband and kids (and friends) with a healthy take on all their favourites. I cover off hamburgers, fish 'n' chips, "KFC", pizzas, satay chicken, pulled pork (!) and Thai curry. Point out to your husband one or two beers with one of these meals is actually okay.
So do you buy organic, ethical, local and/or sustainable? It's hard!
Yep, I cover this off. You'll have to read the book!
Vegan, paleo, intermittent fasting… what do you make of these diets? Are they included?
Yep, I cover these off and pull out the most scientifically-backed and sensible (!) aspects of each. Again, you'll need to read the book…

I hope this answers your questions. If not, post in the comments below and I'll try to get to you there. If you'd like to see a recipe from my new book, you'll find one on IQuitSugar.com today.