As promised, a gelatin recipe to get you on your way to loving this MEGA POWER food. If you haven't already, please read my post from last week outlining the thrills and spills of eating gelatin. It's life-transforming stuff.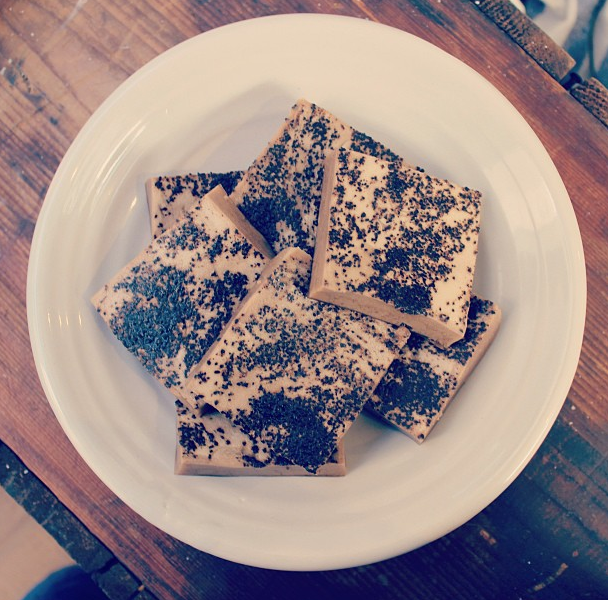 This one today is an easy one to start with and is a great breakfast-and-coffee-in-one solution. Three or four of these will fill you up a treat. In a good way.
I've spent the past few weeks experimenting with the best way to make these things. Everyone has a different technique…but many, I find, fail to recognise they're destroying enzymes by heating things at the wrong point.  Or they use more dishes over more stages than required. So here, a simple technique to work to.
Coffee almond gummy squares
Makes about 12 squares
3 tablespoons gelatin
1/3 cup cold water
1 tablespoon rice malt syrup
1/2 cup pre-made black coffee
1/2 cup almond milk (or any kind of milk will do the job)
Mix the gelatin and water in a small cup. It will firm immediately, so stir quickly to blend. Then let it sit for 5 minutes to get really firm – like a rubber ball.
Heat the syrup, coffee and milk in a small saucepan until it's medium-hot but not boiling, then add the gelatin blob (it will come out of the cup pretty easily). Stir as it melts (at low heat) and then use a stick blender to complete the blending. Do it all in the small saucepan.
Pour into a small glass container (about 20cm x 20cm). Chill for an hour to set, then cut into slices. The slices pull out easily. Store in the fridge for up to 5-7 days and eat about 3-4 for breakfast. I do.
Variations:
Turn them into gummy bears… by pouring into silicon moulds (you may want to add an extra tablespoon of gelatin if so).
Make it faster…and use a coffee almond milk (I use this one).
Make it more protein-y...and add a tablespoon of protein powder or 1/2 tablespoon of chia seeds, plus an extra 1/4 cup of liquid.
Add some cacao nibs…just sprinkle on top before refrigerating.
Don't add sweetener… I didn't…I try to minimise sweetener wherever I can.
Let me know how you go and if you'd like more recipes over coming months…