It is no secret that the new IQS One-Pot Wonders Cookbook is possibly my favourite cookbook yet. It's all about making delicious meals simple, affordable and sustainable. To give you a little glance at what's inside, I thought I'd share one of my favourite dessert recipes from the book: The Choc Chip Skillet Cookie.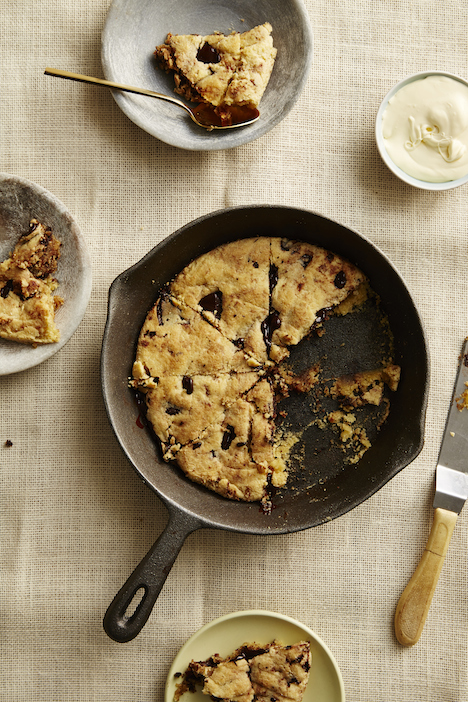 This giant cookie is the perfect way to serve up dessert at your next dinner party. Place it in the middle of the table, serve it with a side of cream and watch the happy faces. Just like all the other recipes in the book, the Choc Chip Skillet Cookie is prepared using only one single dish. Less time spent preparing and washing up, more time talking to your mates!
What else can you find in the book? 
A stack of recipes, all prepared in one single dish.
Most meals are under $5, some even under $3 per serve.
There's a whole section on Sunday Cookups, geared towards creating waste-free dinners and delicious leftovers for the week.
Choc Chip Skillet Cookie
60g butter
1 tablespoon rice malt syrup
1 teaspoon vanilla extract
1 egg
2 cups almond meal
1 teaspoon baking powder
pinch of sea salt
50g of 85-90% dark chocolate, roughly chopped
thickened cream, to serve
Preheat oven to 180°C. Place a small skillet on the stove on low-medium heat. Add in butter, rice malt syrup and vanilla and stir until melted together. Remove from the heat and allow to cool slightly.
Crack egg into skillet and lightly whisk with a fork to combine. Add in almond meal, baking powder and sea salt and stir until you form a batter. Fold through the chocolate pieces. Flatten the mixture around the skillet with a spatula. Place in the oven and cook for 15 minutes, until very lightly brown on top. Once cooked, remove from the oven and serve immediately with thickened cream.
Tricky tip
To reduce the sugar content even further, use 1/4 cup cacao nibs instead of dark chocolate.
Want more recipes like this? You can get your hands on a copy of the book now.

Have you got your copy yet? Which recipe are you keen to try out at your next dinner party?
I'd love to see your creations, share them with the hashtag #IQS or #IQSOnePot on social media.