You might have caught my last bareboat sailing trip in Australia's Whitsundays? I loved bareboating – sailing your own boat, no skipper required. More than I thought. I slept. I ate. Did I mention I SLEPT!?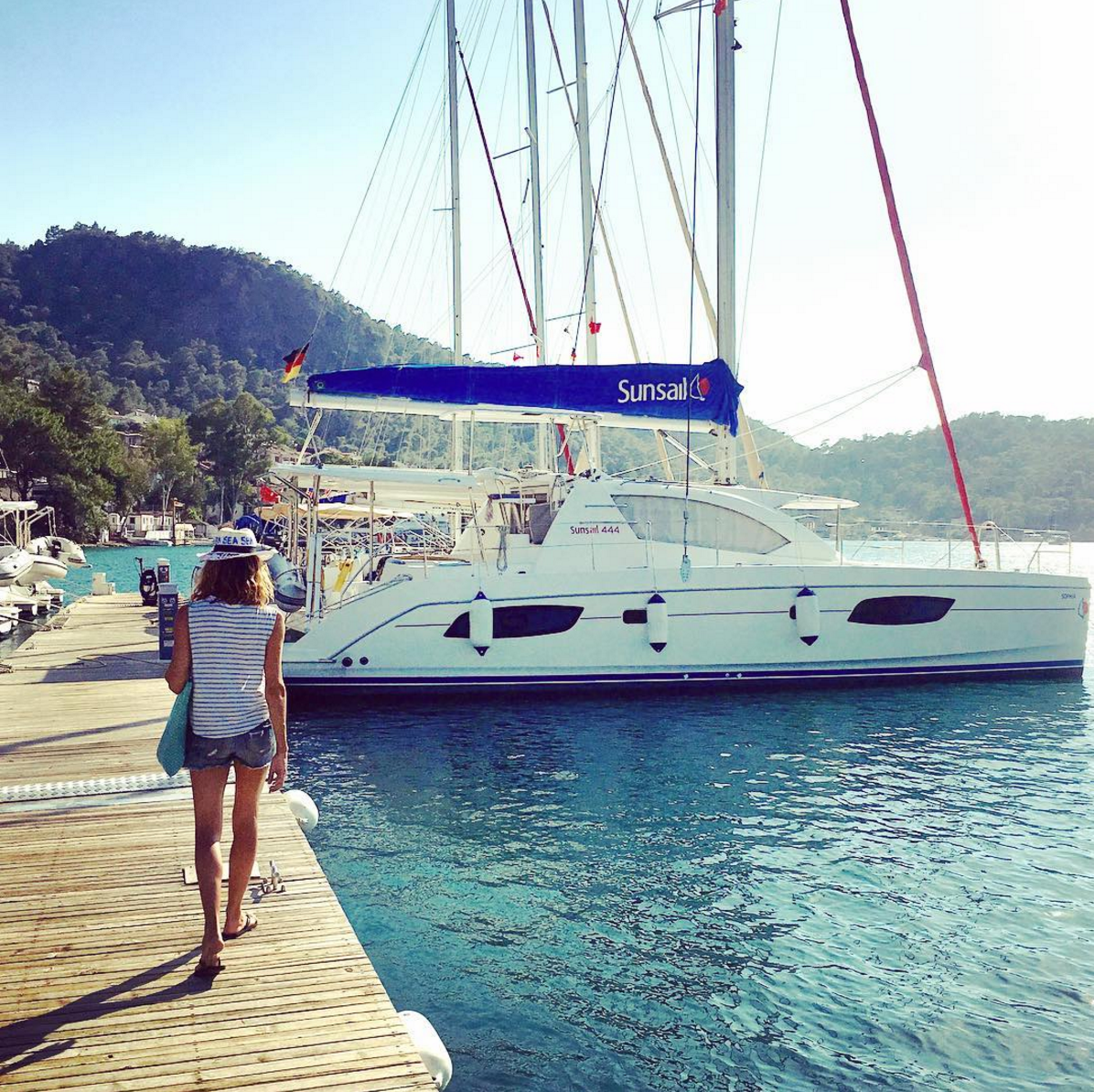 So I saved up and planned and orchestrated another bareboating trip, this time in Turkey. Because I'd never been to Turkey. And I knew the hiking there was worth crossing the world for, too. And, then, there's the food…right?
(A little side note on the terrorism issue: Yup, Istanbul's Ataturk airport was bombed while we were there, as well as just a few weeks beforehand. Terror can strike anywhere in the world today. There appears to be no pattern to discern as to where or when or how. We did, however, decide to enter via Greece, by boat, instead of via Instanbul airport. I advise you stay abreast of travel warnings. It's also possible to do similar trips in Greece, Italy and Croatia).
I explain how bareboat sailing works. In Australia, you can simply turn up with your driving license and you'll be walked through how to sail your own boat.
To sail in Europe, however, you have to get an international sailing license, which you can SWOT heavily for and do a half-day session with an accredited agency before leaving. You're then given a briefing on arrival, charts and a radio frequency that allows you to call through to a central point if you land in any kind of trouble. Or need to find the spare rope. Paloma, who runs the Gocek base, also insists she's available on the mobile 24 hours.
What if you feel this is all too much? You can charter a yacht or catamaran. That is, you can do the same thing but with a Sunsail skipper doing the hard yards for you!
And, so, to the pretty pictures and the best mooring spots, hikes and slow food eats, as told in pictures…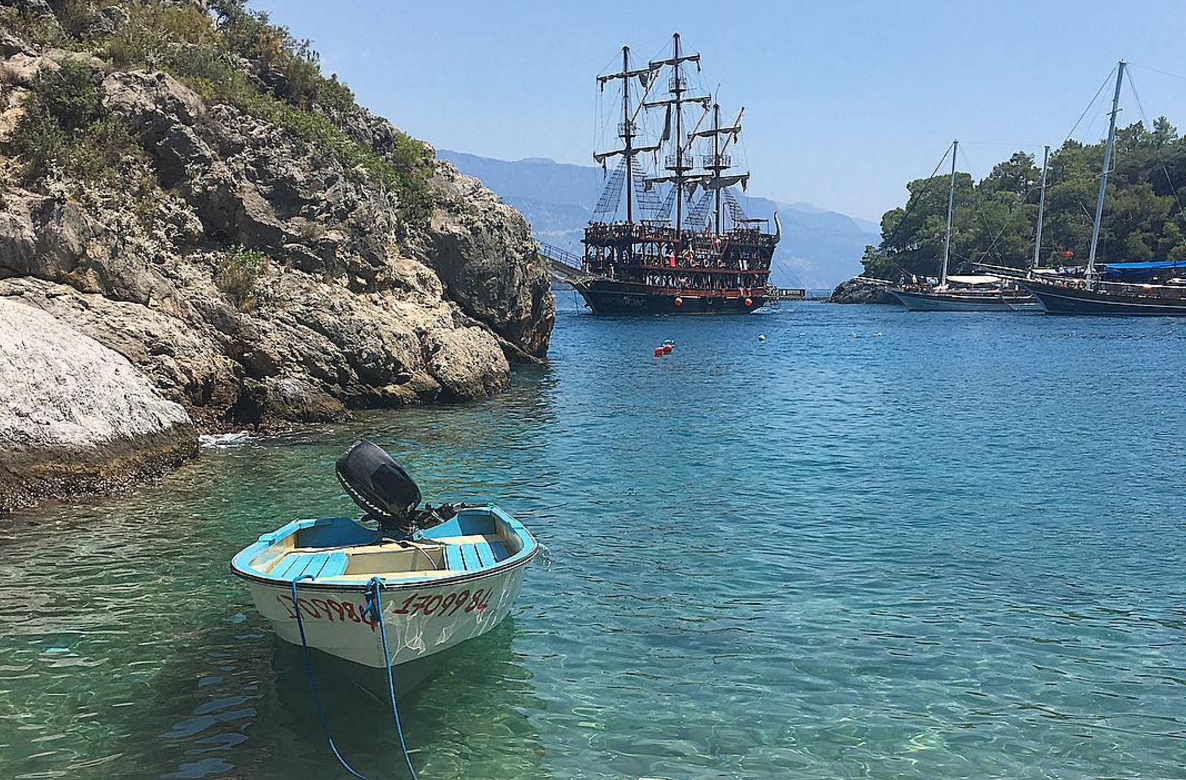 The best places to moor and anchor, hike and eat on the Turquoise Coast

We set off from Gocek on the Turquoise coast. You spend your first night at MarinTurk Marina on the boat ready to leave early the next morning. It's a great way to go about things because you get a feel for the boat before leaving civilization.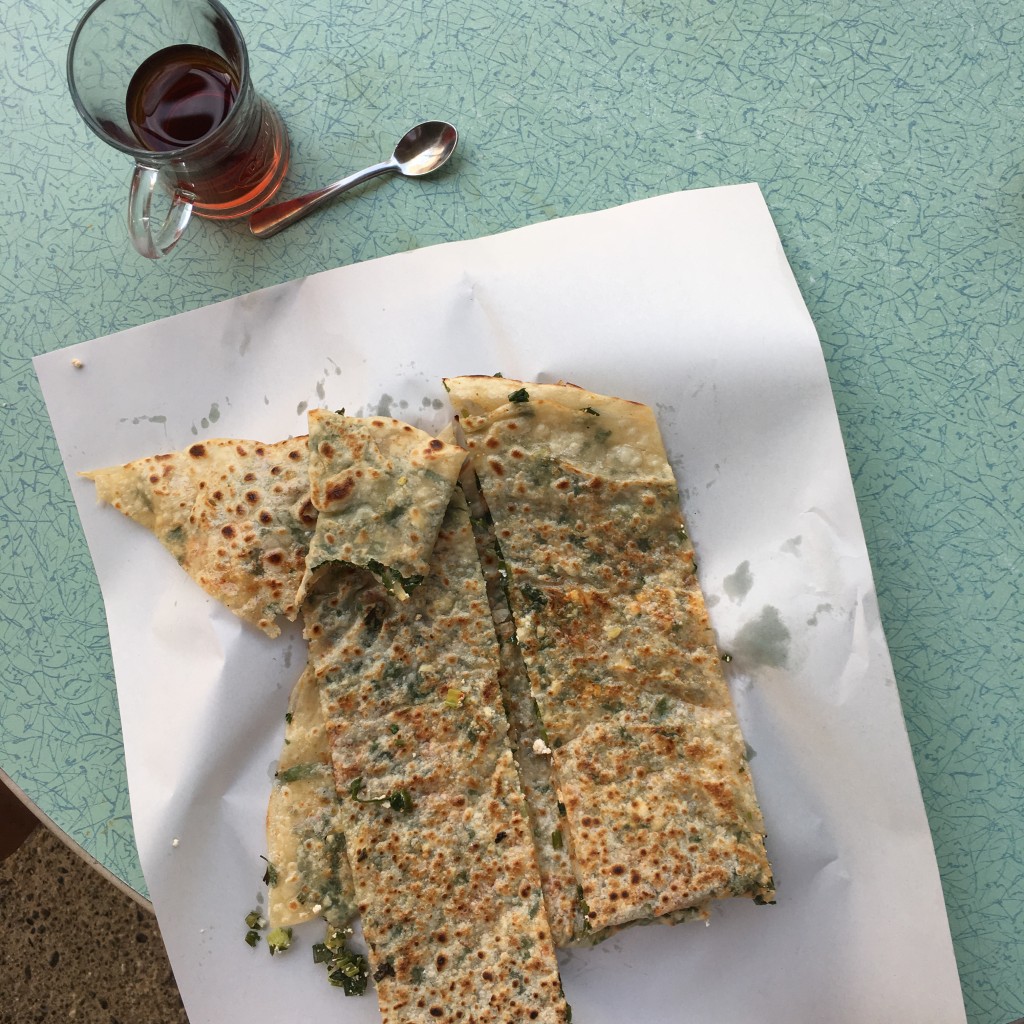 In the morning, we went to the market (a 10-minute walk from the Sunsail office) and stocked up on supplies – watercress, tomatoes, figs, mint, rocket, zucchini, feta, olives – and ate some Gozleme (herbs and feta for me, banana and honey for him) for breakfast.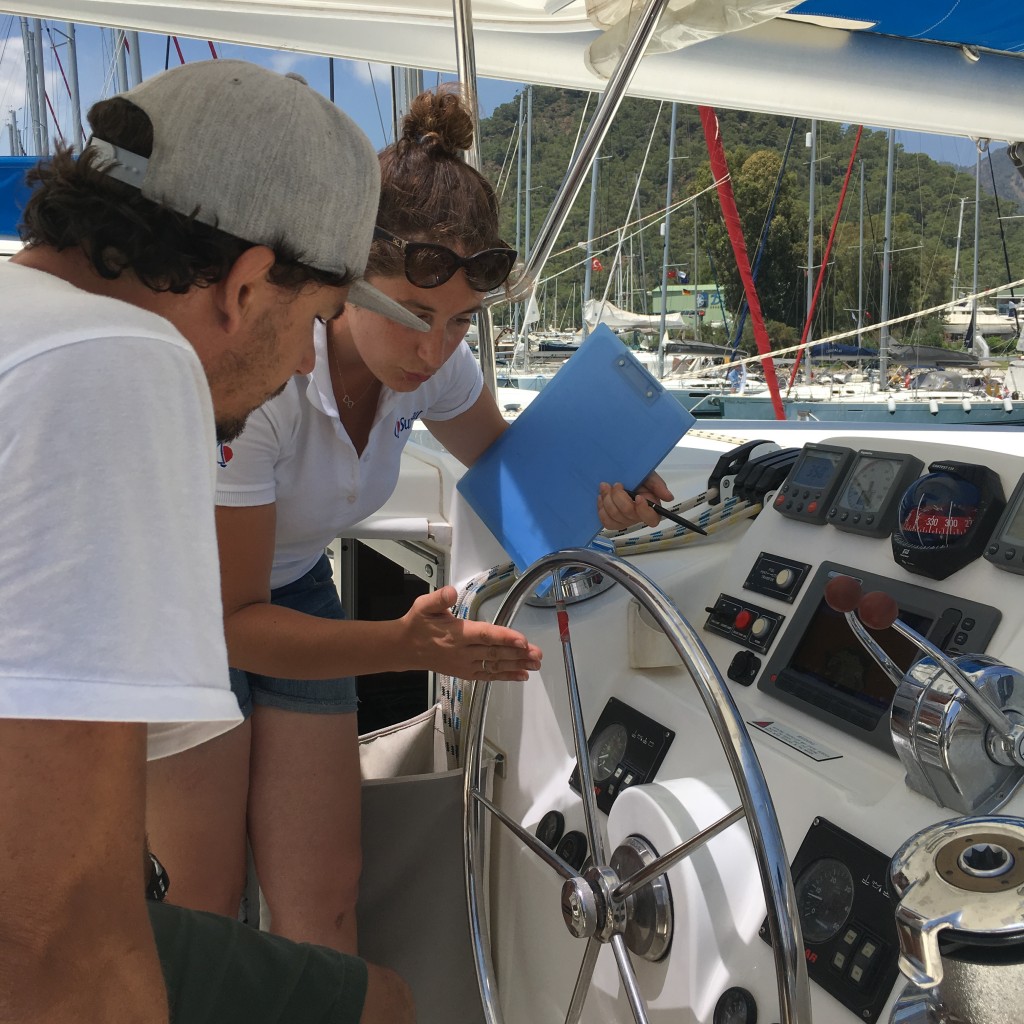 Then we got our briefing aboard the boat. Paloma ran us through the cat deets and shared the best places to moor, hike and eat. Sunsail are a very professional outfit and the process is super smooth. Mercifully, they also leave a fair bit for you to work out for yourself. Adventure is the point of all this.
Our cat had four bedrooms and two bathrooms, a big living area, an outdoor deck with dining table, a kitchen that was more serviceable than any either of us had had access to for a while and a massive front deck for sprawling on at sunset. And for doing a bit of yoga on in the morning.
Which was excessive.
But this leads me to point out that this whole concept – bareboating in Europe for summer – is perfectly set up for groups of friends, families (as in 2-3 families on the one boat; many cats sleep 10-12 people) and adult families (Mum, Dad and the grown-up kids).
Anyway.
We had a week on the water ahead of us, so kept to the Gocek/Fethiye area, which we soon learned was the best area anyway. Any further, to be honest, would be too much. Besides, this area, we soon learned, was the most picturesque anyway. Here's my picks of the tour in the order we visited. You might like to do the same.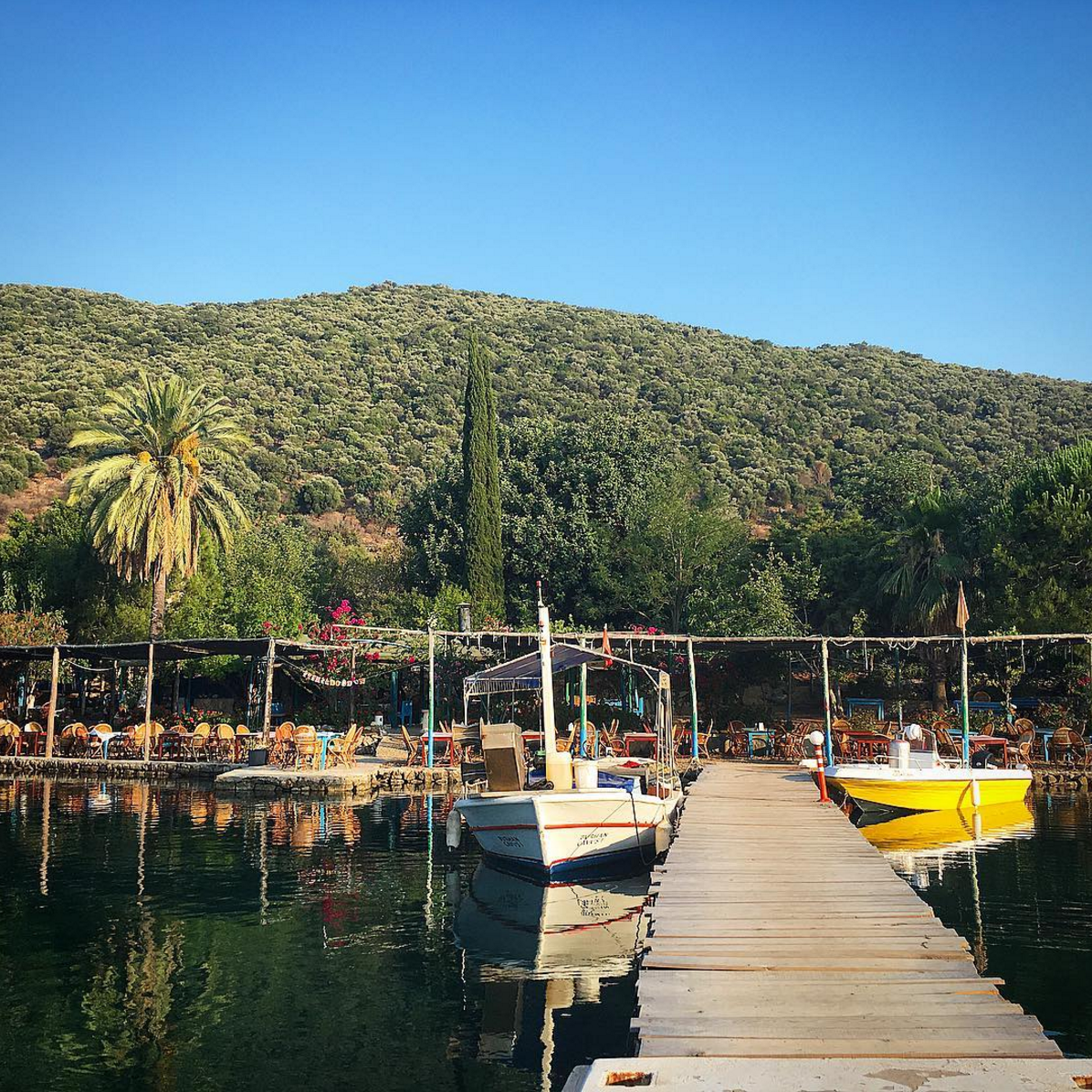 Tomb Bay. Lovely little stop with two restaurants that you can moor at, or you can anchor in the protected bay among the turtles and take a dinghy over to dinner. We did. And we chose the newer restaurant (not Nomad). The wait staff help you on arrival to tie up your boat. I did a walk up to the Lycian tombs on the cliff edges. A scrambly effort, but lovely views. Originally Carian and later Lycian, the ancient city of Crya can still be picked out among the olive trees and oleander.
Ruin Bay. A lovely protected place to spend the night. It's adjacent to Wall Bay, which has a restaurant right on the water. There's a good 6km walk here up to a Lycian village on the hill, passing Cleopatra's Bath, rumoured to be where the Queen bathed in milk. In the evening we took the dingy at dusk to 22 Fathom Bay…
22 Fathom Bay. Come for the restaurant on a boat run by a Dad and daughter team. Dad shot the wild boar and cooked it up into a stew with apricots and tomatoes in a hollow cut out of a boulder. There was a telly strung up with boat ropes from a tree, ready for the soccor World Cup screening that night. The stew was extraordinary, so too the meze.
[vimeo]https://vimeo.com/179141764/d8a2e7b7df[/vimeo]
In Turkey you're served a whole heap of vegetable-based meze and bread before the main meal. It can throw you into filling up before the main event. But, hey…
PS Thank you Paloma for this recommendation.
PPS Pick Paloma's brains re food and hikes. She loves and understands both.
[vimeo]https://vimeo.com/179141589/aa36267789[/vimeo]
Fethiye. We spent Tuesday night at this medium-sized town, moored at the Sunsail marina. I fretted it would be noisy, butted up against other boats, but the gentle rocking and sea air knocked me out cold that night. Everyone's in the same boat – not literally. Tired and sun-swept.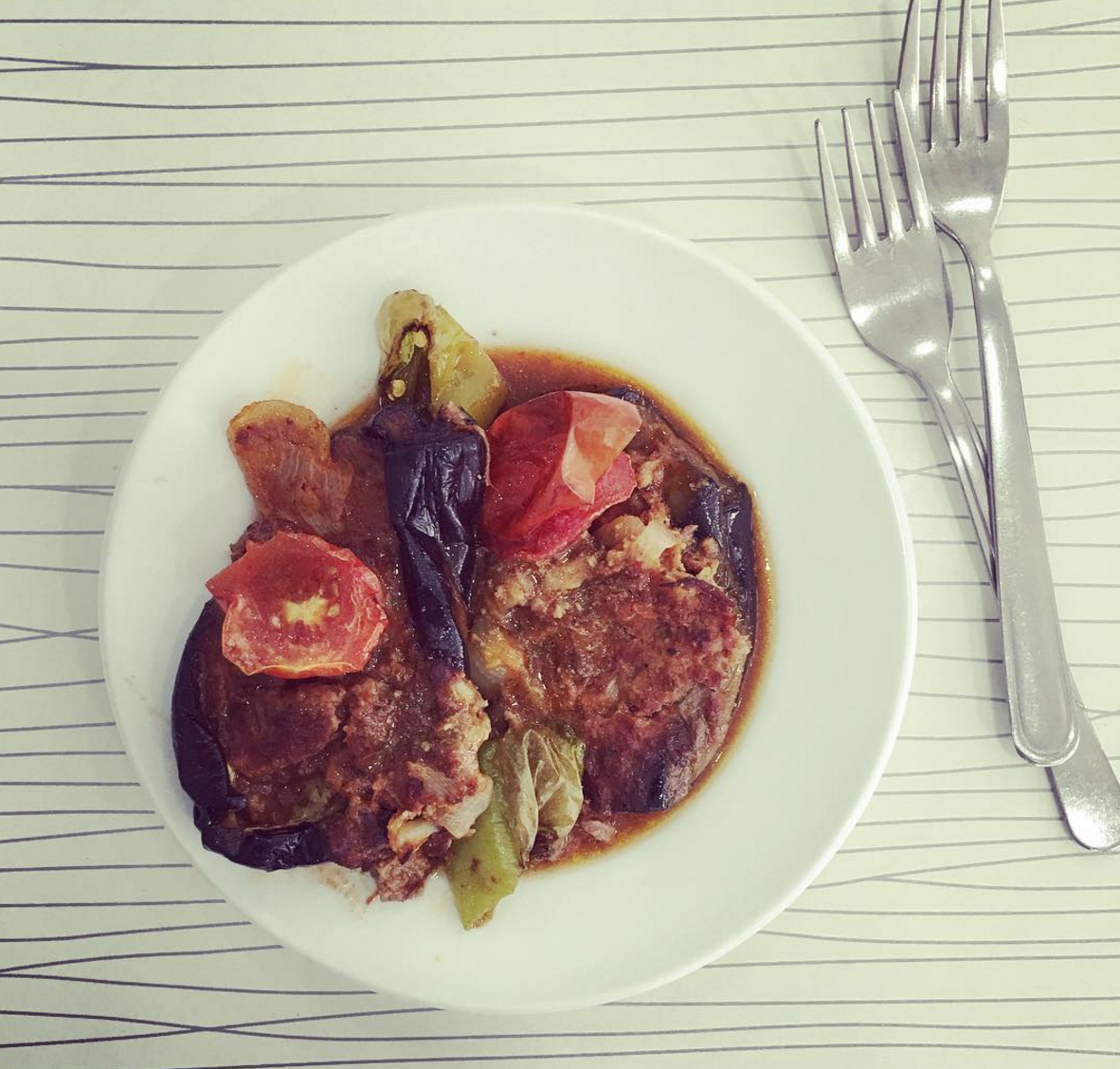 We spent the day in Fethiye, getting a massage and bath at the 400-year-old hammam in town. We dropped by the Tuesday market and ate at a locanta (little cafes that served lovely stewy things, dirt cheap) and then at the fish market, where you buy your fish from the mongers and take it to one of the restaurants that surrounds the market and they cook it for you, serving it with bread and salad for 8 Lira. There's a ludicrously picturesque restaurant facing the marina, a 30m stumble along gangplanks to your boat.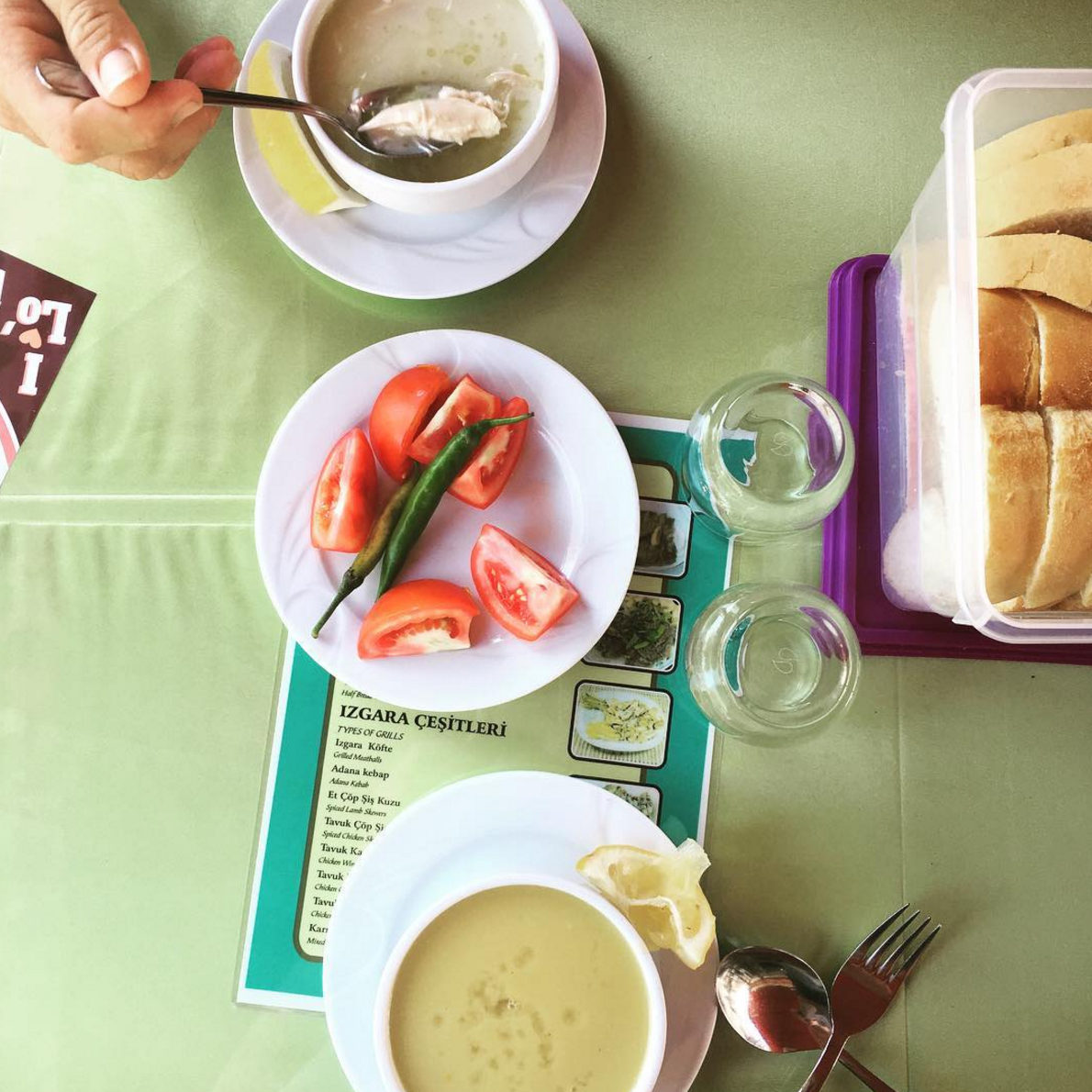 A quick breakfast in the morning and we were off again heading around the next headland.
Karakoan Bay. We liked this little place. Stacks of turtles and the restaurant specializes in fish. It's a brother and sister set up. The brother fishes each day. The sister serves it to you in the evening.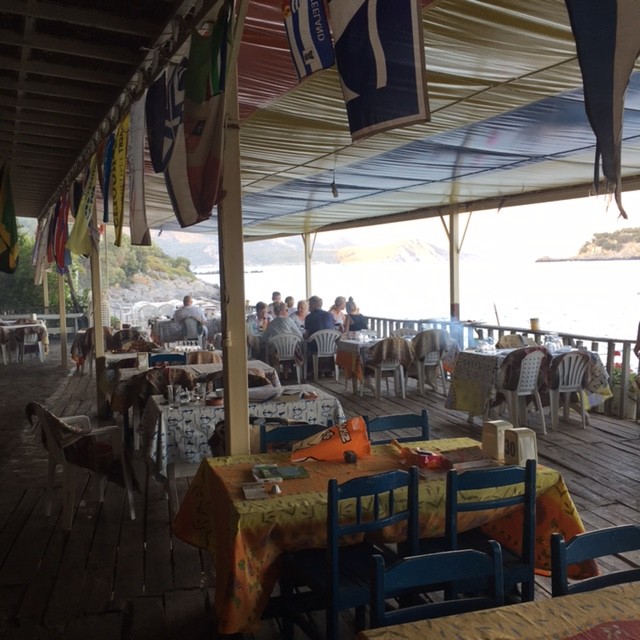 Cold Water Bay. Springs spew out into the bay, creating cold patches that make you shudder when you snorkel. But this is easily overlooked. And, honestly, the cold patches are really just a tad cooler than balmy.
The scenery is just gorgeous. We stayed in a small bay to the east – much quieter – and took the dingy over to do the Kayakoy (ghost town) walk one hour up into the mountains. It's a great hike and brings you to the high part of the town that was abandoned in a day in the 1920s.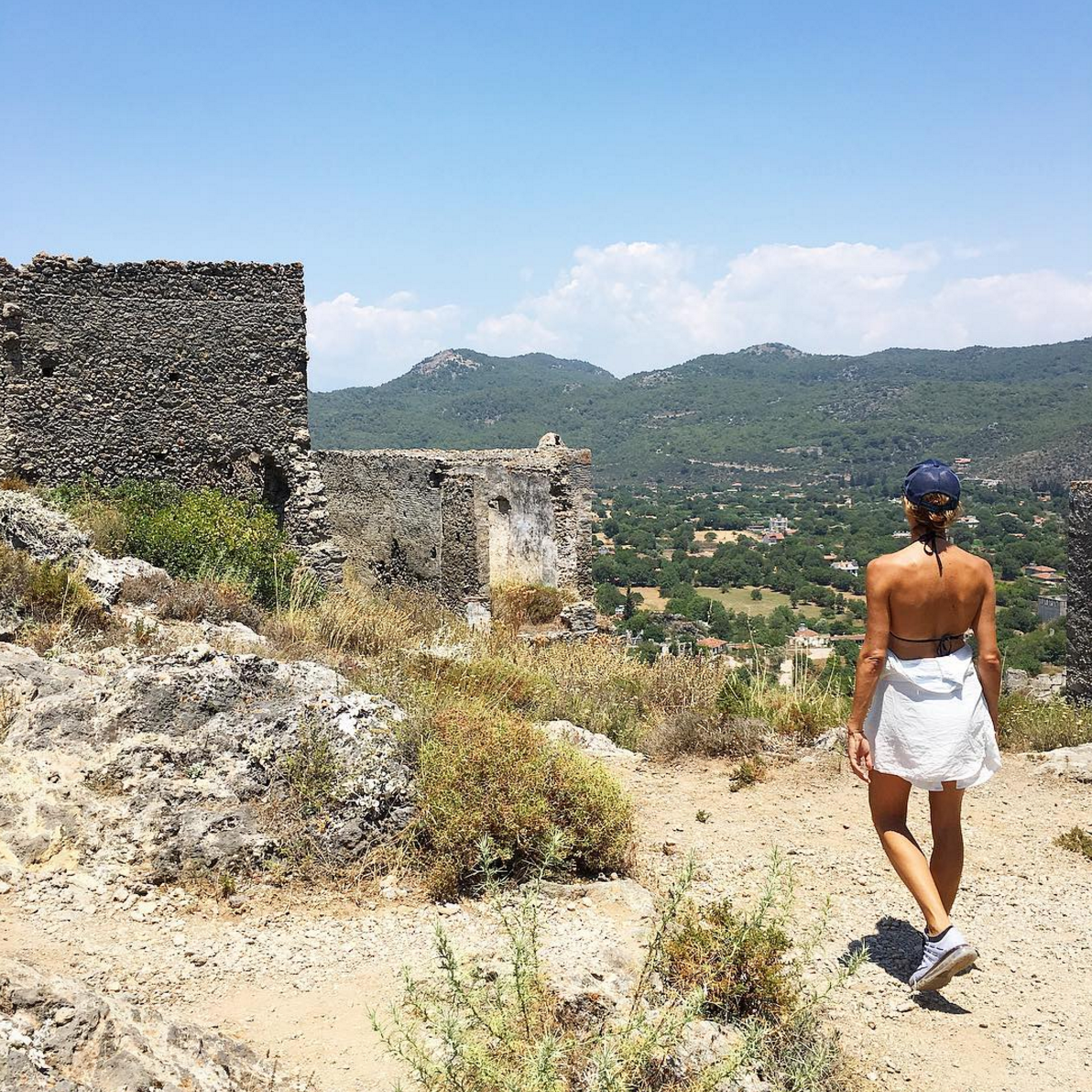 We ate wild boar here, too, which Ali and his sons prepared during the day. Gemiler Island is also nearby, with lots of ruins, but we didn't quite make it there.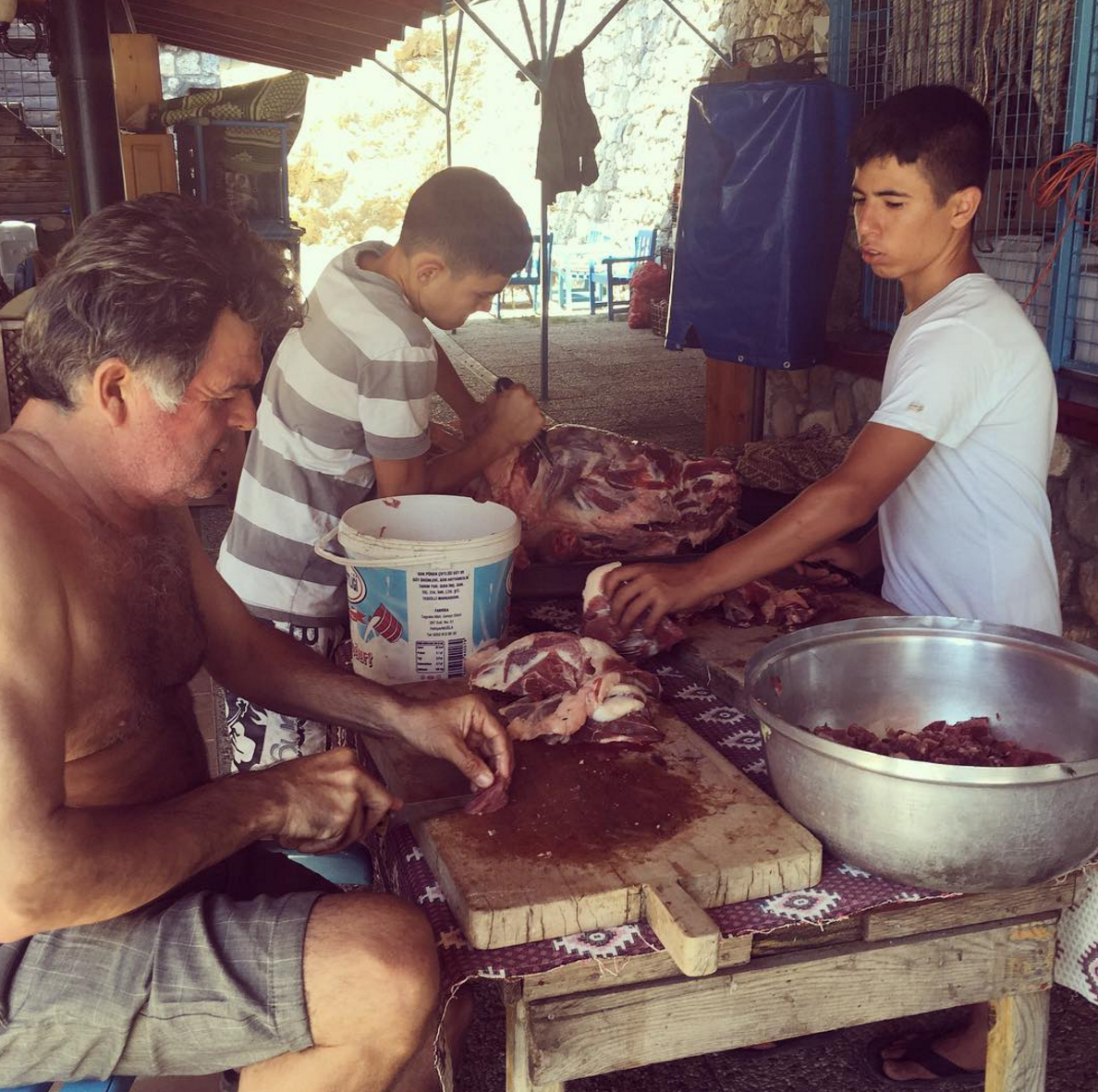 Tersane Island. On the way back to Gocek we stayed in this gorgeous, deep bay. It was the most rustic of the bays, but very sheltered, and the restaurant was fun…absolute waterfront. We had prawns and roast lamb…and meze…all cooked in the big stone fireplace.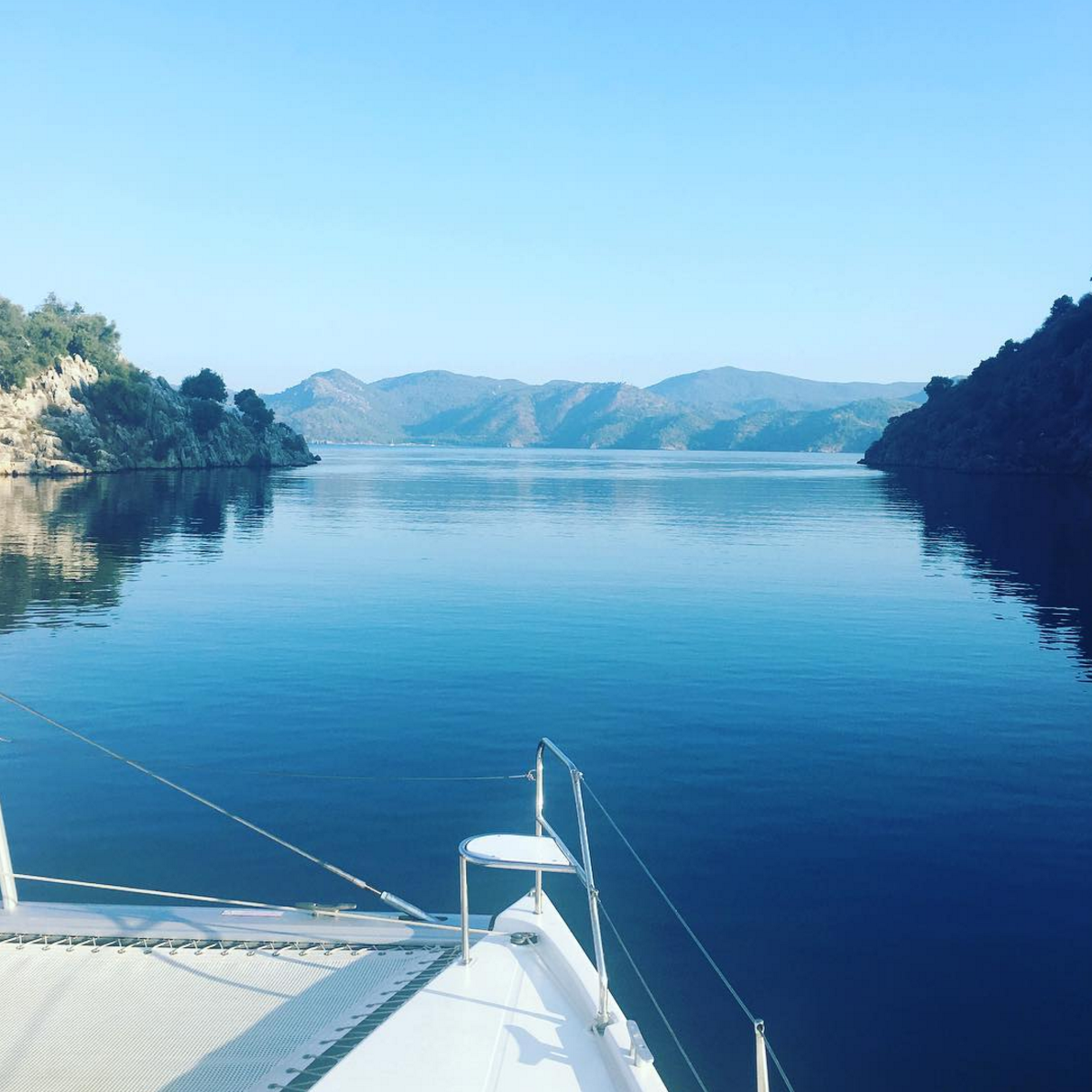 Then it was – very reluctantly – back to Gocek.
While you're in the area
We had an extra three days on land after sailing. The area around Gocek offers stacks to see…if you're into sea activities, hiking and eating. And ruins. We took a gamble and chose a bungalow randomly from bookings.com.
Seaview Faralye. Four little wooden huts perched up high on the coast between OluDeniz and Kabak. Turns out it's right on the Lycian Way (the trail is 30m away from our bungalow) that heads to Kabak to the East and Butterfly Valley to the West. Alison and Onder built the place, prepare a breakfast for you each day that's worth Instagramming home about, and cook you dinner as the sun sets directly in front of you on the balcony.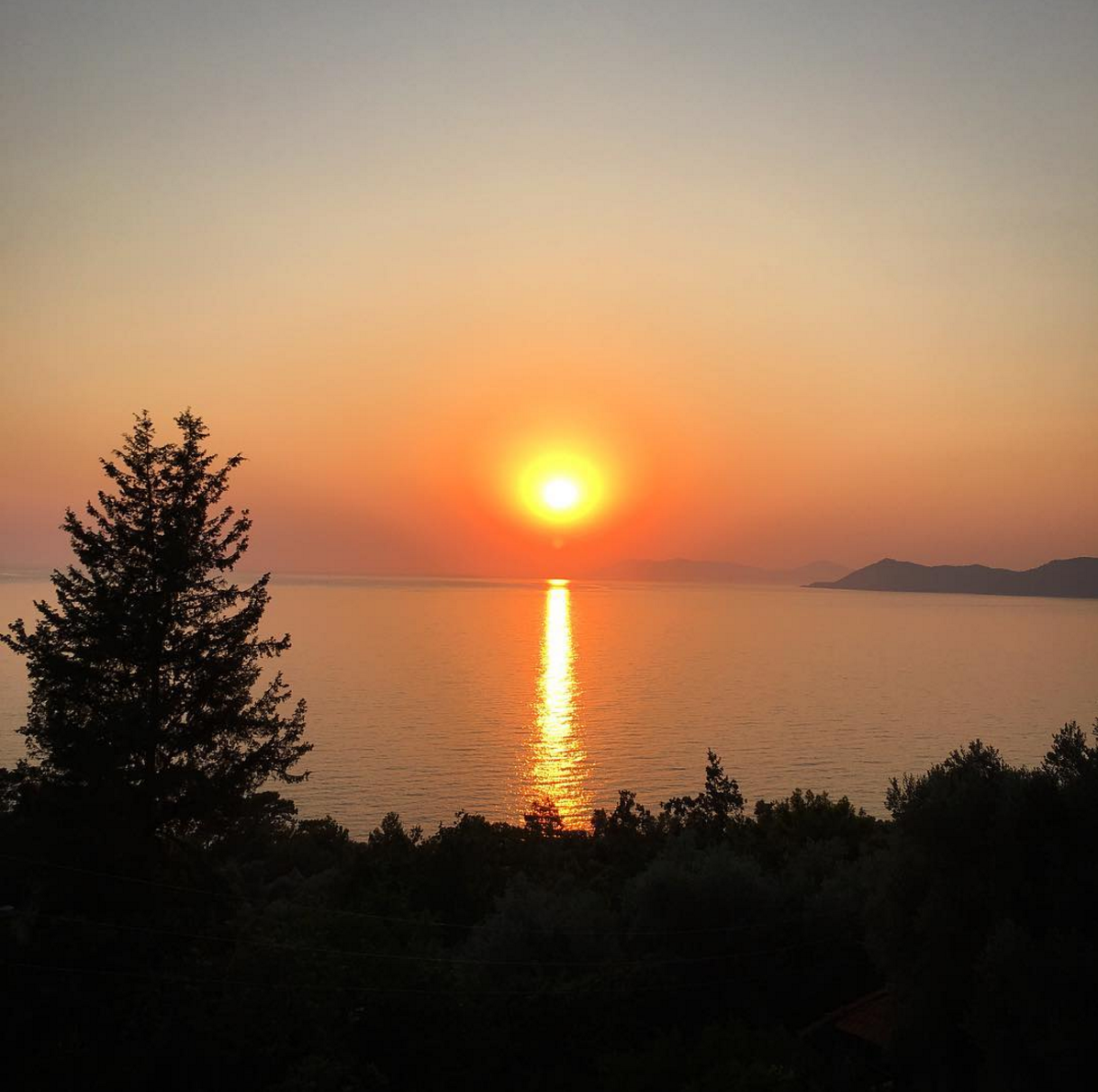 Nearby is Zakros Hotel which allow you to use their infinity edge pool and provide access to the turquoise waters with views of the area we'd just sailed.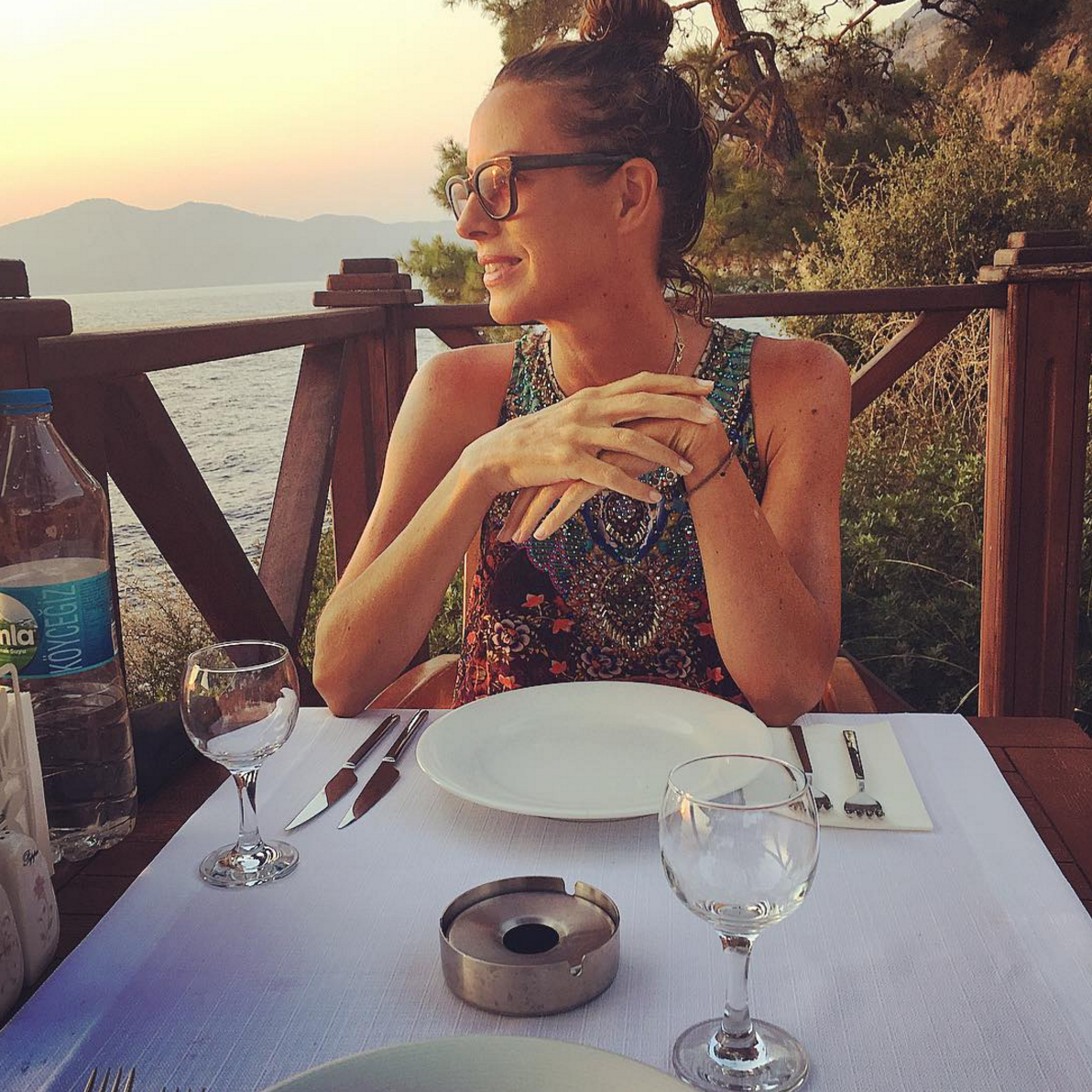 We kayaked to Butterfly Valley and hiked to Kabak (14km return) while we were here. There's also a cute little beach a 15-minute walk through forest, down the hill.
Some extra things to know
Sailing around Turkey is probably the best way to see the place. The turquoise water must be experienced. Plus, many of the unique places along the coast are only really accessible by boat.
[vimeo]https://vimeo.com/179141766/c2240f0441[/vimeo]
Sunsail provide everything on the boat – you just turn up with your suitcase and enough water for the trip (restocking in Fethiye and at some of the restaurants along the way). And your own mini ping pong kit.
Supplies, including water, can be bought from supermarkets in Gocek and can be delivered to your boat free. Ditto in Fethiye. We made breakfast and lunch on the boat each day and ate at the restaurants in the evening. To moor in some of the bays, you have to eat at the restaurant that night. It's kind of the protocol.
Go here if you want to look at a yacht charter in Gocek (like I did).
Or if you're not fussed about the area, here's a list of the general charter options.
Go here if you need a skippered charter.
And this link will give you Sunsail's special offers at any given time.
Got any questions? Post below…