This year I've travelled a lot. And, in fact, for the past three years I've lived mostly in transit. And so my "beauty regime" in general is a simple and mobile affair.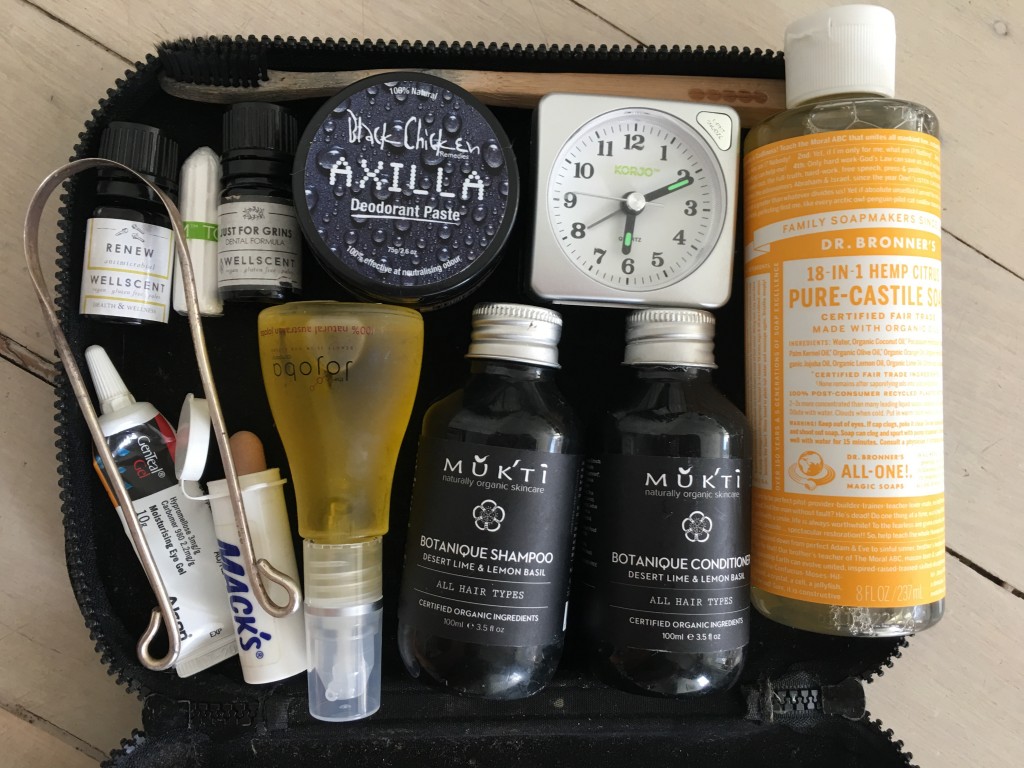 A big bunch of you ask me via the socials to share what such a regime looks like and today I'm obliging.
Previously when I've done beauty posts The Folk Who Make The Products That I Use have reached out to offer a discount to you guys. I figured I'd do this again, in time for Christmas. Please be aware, however, that the recommendations are genuine – I purchased all products myself and sought discounts for you later. Cool?

PS catch up on my advertising and sponsorship policy.
How I pack my travel beauty kit

I travel very light and this has informed how I "do" beauty in general (since I live light anyway).
As a general rule, I work with beauty products with the least number of ingredients, preferably just the one.
I don't fall for "organic" or "natural" labelling. "Organic" can mean only a few of the ingredients were grown and produced organically, not all. You can learn more about this here.
You can also learn about what to look out for in beauty products. And how to chose a toxin-free sunscreen.
I work with concentrated products – extra strong formulas only requiring small amounts, thus requiring small packaging.
I work with stuff that's multi-purposeful – jojoba oil for cleansing, moisturising, facial scrub and hair control, for instance.
I transfer bulk stuff (eg shampoo) into travel bottles that I reuse (I avoid buying travel-size bottles as such…because it's not a great use of packaging).
Everything in my kit can go carry-on (ie is under 100ml), as this is how I often travel.
I don't carry body moisturiser…If things get dry, I use some olive or coconut oil from Air BnB kitchens, etc. At home, I do the same (with my own).
As an aside, I use a travel alarm clock. This one above is my second in 21 years. They last a looooong time. I NEVER sleep with my mobile near me.
What I pack
Forthwith, the beauty kit as it exists today.
Mukti Botanique shampoo and conditioner 
This stuff is handcrafted and Australian, perfumed with organic herbal extracts. Truly toxin-free hair products that actually cleanse and moisturise your hair are hard to find. You can read my tips for switching to silicon-free options here. Mukti manages to blend eco with a little luxe – each product contains native Australian extracts, such as lemon eucalyptus and pine, that address a particular skin type or condition.
I use the travel pack size and refill them from my "home bottles". I also really rather love their face wash, as an FYI.
Here's Mukti's Botanique shampoo and conditioner. And here's where you can buy their face wash.
Magnesium travel spray
A spray containing magnesium chloride and premium distilled MSM (a naturally occurring compound that enhances the absorption of magnesium into your cells), is something I now have with me at all times. I get restless legs. Magnesium spray helps with this. I have trouble sleeping. Magnesium spray helps with this. I can tend toward constipation. Magnesium spray helps with this. I get inflamed. Magnesium spray helps with this.
Dr Bronners Pure-Castile Soap
I always travel with this stuff. A friend gave me some years ago. I use it for cleansing – body and face – and washing my clothes. They're made with simple ingredients including organic olive and hemp, and are three times more concentrated than mainstream liquid soaps. Plus, they're also environmentally friendly. I generally pour into a small 100ml bottle when traveling (I don't work to the large bottle in the pic above). This will last me a good month or two.
You can find Dr Bronners here.
Well-scent Just For Grins tooth oil 
This stuff is a revelation and perfect for travelling. It's a toothpaste replacement where you use a drop or three at a time on your brush (thus, requiring tiny packaging). The product is a mix of anti-bacterial and cleansing oils – melaleuca, cinnamon, myrrh, clove, rose and cardamom (all my favourites). They also have an extreme (hot) option with lots of peppermint oil in the mix. You can also add it to some coconut oil for 'oil pulling' and to some salt water to use as a mouthwash. A small bottle will last a few months.
These guys are offering a 20 per cent discount to you guys until the end of December… simply enter  sw2016 at checkout. While you're on their site their Sparkle powder (which I use at home – an activated charcoal powder for whitening your teeth) is worth checking out, too.

You can grab Well-scent Just For Grins tooth oil here.
Charcoal toothbrush
I try to use a non-plastic toothbrush where possible. This bamboo and charcoal one has served me well. The bristles are infused with activated charcoal, known for its natural antibacterial and anti-fungal properties as well as it's traditional teeth whitening power. It also helps to deodorise the mouth by reducing bacteria that can cause bad breath and absorbs chemicals such as chlorine from the tap water.
You can grab a charcoal toothbrush here. Tip: Opt for medium bristles, rather than super soft.
Black Chicken Axilla deodorant paste 
Irene at Nourishing Life introduced me to this stuff after I put out a social media lament that I couldn't find a toxin-free deodorant that ACTUALLY WORKED. She was right – it works perfectly, better than the chemically stuff. Since then I've introduced it to many others…and we discuss it in an almost cult-like way. Me, I've come to really like the fact you have to massage it into your under-arm…it's wonderful for the lymph glands!
 Well-scent Protect, Renew and Rejuvenate oils
I used Well-scent's Protect oil on my last trip overseas, adding a few drops to water and using as a mouth gargle when I felt rundown, also as a water-flavouring agent. It contains a bunch of anti-bacterial and cold-fighting oils – thyme, clove and vetiver. You can add drops to your travel scarf (you have one don't you) and also put under your nose when on the plane (veritable havens of flu).
Again, Well-scent are offering 20 per cent off. While on their site check out the Renew (thyme, clove and blood orange) and Rejuvenate (fennel, geranium) oils, great for supporting lymphs, digestion, liver and the endocrinal system.
I also always travel with lavender oil and use it for pimples, itchy bites and for 'personalising' my sleeping environment each night, which is to say I put it on my eye mask and pillow where I lay my hat. Well-scent offer a version.
Rosehip and jojoba oils
I use one or either (and both when I'm at home).
I use a few drops to cleanse…
…and to moisturise. I find, generally, Rosehip oil is best as a night time oil, and is best in winter.
I use a little rubbed into hair ends to give texture.
I de-clump my Ere Perez mascara by adding a drop or two into the tube, which sees it last an extra month or so.
I use it as a face scrub, as follows…
My DIY travel scrub: Mix a small amount of sugar with oil, apply to face, scrub, rinse.
The best brands IMO:
Tongue scraper
I use this silver one from Moksha Ayurveda. Tongue scraping is a part of the Ayurvedic routine and I find it makes my day start cleaner.
Ear plugs 
I don't leave home without earplugs. I've researched the topic extensively… the best around are Macks Earplugs. The beige-coloured 32 dB ones are best…you can get online, at many chemists and Woolworths.
TOM Organic tampons
The only biodegradable, chemical-free tampons in the world owned by a woman (who happens to be Australian).
I appreciate that menstrual cups are a more eco way to go. I've just not gone there yet. Leave it with me…
That's a wrap!
Most of these products can also be found at Nourished Life and Irene has kindly offered a reader discount of 10 per cent until the end of December. Simply enter SWILSON442 for the discount.
Feel free to add any products you find particularly useful for travelling, that are toxin-free and ethical…