At the back of my new book, first, we make the beast beautiful, I promised to share on my site a few of my favourite meals and recipes that have helped my anxiety. This is that list.
(Most of these recipes feature in I Quit Sugar: Simplicious.)
As I explain in the beast, it's best to eat 7–9 serves of vegetables and fruit a day. Some boffin some time back did an experiment that found anxious teens who ate extra serves of green vegetables saw a reduction in their anxiety levels. It's entirely possible to get to nine serves by starting every meal with a good three serves of veggies and fruit and adding protein and fat and carbs from there. I eat veggies for breakfast to hit the nine serves goal.
And remember, many of the most essential vitamins and minerals, and protein, are fat-soluble only. Which is why the Greeks and Italians always add oil to their veggies, the French and our grandmothers added butter. I eat coconut oil and ghee in stews and curries. And pour olive oil on my vegetables every night. A tablespoon or so. But when I'm worked up, I increase the amount. Oil nourishes and warms us.
My Recalibrating Pork Meal
When I'm a breathing picture of average-ness (autoimmune inflammation, anxiety and the like), this is the meal I turn to, generally with a dignified glass of preservative-free red wine. I've done quite a bit of work looking into why the components of this meal work to help with flutteriness. I've explained the pork connection, the ayurvedic benefits of sweet, dense, root vegetables, the anti-inflammatory benefits of coconut oil, and why a glass of red wine with a meal can be a good thing.
2 bone-in pork chops, each about 2 cm thick (about 400 g in total)
1 sweet potato, cut in half lengthways and sliced into rounds (8 mm thick)
sea salt and freshly ground black pepper
2 teaspoons coconut oil
1 fennel, sliced lengthways into 8 wedges (the whole lot including stems and fronds)
1 bunch asparagus, ends snapped, spears halved
1 firm peach or apple, cut into eighths
1 teaspoon chopped sage, rosemary or thyme
2 tablespoons apple cider vinegar or sauerkraut brine (if you have some)
big splash of Homemade Chicken Stock or just some water or white wine.
1 teaspoon Dijon mustard
Preheat the oven to 210°C. Season the pork and sweet potato with salt and pepper. Heat the coconut oil in an ovenproof skillet over a medium–high heat. Brown the chops and sweet potato, turning once (about 3 minutes each side). Lift the chops out briefly, adding the fennel, asparagus, peach or apple, and herbs to the pan. Stir to combine, then return the chops to the pan, placing them on top of the veggies, fruit and herbs. Mix the vinegar, stock and mustard together and pour over the lot. Place in the oven and cook for 15 minutes.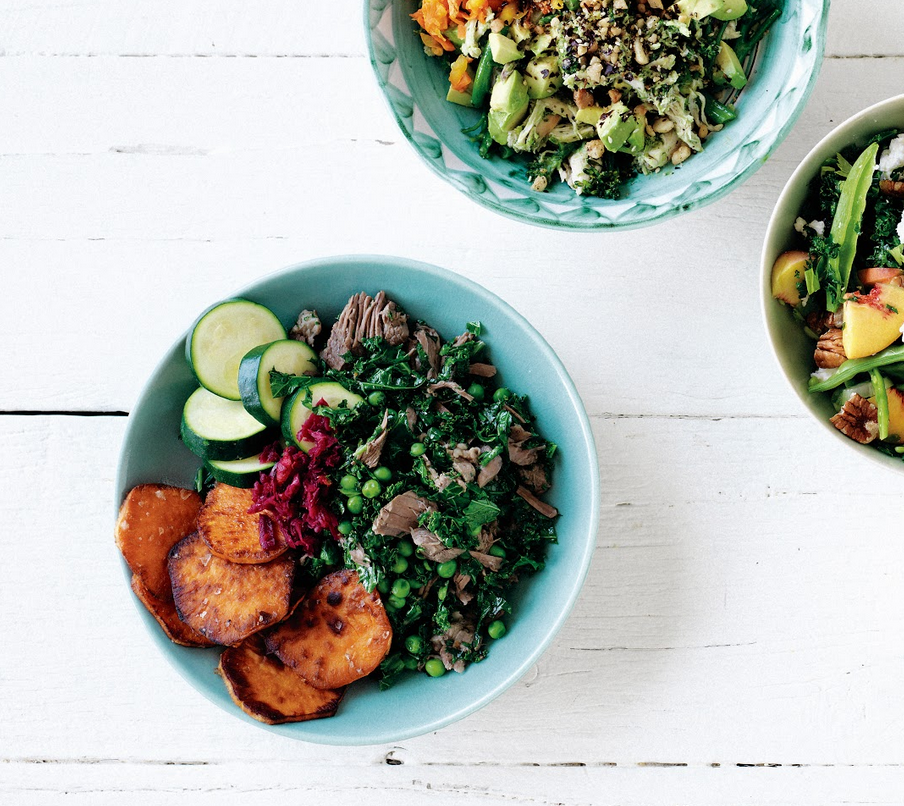 Vata Balancing Bowl
Again, the key to this dish is warming and "sweet" root vegetables and quality meat.
Sweet Potato Chips (recipe below), to serve
2 cups sliced silverbeet
1/2 cup slow-cooked beef, pork or lamb. You can check out my recipe for sugar-free barbeque pulled pork here. Recipes for all three are in Simplicious. 
1/2 cup frozen peas, thawed
steamed zucchini rounds or yellow squash wedges, to serve
Make the sweet potato chips. Remove from the pan and keep warm. Deglaze the pan with a little water or ferment brine (page 334). Add the silverbeet, meat and peas and cook for 2–3 minutes or until heated through. Serve with steamed zucchini rounds or yellow squash wedges and sweet potato chips.
Add kick: A dollop of Pink Sauerkraut (recipe in Simplicious).
Sweet Potato Chips:
Slice 1/2 sweet potato into 5 mm rounds. Heat a generous dollop of coconut oil in a skillet over medium–high heat. Add the sweet potato slices and sprinkle liberally with sea salt (this speeds up the cooking!). Cook both sides until dark golden (about 5 minutes all up).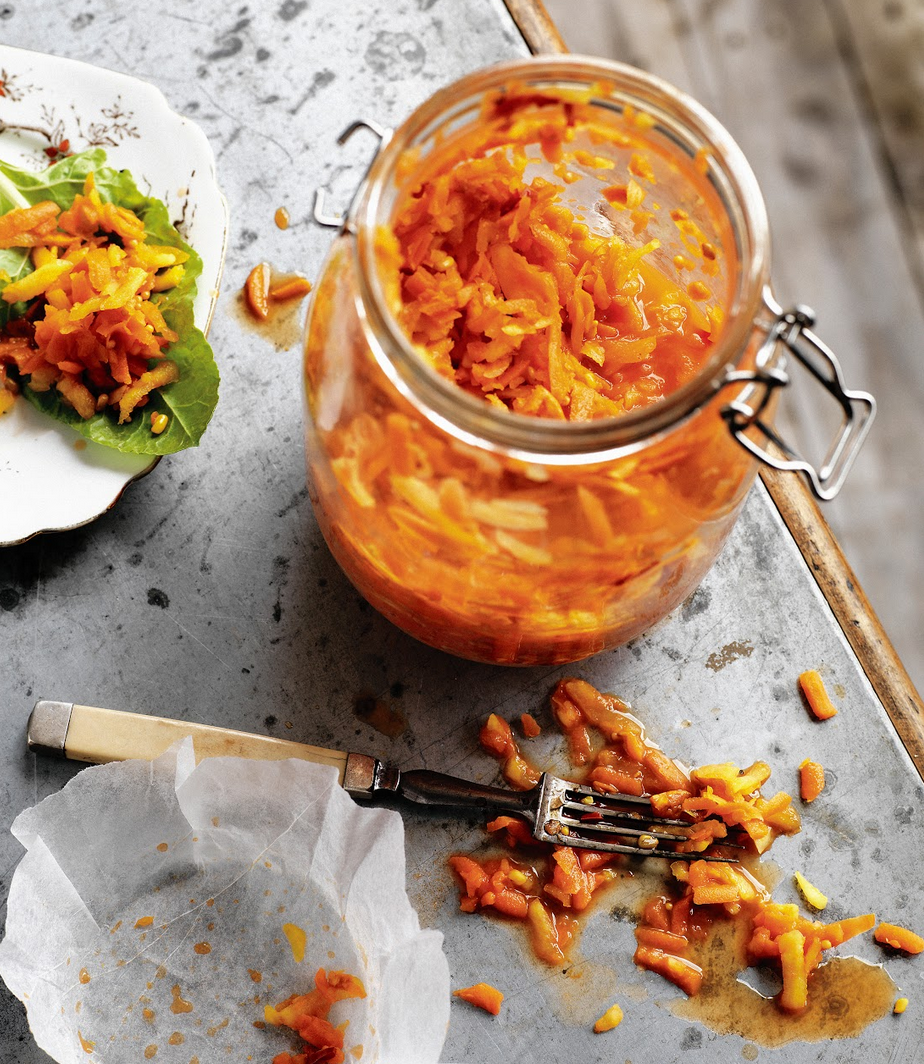 My Indian Kimchi
Makes 4-6 cups
There are four reasons I wrap my turmeric-stained arms around this sweet-but-tangy mix-up of the Korean classic. Daikon boosts the digestive enzymes we need to break down fats, complex carbohydrates and proteins. It's also been shown to counteract the carcinogens in processed and fried foods, which is why it is traditionally served with tempura in Japan. Even better, when eaten with foods high in betacarotene (um, like carrots!!) daikon improves the body's ability to absorb vitamin D. And, even better… When's the best time to make this little combo I've put together you may ask? Funnily enough, at the end of summer when carrots and daikon are at their peak . . . and just as we're heading into the darker months. Which is when our vitamin D levels drop. And low vitamin D levels have a big effect on anxiety, of course.
800 g–1 kg carrots, peeled
1 daikon, peeled
5–7 cm knob of turmeric, peeled
2 large red chillies, finely chopped (or 3 teaspoons chilli flakes)
2 teaspoons fenugreek seeds
2 teaspoons mustard seeds
2 tablespoons Himalayan pink salt or 1 tablespoon salt and 1/4 cup Homemade Whey
Grate the carrots, daikon and turmeric (use the grater attachment on your blender or food processor) and place in a glass or ceramic bowl. Add the rest of the ingredients. Mix and let sit for 20 minutes to allow the salt (and whey, if using) to release the juices. If it's not looking juicy enough, use a mallet or pestle to 'massage' the veggies
to release the juices. Spoon into a large jar with a lid. Press down on the veggies so the juices rise up to cover them. Put a weight on top to submerge the veggies and put the lid on loosely. Allow to sit at room temperature for 3–5 days (1–2 weeks if you don't use whey) before sealing tightly and moving to the fridge, where it will last for up to 3 months.
Fermented Turmeric Paste
Makes one cup.
Turmeric is an Ayurvedic staple, long known to have anti-inflammatory, antibacterial and anti fungal properties and links to assisting with anxious conditions. Its active ingredient, curcumin, however, curcumin is not easily absorbed by the body unless you eat it with fat (it's fat-soluble), black pepper (the piperine in pepper ramps up the absorption by 2000%) or you ferment it. Herewith a recipe that ensures you get the full benefits from this amazing little root.
200 g fresh turmeric, peeled and roughly chopped
1/2 teaspoon organic freshly ground black pepper or cumin
1/4 – 1/2 teaspoon sea salt
1/4 cup Homemade Whey (page 46), plus extra to cover
Blend the turmeric to a smooth paste in a high-powered blender (or use a mortar and pestle). Stir in the pepper or cumin, salt and whey. Press into a jar and top with a little more whey so the turmeric is completely submerged. Cover with a lid and place in a cool, dark place for about 5 days or so, adding extra whey if required. Seal and store in the fridge for up to 6 months.
Inside-out Sprouted Kitcheri Loaf
This bread is great on your guts and wonderfully balanced to keep your doshas calibrated. I've also sprouted the beans to reduce the phytic acid and make it even gentler on the guts – not a big deal if you don't have time, but it creates a more textured bread, so consider doing so. Why is it 'inside-out'? Well, I've taken my standard kitcheri recipe (a traditional Indian dish that's used for healing and calming) and put the toppers (the egg and coriander) and the sweet potato variation all on the inside of the bread to bring you a meal in one loaf.
Makes one loaf.
1 tablespoon ghee or coconut oil, plus extra to serve (optional)
1 small red onion, finely chopped
1 teaspoon each of black mustard seeds, cumin seeds and fennel seeds
1 teaspoon each ground coriander seeds and ground turmeric
1 tablespoon grated ginger
1.5 cups sprouted mung beans or brown lentils
1 cup cooked basmati rice
1 cup grated sweet potato
1 cup arrowroot
1 teaspoon baking powder
1 teaspoon sea salt
3 eggs
1/4 cup ground chia seeds
shredded coconut, to garnish
Homemade Cream Cheese
Preheat the oven to 180°C. Grease and line a 23 cm Å~ 13 cm loaf tin with baking paper. Melt the ghee or coconut oil in a small frying pan over a medium–high heat. Add the onion and sauté for 1–2 minutes. Add the mustard, cumin and fennel seeds, spices and ginger, and sauté for 1–2 minutes until the mustard seeds start to pop and the onion is translucent. Set aside to cool.
Transfer the onion to a food processor with the sprouts, rice, sweet potato, arrowroot, baking powder, salt, eggs and chia seeds and process until combined. Pour into the prepared tin and smooth the top of the batter. Sprinkle with shredded coconut. Bake for 1 hour or until a skewer inserted in the middle comes out clean. Leave to sit for 5 minutes before transferring to a wire rack. Once the loaf is completely cool, cut into thick slices and store in a container (or wrapped in foil) in the fridge. It will keep for up to 5 days. Alternatively, slice and freeze for up to 1 month.
Serve the kitcheri loaf warm, spread with cream cheese, coconut oil or butter.