While I was writing my book it occurred to me, "wouldn't it be ace to put together a soundtrack of tunes for anxious types like me that could elevate our experience to a comfortable place, particularly when we're wired up, in line with something resembling beauty and purpose and grace…so we can, well, feel more magnificent and settled about things".
So I decided to create said soundtrack. (Admittedly I was on a manic upswing at the time. Which happens.)
Marvelously, music streaming service Pandora *got* the idea immediately when I took it to them via my mate and industry stalwart Rick Gleave. And, generously, Rick's team helped me put together the First, We Make The Beast Beautiful Soundtrack. An Australian first.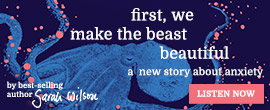 You can listen now. We've launched it today. Just head to the Pandora app on your phone and search for "First, We Make The Beast Beautiful", or click here. (It's all good. It's free.)
The soundtrack is a "mixtape" of 80-plus tunes that best reflect the vibe of my book, dedicated to all the fretty souls out there. The thing about Pandora – the app then adds to the playlist, based on what you like. So it grows. And grows.
It ain't all indy toe-gazing misery tunes. Noooo. They're mostly uplifting, bold, with a solid beat. And chosen for their ability to remind us of the beauty of life and of having a complex mind.
eg: "Ramble on" by Led Zeppelin and "Call me the breeze" by J.J. Cale
But I do revert to the minor key a bit.
eg: "How deep is your love" by The Rapture and "Trouble" by Ray LaMontagne
Some are all about the deep, soul-lifting lyrics that make us all feel less alone.
eg: "I feel it all" by Feist and "Nervous" by Joan as Policewoman
Some have been chosen by my beautiful musical and anxiety-appreciating mates, such as Lisa Mitchell, Julia Stone, Claire Bowditch and DJ Fuzzy.
Some lend themselves to turning up loud and getting out of the house and walking. Or hiking.
eg: "I wonder" by Rodriguez and "Jane says" by Janes Addiction
There's not much more for you to do:
If you haven't already, download the Pandora app and search for "First, We Make The Beast Beautiful". Alternatively click here on any device to listen.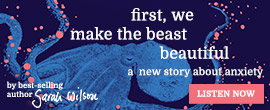 The thing about Pandora is you can *thumb-up* the songs you dig, and Pandora will continue to deliver songs that match your taste. Thumb-down, and the app changes direction (so you can avoid any unwanted death metal/Euro house circe 1999/acid Jazz traps).
It's all free. Nothing else to do. But make your beast magnificently beautiful.
Enjoy. I loved the process of putting it together. Feel free to judge me on my musical taste. And to add further suggestions. Pandora let me add to the mixtape if I want…