I've mentioned on twitter that I've been making bone broth and some of you asked for the details. And so I oblige!  I've become a big fan for a bunch of overwhelming reasons I'll outline below. Sally Fallon introduced me to the stuff in Nourishing Traditions and since then I've followed a community of people who can't stop raving about it. A lot of nutritionists steer their clients to simply drink bone broth. That's it. The stuff is so full of good stuff…who needs supplements?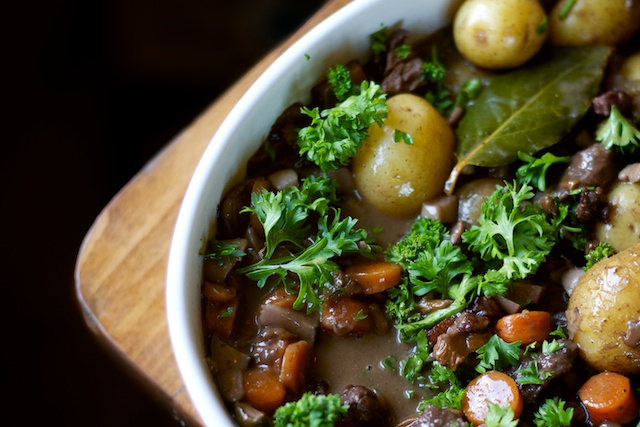 Making it is easy and cheap, albeit not very attractive. See the pics below, or this from Sally Fallon when describing the final stages of cooking: "You will now have a pot of rather repulsive-looking brown liquid containing globs of gelatinous and fatty material. It doesn't even smell particularly good."
Nice. But regardless…
I buy the bones from the farmer at the farmer's market for $2 a bag. But if you're not near a farmer's market, your butcher will sell some to you (or give them to you!).
I make a batch and freeze it for soups and stews (in 500ml containers) and also in 200ml serves to drink as a soup, or to use for braising veggies (instead of using oil). You basically use it as you would stock, but it's richer, more gelatinous and more nutritious.
Here's a bit of a cheat sheet (if Sally hasn't scared you off)!
Bone Broth: the deal
Bone broth is like normal stock but made with big, cheap bones which are simmered for a very long time (24 hours-plus).  At the end of cooking, a stack of minerals have leached from the bones and into the broth that the bones crumble when pressed lightly.
Why would you?
Because it is soooo good for you.
1. Our immune systems love it.
It's rich in calcium, magnesium, phosphorus and other trace minerals, which are easily absorbable, thus assisting the immune system.  Mark's Daily Apple has a great article breaking down all the nutrients found in bone broth.