Just a little note to share that A Current Affair recently interviewed a few women who lost weight from doing my I Quit Sugar 8-week Program. It screens tonight (Channel 9. 6.30pm) and features me rabbiting on about cave men genes and mince pies and…the rest. I'm a bit nervous as to just how much I rabbit on… But what's done is done.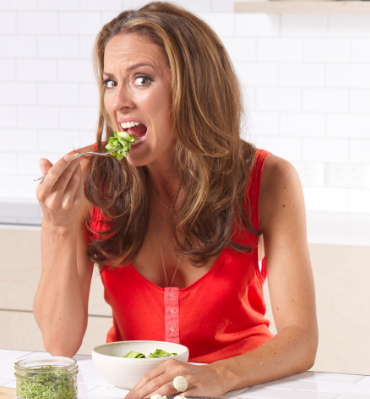 Anyway, I thought I'd share some of the testimonies from the women I contacted to take part in the segment who had lost weight from my program (although I should stress that weight loss ain't the main aim of quitting sugar…it's to get well).
Rebecca contacted me to say, "I quit sugar in October 2011 and have lost 48kg, dropping from a size 24 to a size 14."
Maria also shared her story: "In April of this year I weighed a staggering 120kgs, and to date have lost half my body weight. I gave up sugar and all processed foods."
Vanessa said, "I'm 32 years old. I quit sugar in May this year and so far have lost 29kg and counting! I feel like a different person. These are the health issues that have improved: depression, hypothyroidism, severe gut and bowel issues, muscle and bone pains….the list goes on…."
If you want try the program, just click below!

And you might like to get in on my early bird discount for the I Quit Sugar Christmas Meal Plan. Simply click here for more details.
Heidi says, "Both my parents (over 60+) both quit sugar and have never felt better. They work a very manual intense company and I reckon most young people would struggle keeping up. Dad was even able to go from pre-diabetes to nothing and all he does is eat fat, protein and no sugar."