My family doesn't do Christmas gifts. Each year we pitch in for a crappy, wood-veneered, chenille-bedspreaded holiday house down the coast. We wrestle, eat, attempt to play board games (none of us are good at sitting very still), go for bike rides and try not to step on each other's toes (especially those of the crew sleeping on the floor in the lounge). I accept my family is in the minority, but will never accept that this time of year should be a time of rampant, crass consumerism. And to this end will continue to offer up some sustainable gift options, as I do each year. You can find my previous posts here, here, here and here. But to my latest round of ideas, collated from the wares of wonderful folk who've spun into my orbit throughout 2014…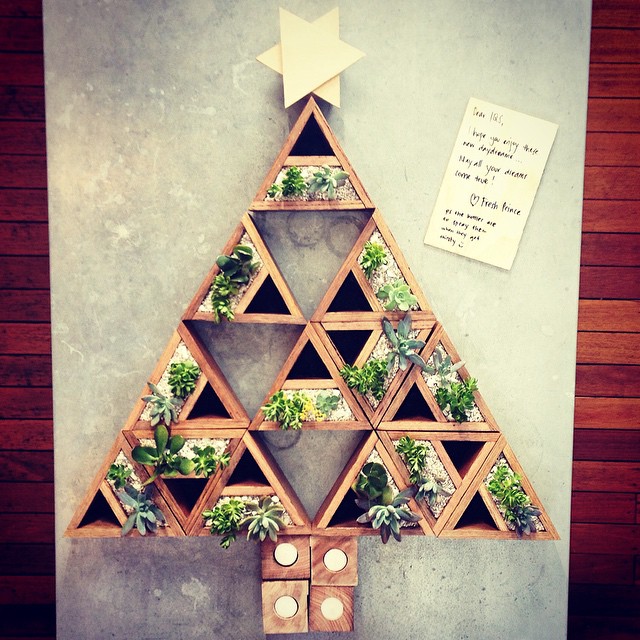 1. Fresh Prince Desk-top Planter boxes
Bondi boy Richie, aka Fresh Prince, is the delightful dude who created our rooftop garden at IQS HQ, and recently snuck in to the office to deliver a stack of his pen holder planter boxes for the team. The little pen holder bits are lined with fake grass. Sweet. You can buy them here.

2. A six-pack of Blind Corner Field Blend wine
Buy a six pack of their Blind Corner Field Blend and save yourself and your family from certain toxic  hangover this Christmas lunch. I love these guys. Ben and his wife produce stunning, hand (and foot)-crafted wines with minimal, if any additives. The vineyard is organic, dry grown and utilises biodynamic